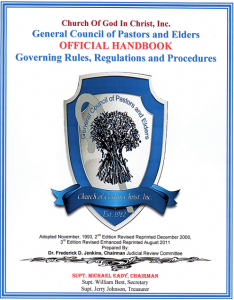 This is a must read for Jurisdictional Council Chairmen, Bishops, Pastors and Elders.
A necessary resource and teaching tool outlining council structure, policy and procedures.

PLACE AN ORDER FOR YOUR PERSONAL COPY TODAY!

To order, Send $25 + $5 for shipping and handling for a Total of $30 to:
GENERAL COUNCIL OF PASTORS AND ELDERS
Church of God in Christ
P.O. Box 15365, Chicago, IL 60615
ATTN: MY HANDBOOK

PLEASE ALLOW 5 BUSINESS DAYS FOR DELIVERY.