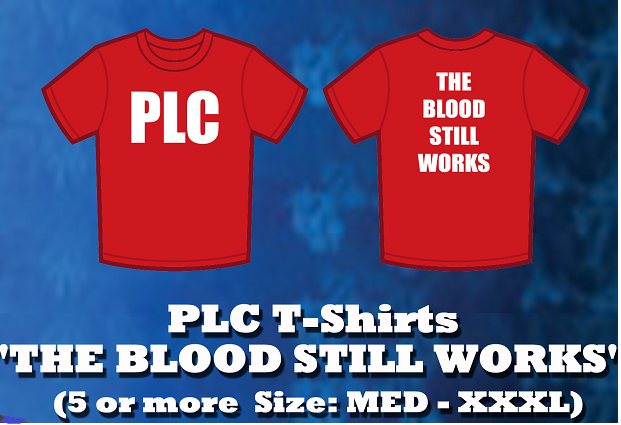 Send a clear message during your PLC Outreach efforts that "The Blood Still Works"! These appropriately colored and labeled T-Shirts will not only keep outreach teams unified but also signify the powerful evangelism message about the precious blood of Jesus!
T-SHIRTS ARE AVAILABLE FOR ONLY $20 each! Purchase 10 or more and receive a 10% Discount!
To order by phone call 773.533.6877 for CREDIT CARD PURCHASE ONLY.
To order by mail, Send $20 per shirt (less 10% for 10 or more) + shipping and handling (please call) to:
GENERAL COUNCIL OF PASTORS AND ELDERS
Church of God in Christ
P.O. Box 15365, Chicago, IL 60615
ATTN: PLC T-SHIRTS
PLEASE ALLOW 5 BUSINESS DAYS FOR DELIVERY.