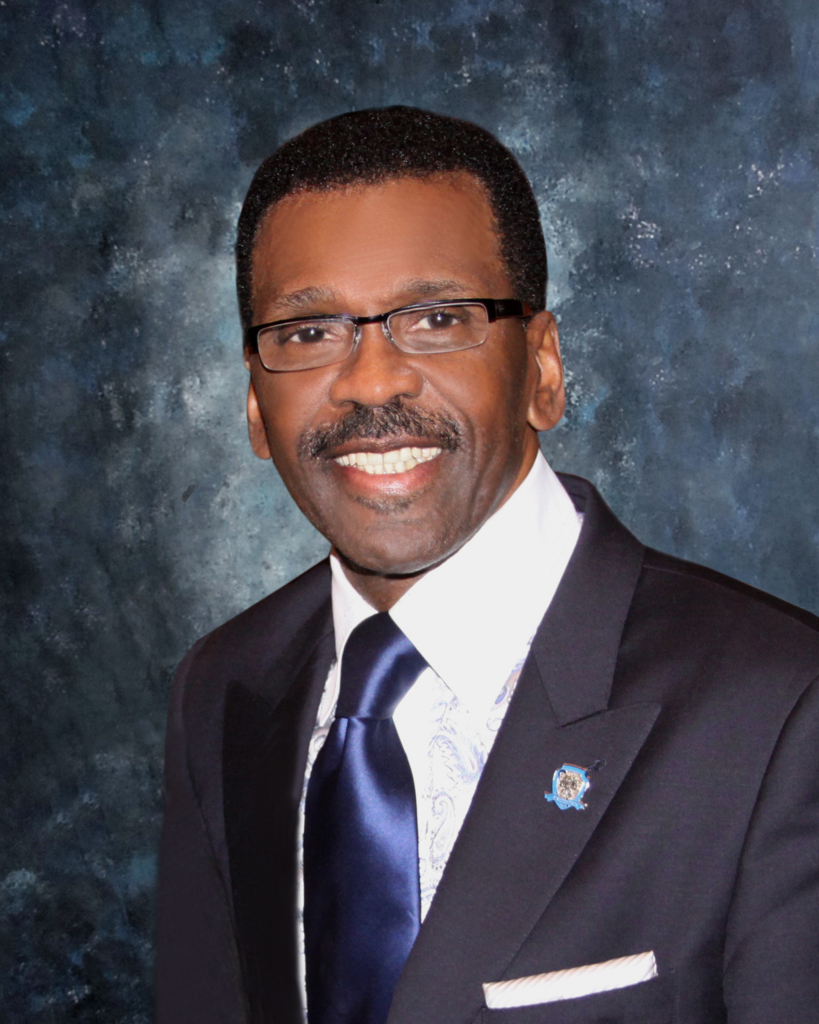 Administrative Assistant Michael Eaddy, Pastor of the People's Church of the Harvest Church of God in Christ, along with his wife, Lady Christine Eaddy, extends a holistic ministry to its membership and residents of Chicago & surrounding suburbs. His pastoral leadership for the past 43 years, dedication and vision, motivate him to initiate and develop numerous programs and services to meet the needs of youth, adults and suffering humanity. The church has offered before and after school care, tutoring, computer literacy, career counseling, summer youth employment, distributing new shoes, back-to-school grants, HIV AIDS awareness, drug abuse prevention & anti-violence activities. The ministry has also provided G.E.D, rental assistance, emergency aid, information and referral services for destitute families, food distribution, financial literacy, utility bill payment assistance for Seniors, disabled individuals and those whose utilities service has been disconnected, out of a 1.2 million dollar worship, community service and Christian activities facility constructed in 1999. His community commitment continues as a mayoral appointed member of the Chicago Police Board for the past 7 years and most recently appointed as a Commissioner of the Illinois Medical District (IMD) by Governor JB Pritzker in September of 2021.
Pastor Eaddy serves as President of the People's Community Development Association of Chicago, Inc. (PCDAC), fulfilling community and economic development covenants. PCDAC, under Pastor Eaddy's leadership, has operated an Ex-offender Re-entry program, providing job training and placement in Custodial and Building Maintenance & Computer Literacy with Life Skills training. Many of the 4000+ participants have successfully completed the program, since its inception in 2001 and many are now employed and on the road to stabilization. In addition, In 2017, (PCDAC) constructed the Harvest Homes Apartments, thirty-six (36) units of affordable rental housing on property owned by the CDC. This construction and development budget was $13.5 million dollars. In the spring of 2020, Pastor Eaddy, launched the Lazarus Project, renovating additional affordable housing development of a single family and 2 flat residences in the East Garfield Park & North Lawndale communities, providing needed housing and employment opportunities. PCDAC is prepared to submit a Thirty-Two (32) Million dollar Low Income Housing Tax Credits application to the city of Chicago for Harvest Homes II – 51 additional units of new affordable housing – 1,2 and 3 Bedroom units, along with the Harvest Food Hall to be home for 4 Food Vendors providing breakfast and lunch to community residents.
Through both evangelistic and para-church ministries, thousands have been compelled to turn to the saving knowledge of Jesus Christ. His leadership has produced 14 pastors and hundreds of other ministry workers, being sent out from the ministry, impacting their communities and the world, conducting outreach and evangelistic crusades through the years winning souls from a life of sin. His passion in the ministry is to alleviate the downward plight of individuals, empowering people to reach their fullest potential and realize their life purpose. Through the years, classes, training curriculums, conferences, workshops and seminars have been developed and conducted to address ministry workers growth & development in areas of biblical studies, Old & New Testament surveys, administrative and organizational practices, missions, urban ministry, Christian history, marriage & family, leadership, gifts of the spirit, the role of the prophetic and apostolic governance.
He has an extensive service history in the Church of God in Christ as an active District Superintendent and 1st Administrative Assistant to Bishop Ocie Booker in the First Jurisdiction of Illinois. He served as the Jurisdictional Secretary and Executive Assistant to the late Second Elected Presiding Bishop Louis Henry Ford. Superintendent Eaddy also served as the International Executive Director of Scholastic Motivation Ministries for 24 years until he was elected Chairman of the General Council of Pastors and Elders of the Church of God in Christ in 2014. In his role as Chairman, he provides leadership to 12,000+ pastors and over 43,000 elders internationally. He is currently serving his 3rd Elected term as Chairman.
His extensive service history was cited by the Board of Regents of the St. Thomas Christian College & Theological Seminary with conferral of an Honorary Doctorate of Divinity on September 11, 2009 and a second Honorary Doctorate of Divinity conferred by the Charles Harrison Mason College Doctorate of Divinity Program on March 11, 2019. He has been anointed with an exceptional ability to teach the unadulterated Word of God, in simplicity, that leads to the practical application of biblical principles for successful living. His enlightening, revelations of scripture, serve to energize and empower the great ministry of the People's Church of the Harvest Church of God in Christ, which is turning masses from the bondage of this world to liberty and prosperity only found in Jesus Christ