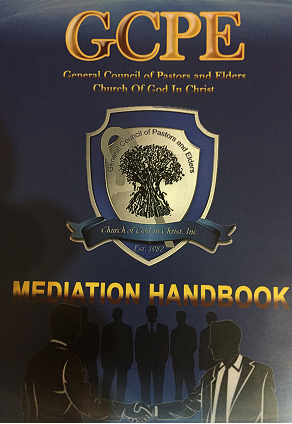 As the General Council of Pastors and Elders, there are matters that occur in our National and Jurisdictional councils that require skilfull, godly and fair mediation for positive resolution. This resource is a aboslute must for those who are involved in matters that require mediation. Certainly all Jurisdictional Council Chairmen, Local council members, Pastors, Elders and those who desire a greater knowledge of dealing with delicate issues requiring mediation. This resource will outline the hows and whys to mediation tactics.

PLACE AN ORDER FOR YOUR PERSONAL COPY TODAY FOR ONLY $10!
To order by phone call 773.533.6877 for CREDIT CARD PURCHASE ONLY.

To order by mail, Send $10 + $5 for shipping and handling for a Total of $15 to:
GENERAL COUNCIL OF PASTORS AND ELDERS
Church of God in Christ
P.O. Box 15365, Chicago, IL 60615
ATTN: MEDIATION HANDBOOK

PLEASE ALLOW 5 BUSINESS DAYS FOR DELIVERY.