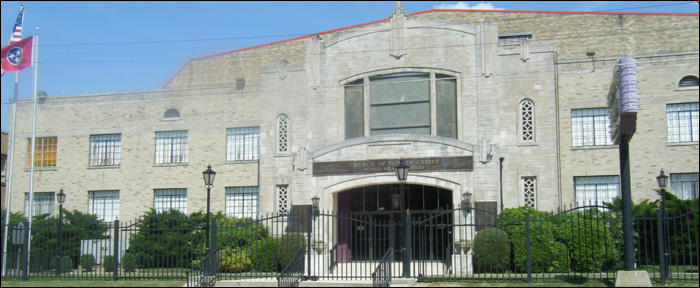 History of Mason Temple
Mason Temple, in Memphis, Tennessee, is the international sanctuary and central headquarters of the Church of God in Christ, the largest African American Pentecostal group in the world.
Built in 1941 during World War II, the Temple was constructed to replace the original "Tabernacle" or meeting place of the Annual Holy Convocation which burned down in the late 1930s. Despite shortages of steel and other supplies, Mason Temple was the largest church building owned by a predominantly black religious denomination in the United States at its completion. It has a present seating capacity of 3,732.
The building was named for Bishop Charles Harrison Mason, founder of the Church of God in Christ, who is entombed in a marble crypt inside the Temple. It was the location of Martin Luther King Jr.'s famous "I've Been to the Mountaintop" speech on April 3, 1968, one day before his assassination.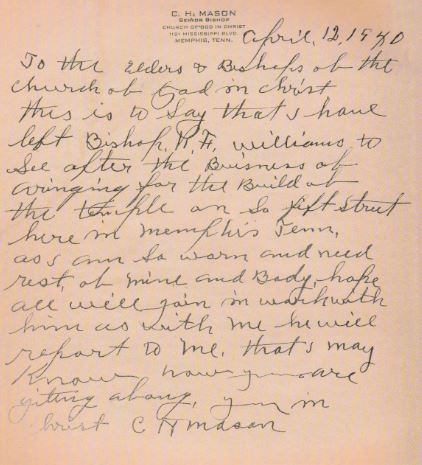 Write the Vision
On April 12, 1940, Bishop C.H. Mason commissioned Bishop R.F. Williams to oversee the building of Mason Temple. In this letter Bishop Mason wrote: "To the Elders & Bishops of the Church of God in Christ this is to say that I have left Bishop R.F. Williams to see after the business of arranging for the build of the temple on So. Fifth Street here in Memphis, Tenn. as I am so worn and need rest of mind and body, hope all will join in work with him as with me he will report to me that I may know how you are getting along. Yours in Christ, CH Mason"
The work on Mason Temple was not complete until 1945. Bishop R.F. Williams wrote a letter to the Church of God in Christ detailing the many obstacles they faced pursuing the vision God had given Bishop Mason, but also gave glory to God for overcoming every problem. When Mason Temple was being erected, the United States was at the end of the Great Depression and also it was during war time where steel was in short supply. The building of Mason Temple is a testament to the fact that where God guides, He provides.
Image Credit: Church of God in Christ Publishing House's "Facts about the Temple"