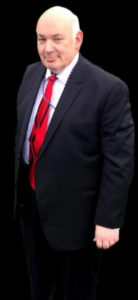 January 4, 2018
Dear Saints,
It is with profound sadness of heart and humbleness of spirit that the Adjutant General, Bishop Robert G. Rudolph, Jr., announces the glorious promotion of Overseer Robert Midkiff who was promoted to glory on the morning of January 4, 2018.
Final arrangements are below.  We solicit your support and prayers for the Midkiff family during this transitory season of their lives.
Adjutants who will be serving are asked to be in your Class A attire.  If I can be of further assistance, you can email me at [email protected] or call (904) 217-9603.  May God continue to strengthen and keep you.
In His Service
Overseer Earl R. Matthews
Scribe of the National Adjutancy
Church Of God In Christ, Inc.
---
Services are as follows:
Local and Jurisdictional
Thursday, January 11, 2018 at 6:00 PM
(Public Viewing 4:00 PM – 6:00 PM)
New Jerusalem Church Of God In Christ
1623 South 11th Street, Tacoma, Washington 98405
Cards and Resolutions May Be Sent To:
Missionary Kathy McCain – 253.572.6785,
253.572.1752 (fax) or [email protected]
The Celebration of Life
Monday, January 22, 2018 at 11:00 AM
(Public Viewing 9:00 AM – 11:00 AM)
Glad Tidings Church Of God In Christ
27689 Tyrrell Avenue, Hayward, CA 94544
Bishop Jerry W. Macklin
Second Assistant Presiding Bishop, Church Of God In Christ, Inc.
Cards and Resolutions May Be Sent To:
Missy Dorothy Gallaway 510.381.9076 or [email protected]