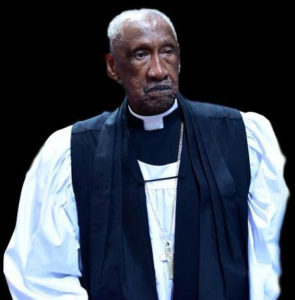 December 16, 2017
Dear Saints,
This correspondence is being sent at the request of the Adjutant General, Bishop Robert G. Rudolph, Jr. as per Presiding Bishop Charles E. Blake, Sr.
It is with great regret that I inform you of the passing of Bishop Jesse James Lipford, Auxiliary Bishop of the Tennessee Fifth Ecclesiastical Jurisdiction under the leadership of Bishop Jerry W. Taylor, Jurisdictional Prelate.  The Lipford family as well as the Tennessee Fifth Ecclesiastical Jurisdiction are in need of our fervent prayers at this time.  
The final arrangements are as follows:
National Homegoing
Saturday, December 30, 2017 – 11:00 AM
Tennessee Fifth Jurisdiction Headquarters
Gethsemane Garden Institutional COGIC
1740 Vollentine Avenue, Memphis, TN 38107
The Ministry of Comfort is entrusted to:
M. J. Edwards Whitehaven F.C.
5494 Elvis Presley Blvd, Memphis, TN 38814
901.332.3164
If there are any general questions, you can contact Pastor Rosman Randle at 901.573.7238.
The Adjutant General is requesting that all Bishops please wear your "Class A" attire.  All Adjutant Brothers please wear your "Class A" vestments and Adjutant Sisters please wear your White Habits.  If you need further assistance, you can email me at [email protected] or call  (904) 217-9603.  May God continue to strengthen and keep you.
In His Service
Overseer Earl R. Matthews
Scribe of the National Adjutancy
Church Of God In Christ, Inc.