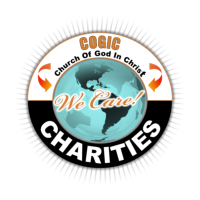 MISSION
COGIC Charities is the benevolent arm of the Church Of God In Christ, reaching out to assist humanity at a time when rising unemployment and natural disasters are devastating the lives of so many.
We are admonished in the Holy Scriptures, "If a brother or sister be naked, and destitute of daily food, And one of you say unto them, Depart in peace, be ye warmed and filled, notwithstanding ye give them not those things which are needful to the body, what doth it profit?"
ABOUT US
Presiding Bishop G.E Patterson saw the need for a benevolent arm within the Church Of God In Christ Inc. to specifically provide assistance for areas devastated by natural disasters and to provide educational scholarships for high school students entering college.
COGIC Charities Inc. was founded in April 2002 by Presiding Bishop G.E Patterson to serve as the benevolent arm of the Church Of God In Christ Inc. COGIC Charities Inc. is registered as a national non-profit (501C3) organization.
Since its founding, COGIC Charities has provided humanitarian relief to four regions that have been hit by natural disasters and has donated to various relief agencies including the Salvation Army, the Horn of Africa Relief and Development Organization, the United Nations Food and Agriculture Organization and the American Heart Association.
Under Chairman of the Board, Bishop Charles E. Blake, COGIC Charities have awarded the most dollars for scholarships in the organization's history. In 2008, COGIC Charities awarded over $110,000 scholarships to those who were eligible in furthering their academic studies in higher learning institutions nationwide.