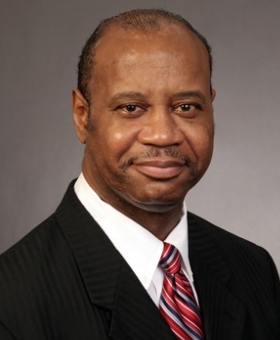 Chaplain Carlos R. Bell
M.Div., M.A.
Commissioner/Endorser
Chaplain Carlos R. Bell, M.Div., M.A., 26th ACPE President
 Chaplain Carlos R. Bell serves as Ecclesiastical Endorser/Commissioner of Church of God in Christ, Inc. Chaplaincy. He is sixth in succession. His responsibilities include endorsement, certification, administration, policy development, support of COGIC chaplains, as well as chaplain training at the Annual Holy Convocation and multiple denominational, seminary, and institutional settings. He is the denominational representative to the Office of the Chief of Chaplains of the United States.
He earned a Master of Divinity and Master of Arts in Religious Education from Southwestern Baptist Theological Seminary, Fort Worth, TX. During his education at Southwestern, he served as graduate assistant to the Distinguished Professor of Old Testament, Dr. Ralph L. Smith. Southwestern honored him with the Southwestern Baptist Theological Seminary Distinguished Black Seminary Alumni award for notable accomplishments in chaplaincy.
Bell currently serves as director of Pastoral Education and Pastoral Care at the world-renowned Baylor University Medical Center (BUMC), Dallas, TX. He is the first non-Baptist and Black hired in the department's history. He oversees a 2.5 million dollar budget and 75 employees. The clinical pastoral education program is one of the largest in the world with strong emphasis on gender, cultural, and international student training. He was selected by his peers as one of the top 12 Association for Clinical Pastoral Education (ACPE) Educators in the country. The department chaplains are Association for Professional Chaplain Board Certified. The BUMC robust spiritual training institution and service agency model is unique in scope and practice serving the needs of "persons of faith and those of none."
Bell is a cradle COGIC member reared at the Globeville COGIC, Denver, CO, Pastor Eugene Graham, Licensed by the then-Supt. Prince E.W. Bryant, Sr., and Ordained by Bishop J. Neaul Haynes. He was mentored by Texas ministry legends the late Dr. A.J. Hines, Bishop R.E. Ranger, Bishop J. Neaul Haynes, Bishop Frank W. Smith, and Bishop J. Edward Lee. He has served COGIC in the following positions: Texas Northeast Ecclesiastical Jurisdictional Adjutant, Pastor of the Holy Temple COGIC, Dallas, TX, S.D. Lee Memorial District Superintendent, Texas East Ecclesiastical Jurisdictional Secretary, Personal Secretary to the Board of Bishops Judiciary Committee Chairman, Texas Metropolitan Ecclesiastical Jurisdictional Executive Board Member, and current Founder/Pastor of the J. Neaul Haynes Memorial COGIC, Dallas, TX.
Professional Accomplishments Include:
The first COGIC ACPE Certified Educator.
Designed and implemented the first yearlong CPE residency program in the history of the Department of Veterans Affairs, Dallas, TX.
Selected National VA Chaplain Of The Year by the Department of Veterans Affairs.
Past ACPE Southwest Regional Certification Chair and Regional Chair. The first person of color to hold both positions.
The third person of color and first Pentecostal to serve as ACPE President.
Chaired the ACPE 50th Anniversary Celebration in Minneapolis, MN. The largest annual conference in history and delivered the presidential speech, chaired board meeting, certified educators, and approved annual budget.
Lecturer at U.T. Southwest Medical School for third year Residents, "Culture, Spirituality and Medicine."
Lecturer at the 30th Annual Conference of the International Anaplastology Association, "Spirituality and The Human Soul: The Heart of Anaplastology."
2016 COGIC 109th Holy Convocation Annual Education Luncheon Keynote Speaker, "The Danger of an Educated Mind: Dr. A.J. Hines."
To view video, click here and enter password "
acpe

"