July 8, 2019
Dear Saints,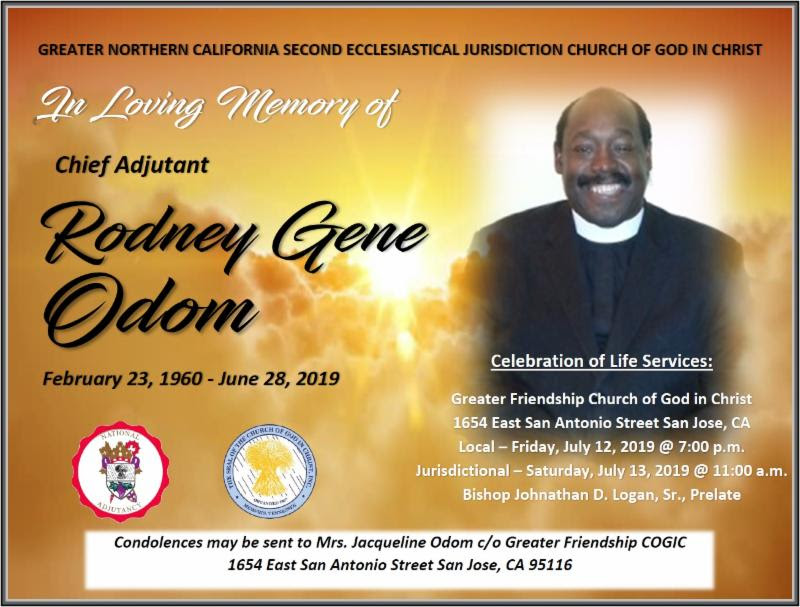 It is with profound sadness of heart and humbleness of spirit that the Adjutant General, Bishop Robert G. Rudolph, Jr., as per the request of Bishop Johnathan D. Logan, Sr., Prelate of the Greater Northern California Second Ecclesiastical Jurisdiction, announces the glorious heavenly promotion and services for Chief Adjutant Rodney Gene Odom.
Final arrangements are below.  We solicit your support and prayers for the Odom family during this transitory season of their lives.
If I can be of further assistance, you can email me at [email protected] or call (904) 217-9603.  May God continue to strengthen and keep you.
In His Service
Overseer Earl R. Matthews
Scribe of the National Adjutancy
Church Of God In Christ, Inc.
---
Services are as follows:
Local Celebration of Life
Friday, July 12, 2019 ~ 7:00 PM PST
Greater Friendship Church Of God In Christ
1654 E. San Antonio Street, San Jose, CA 95116
Jurisdictional Homegoing Celebration
Saturday, July 13, 2019 ~ 11:00 AM PST
Greater Friendship Church Of God In Christ
1654 E. San Antonio Street, San Jose, CA 95116
Eulogist – Bishop Johnathan D. Logan, Sr., – Jurisdictional Prelate
2nd Assistant Presiding Bishop Church Of God In Christ
Expressions of Kindness
All condolences or expressions of kindness can be sent to:
Mrs. Jacqueline Odom
c/o Greater Friendship Church Of God In Christ
1654 E. San Antonio Street, San Jose, CA 95116