Evangelist Tahaiti L. Tinsley
Assistant Chairlady
President Southwest Region | Southern California Second Ecclesiastical Jurisdiction




The Ministry of Evangelist Tahaiti L. Tinsley has been identified as anointed, innovative, trendsetting and compassionate. Evangelist Tinsley is an Evangelist in the Lord's church called to minister to this present world through the power of the Holy Ghost. Evangelist Tahaiti Lavette Tinsley was born and raised in Chicago, Illinois. While stationed in Guam, Micronesia, Evangelist Tinsley accepted Jesus as personal Savior. What a miracle! After returning to the United States, she joined the Pentecostal Experience Church of God in Christ, in Escondido, California. Her formative years of ministry were with this fellowship of believers and in 1996, she received her Evangelist Missionary license from the late Mother Elizabeth Nash, (Southern California Second Jurisdictional Supervisor of Women).
Evangelist Tinsley is a hard-working member of the Church of God in Christ on local, district, jurisdiction and international levels. Evangelist Tinsley is a faithful member of the Mt. Olive Church of God in Christ. Evangelist Tinsley received her spiritual training for servant leadership under the life-changing ministry of the late Dr. Vernon and Evangelist Fredonia Cooper. Her local church commitments include but are not limited to: bible study coordinator, member of the ministerial staff, praise and worship leader and youth advisor to the Glory of God!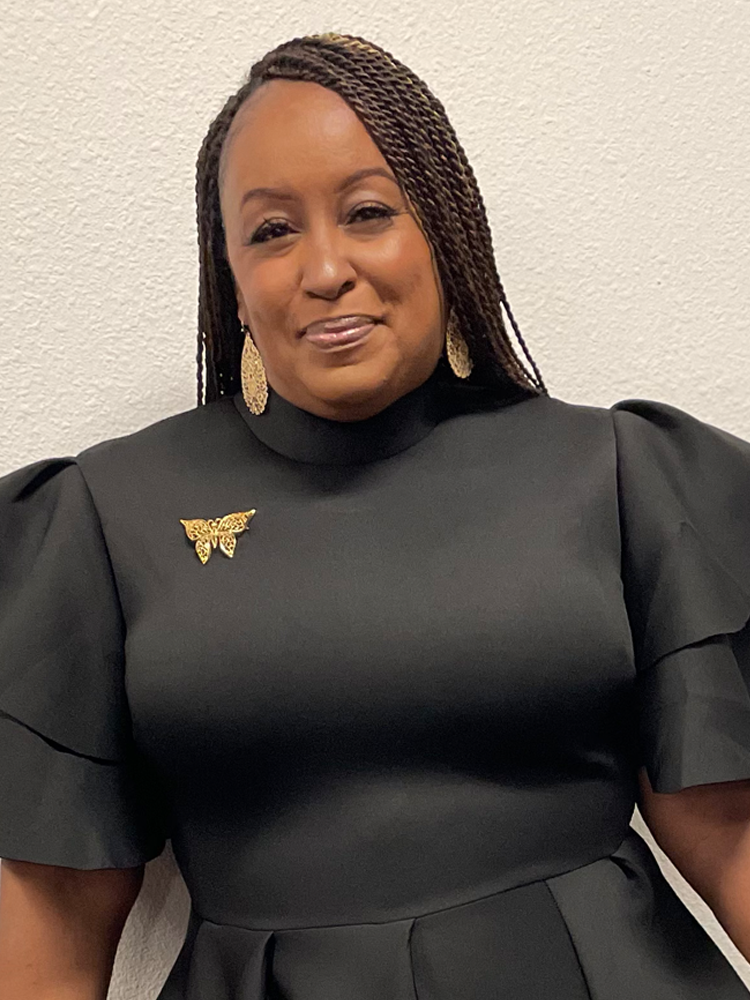 Evangelist Tahaiti L. Tinsley
Assistant Chairlady
Evangelist Tinsley serves in the Southern California Second Jurisdiction, under the anointed leadership of Jurisdictional Prelate/General Board Member, Bishop George Dallas McKinney and Supervisor of Women's Department, Mother Gloria Lynch. Evangelist Tinsley's jurisdictional assignments have included: Youth Director, General Secretary (Olivet District Women's Dept.), Purity Lady (Women's Department), as well as Youth Department Expeditor for several years. It has been her honor to serve as the President of the Youth Department since her appointment in 2007. Evangelist Tinsley also serves as the Public Relations Representative for the Bishop's Office. President Tinsley served as the Administrator in the International Youth Department, Church of God in Christ under the innovative leadership of President, Dr. Benjamin Stephens, III and the dynamic Chairlady, Evangelist Joyce L. Rodgers. Among her International assignments she has served as: the Vice-Chairperson, National Coalition of Jurisdictional Presidents (former President/AIM Chairman, Bishop Linwood Dillard), Vice-President, Southwest Region, Chairlady, Southwest Region. Evangelist Tinsley was the inaugural recipient of the prestigious "Youth President of the Year" Award (International AIM Convention, 2014). Since March 2019, the Lord has graced Evangelist Tinsley to serve as President, Southwest Region—International Youth Department of whom she lovingly refers to as her "Community". Because of Christ, Evangelist Tinsley is the only female Regional President in the International Youth Department and the second to hold this position in the more than 110 years of the existence of the Church of God in Christ. In 2021, Evangelist Tinsley was elevated to the Office of Assistant Chairlady for the International Youth Department, Church of God in Christ, under Superintendent Nathaniel Green and Chairlady Vandalyn Kennedy. Kingdom Ambassador, Change Agent and straight up are some of the words to describe the cutting-edge ministry of Evangelist Tinsley. Her efforts toward ministry have resulted in the growth and development of youth ministry on every level. Through the aid of the Holy Spirit, Evangelist Tinsley has implemented programs and resources for the body of Christ designed to enhance individual and team ministry.
Gifted in administration, Evangelist Tinsley is a visionary leader who provides creative, artistic fearless, relevant approaches to win souls for Christ. The joy of Evangelist Tinsley's life is her family. She is married to Assistant Pastor, Elder Jerry Tinsley, III and together they are the proud parents of four wonderful children, and two grandchildren.
To God be the Glory for the things He has done!