Vendor Central
If you are a vendor or exhibitor, and looking to sell or promote your products and/or services at the AIM Convention, then you have come to the right place. The AIM Convention is a family involvement experience that highlights experiences in Music and Youth, Missions and Evangelism and Sunday School, Exhibit at this convention and immediately benefit from this unprecedented opportunity to promote your products and services to an audience of savvy consumers!
Our massive exhibit hall will be filled with vendors from around the country promoting clothes, videos, music, curricula, ministry services and more! If you're interested in becoming a vendor for the 2023 AIM Convention in Indianapolis Indiana please select the link below to register online.
You can register to be an exhibitor here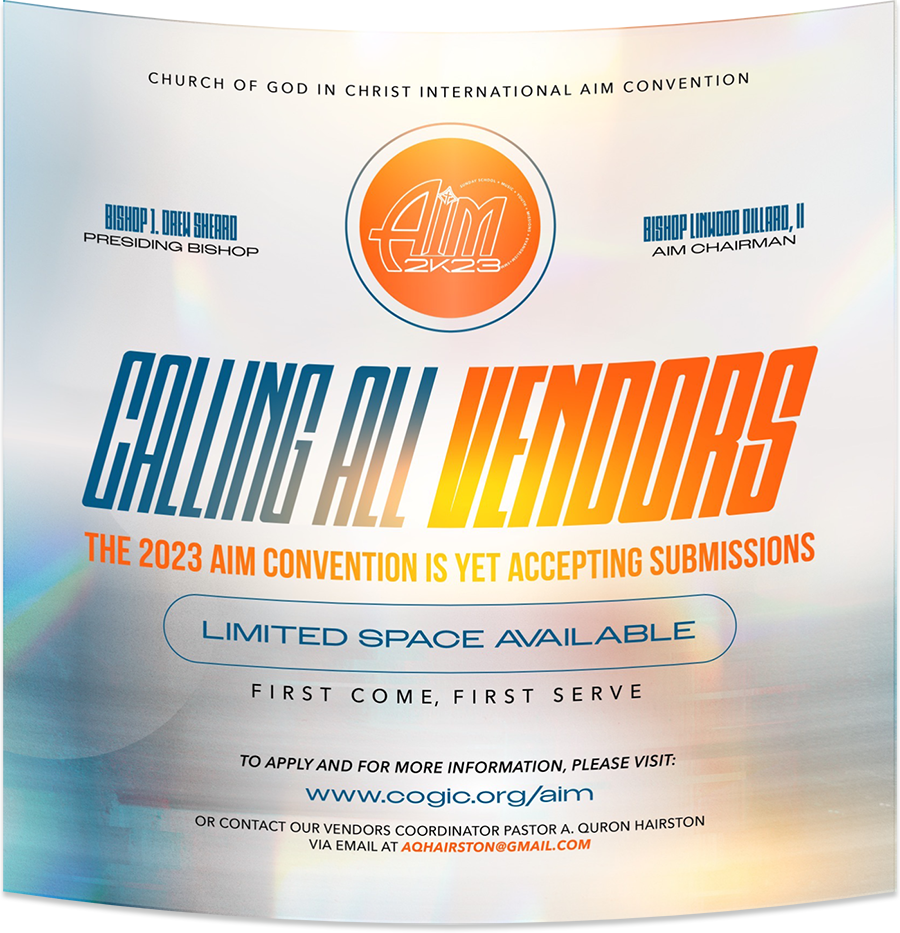 Thank you for your interest in securing a booth at the Church of God in Christ - AIM Convention 2023!
This event occurs July 3-7, 2023, at the Indianapolis Convention Center in Indianapolis, IN.
Exhibit Hall Schedule
Load-In: Sunday, July 2, 2023 (8:00 a.m. - 5:00 p.m.) / Monday, July 3, 2023 (8:00 a.m. - 2:00 p.m)
Operation Dates: Monday, July 3, 2023, through Friday, July 7, 2023
Load Out: Friday, July 7, 2023 (6:00 p.m. - 10:00 p.m.) / Saturday, July 8, 2023 (7:00 a.m. – 11:00 a.m.)
All exhibitors must vacate the exhibit area by Saturday, July 8 @ 11:00 a.m. The AIM Convention/COGIC is not responsible for any items left behind.
Still Have Questions or Concerns?
Please fill out the form below, our marketing team will respond to your inquiry shortly.