Bishop Augustus Pullen, Deputy Adjutant General
Bishop Pullen is well known for his extensive work in Church Leadership and as the National Adjutant for the northeastern region for the Church of God in Christ.  Bishop Pullen has been the senior pastor for Rehoboth Church Of God In Christ with two locations, in Bridgeport for thirty-three years and Hartford for over eight years. He is also the co-founder of the Jabez Project, which has been established to prepare individuals and churches for the challenges of 21st Century ministry.
In 2017, he was appointed the Deputy Adjutancy General for the Church Of God In Christ and is on the executive committee for the General Assembly.  He also serves on the Screening Committee of the General Assembly.
He is the husband of Michele Pullen and they have four children and seven grandchildren.  He is currently employed at the Cornell Scott Hill Health Center and in private practice.
Augustus D. Pullen, LCSW, is a Licensed Clinical Social Worker serving as Program Director of School Based Health Centers for one of New Haven's Healthcare Agency and Diplomat in the America Psychoanalysis Association. He has been in practice for more than thirty-nine years, doing an array of treatments, from individual, family, substance abuse, evidence based treatment interventions, and child therapy. He has specializations in critical debriefing, sexual abuse, psychotic and personality disorders, trauma focused cognitive behavioral therapy and stress and anger management.
Overseer Harold Reed, Deputy Adjutant General
Overseer Harold Reed has served as an Usher, Sunday School Superintendent/Teacher, Finance Chairman and Church Janitor.  Harold served nearly 30 years as a Church of God In Christ Deacon and Trustee Board Member in Arkansas and Texas.  Harold served 3 years as Jurisdictional Chief Adjutant in Arkansas second Jurisdiction under Bishop Frank J. Anderson Jr. and was later designated as National Adjutant Overseer.
Harold is currently serving as pastor of The Historic Revelation Church of God in Christ where he recently led the church in a building project to erect a new sanctuary. Harold currently serves as Carlisle District Chairman as well as District Chairman of Finance
In April of 2017, the Adjutant General of the Church of God in Christ, Bishop Robert G. Rudolph Jr. submitted the name of Overseer Harold D. Reed Sr. to Presiding Bishop Charles E. Blake Sr. and the General Board for their approval to serve as Deputy Adjutant General.
He completed the University of Houston (now U T Houston) Executive Leadership Programs I, II and III as well as the (AMA) American Management Association short courses in finance and accounting.
Overseer Reed has been married to Beverly A. Cole-Reed for the past thirty years.  They have two Children, a son Elder Harold D. Reed Jr and a daughter Miss Chelsea N. Reed, a daughter in law Missionary Ashley S. Rhodes-Reed and two Grandchildren grandson Jalen S. Kirk and granddaughter Zoie J. Reed.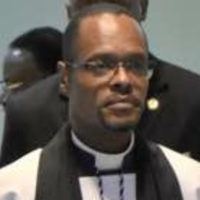 Overseer Lawrence C. Blake, Adjutant Apostolic
Elder Lawrence Champion Blake, Sr. accepted the call to the ministry long before his ordination in the year of 2006.  Elder Blake is the proud husband of Mrs. Jeanine Blake and together they are the proud parents of Jean Grace, Macy Marie, and Lawrence Champion the 2nd.  Elder Blake spends much of his time giving Bibles to those who don't know the salvation of the Lord and takes pleasure in being a blessing to others.
Elder Lawrence Blake serves his Father (Presiding Bishop Charles Edward Blake, Sr.) as Adjutant Apostolic of the Church Of God In Christ; he serves the First Jurisdiction of Southern California as Chief Adjutant; and he serves in many capacities in the various ministries at West Angeles Church Of God In Christ, where he was appointed Young Adult Pastor in 2014.
Elder Blake graduated in 2014 and received his Bachelor's of Science in Business and Organizational Innovation and plans to use every aspect of his life in order to be of better service to the Kingdom of God.  Elder Blake believes the only reason God has let him live is to be a blessing to other people and a witness to the fact that God can change your situation.
Overseer Earl R. Matthews, Scribe
Earl Matthews is a lifelong member of Holy Temple COGIC, which later became Cathedral of Faith COGIC. His mentor and father in the gospel was the late Bishop C. D. Kinsey.  Under Bishop Kinsey's tutelage he was well trained in all aspects of ministry.  Scribe Matthews accepted the call to preach the gospel in 1993, became a licensed Minister in 1994, and ordained an Elder in 2003.
For the past thirteen years, Elder Matthews' sole focus and occupation has been full time ministry.  He serves at Cathedral of Faith COGIC as a Board Member and is part of the Administrative Staff.  He serves Central Florida First Jurisdiction as Jurisdictional Secretary and Coordinator of Executive Services.  He is an Adjutant Overseer and in April 2017 he was appointed to the office of Scribe in the Church of God in Christ National Adjutancy Corps. Elder Matthews ministers the gospel regularly, locally and throughout the country. He is a sought-after workshop facilitator focusing on Protocol in the Church.
His military service in the U.S. Marine Corps instilled within him the leadership qualities and abilities that have caused him to be respected by many.  His tours of duty also afforded him the opportunity to travel the world giving him a broader outlook and perspective of life in general. Overseer Earl Matthews has an extensive background in personnel management.  His experience includes Restaurant Management. He attended Norfolk State University, Norfolk, VA; Logos Bible Institute, Akron, OH; and C. H. Mason Bible College, Jacksonville, FL.
Overseer Matthews married the former Gail Giles in July 2009.  They enjoy traveling and spending time with family, together they are the parents of seven children and nine grandchildren.
Overseer Gabriel Hatcher, Senior Adjutant Overseer
Sr. Chief Overseer Gabriel J. Hatcher, Sr. is the fifth child out of eleven siblings, born to Pastor and Mrs. Matthew Hatcher. A Fourth generation Church Of God In Christ, Chief Hatcher has been saved for 45 years, preaching and evangelizing for 35 years.
Overseer Hatcher previously he has worked in the Denver Public School system as a Math Teacher for 3rd, 4th, and 5th graders.  Teaching, training, and mentoring people is a drive that lies within Chief Hatcher.  He served our great country in the U.S. Air Force.
Chief Hatcher is the proud husband of Evangelist Missionary Karen Gibbons Hatcher for 33 years. He his the father of three children, Gabriel Jr. Sarah, and Rachel Hatcher, a daughter in love Brandy Hatcher, who all work in the ministry along with he and his wife.  Chief Hatcher has seven grandchildren; Gabriel, Jeremiah, Ezra, Josiah, James, Judah, and the only little cute button of the bunch, the only little girl Genesis.
Chief Hatcher is the pastor of Miracle Temple Of Deliverance Church Of God In Christ, Inc., where he's been pastoring now for 23 years. His church is in the First Jurisdiction of Kentucky under the Leadership of Bishop John Fleming. Chief Hatcher serves as the District Superintendent of the Bishop Dwight L. Haygood Sr. Memorial District.
Chief Hatcher has served in many, many capacities within the church: Choir Director; Shut-in Conductor; Praise Leader; District Evangelist Pres.; State Evangelist Pres.; State Secretary; Chief Adjutant; First Administrator;Second Administrator; Fourth Administrator; Regional Secretary; National Evangelist; National Adjutant;  National Overseer .
In 2009, Chief Hatcher was appointed Overseer of Preferred Seating, which gave him the Title of Floor Manager.  In 2016, Chief Hatcher was appointed as Senior Chief Adjutant Overseer by the previous Adjutant General, Bishop Matthew Williams. And in 2017 Chief Hatcher was Reappointed by the present Adjutant General Bishop Robert Rudolph to the same position.
In 2011, Chief Hatcher graduated with his Doctorate of Theology Degree from Next Dimension College in Pomona California.
Chief Hatcher loves his job as a "servant", and he enjoys serving God's people.
Mother Geraldine Miller, Adjutant Mother
Adjutant Mother Geraldine Miller started the Church of God in Christ Bookstore under Presiding Bishop J.O. Patterson, Sr. and served as the first Bookstore Manager.  Upon inception, Mother Miller was asked by Bishop Roy L. H. Winbush to go with him to identify a building and asked her to open a Bookstore that will be owned and operated by the Church Of God In Christ.  Mother Miller worked untiringly to equip the building and order supplies for this new venture that was opened during the April Call Meeting of that year.  The Church Of God In Christ Bookstore was birthed from the labor of love and emotions of Mother Geraldine Miller.  It continues to be her passion until this present day.
Currently, she is the Supervisor of Tennessee Headquarters Ecclesiastical Jurisdiction for more than 20 years.  She works alongside Bishop David Allen Hall, Sr., Jurisdictional Prelate.  She was appointed as Supervisor by the late Bishop J. O. Patterson, Jr.  She has been a member at Pentecostal Temple COGIC for over 57 years under the pastorate of Bishop Charles Harrison Mason Patterson. Mother Geraldine Miller joined Pentecostal Temple under the late Bishop J. O. Patterson, Sr.
She has served as Executive Board Treasurer of National Department of Women under Mother Willie Mae Rivers and was recently appointed as the Special Advisor to the National Department of Women by Mother Barbara McCoo Lewis.
Mother Geraldine Mother has served diligently in the National Adjutancy for over 40 years and began her work under Bishop Jessie Delano Ellis and served in National Communion preparations. She has written numerous guides that are used in training Adjutant Sisters and Adjutant Leaders. She was appointed as Senior Adjutant Mother under Bishop Barnett K. Thoroughgood.  Following her elevation to Supervisor, she was called Adjutant Supervisor. Her appointment led to the expansion of women in service in the Adjutancy due to her meticulous implementation of the National Communion Service.  She has served under each of the Adjutant Generals since the inception of the National Adjutancy.
Mother Jerrine Simmons Hicks, Deputy Adjutant Mother
Mother Jerrine Simmons Hicks has served in the National Adjutancy Corps since 1983 National Adjutancy and works alongside Mother Geraldine Miller in the meticulous execution of the National Communion Service.  She is currently the Supervisor of Women of the Saint Lucia Eastern Caribbean Jurisdiction with Jurisdictional Bishop E. Charles Connor.
She serves as a member of the National Department of Women National Executive Board serves as Financial Secretary. She is Chairman of the Board of Administration of the COGIC Mc Glothen House on Edith Avenue in Memphis, Tennessee.  She is a member of Pentecostal Temple Church Of God In Christ – Memphis, Tennessee under the Pastorate of Bishop Charles H. Mason Patterson, Sr. and serves as his Administrative Assistant.
Mother Simmons studied at Sacramento College in Sacremento, California where she was a 2009 graduate and served as Class President of the Missionary and Auxiliary Awareness Institute (MAAI).  Mother Simmons has an extensive background in Life Insurance Management, Sales and Auditing in Atlanta, Georgia and Memphis, Tennessee since 1968.  He excellence and expertise led to her being the 1st Female to be an Agency Director of Operations for eleven states and 35 branch offices.
Deputy Adjutant Mother Jerrine Mntague is the Mother of two children – Tony R, Liggins and Constance M. (Pastor Joe L.) Butts; two grandchildren – Simoné R. Liggins and Tony R. Liggins, II and Godson – Bishop Charles H. Mason (LaShaundra C.) Patterson, Sr,
Overseer Eugene C. McCown, Jr., Overseer of Operations
After his ascension to the Office of Adjutant General, Bishop Robert G. Rudolph, Jr. appointed Overseer Eugene C. McCown, Jr. as the Chief Operations Officer (COO) of the National Adjutancy.  As the Overseer of Operations, Overseer McCown is responsible for the financial, logistical, and technical operations of the National Adjutancy.  Overseer McCown has been a member of the National Adjutancy since 2005 and has been working with the Operations Team since 2006.
Overseer McCown is the Pastor of Praise Center Church Of God In Christ in Dumfries, VA where he serves under the leadership of General Board Member, Bishop Ted G. Thomas, Sr., in the Historic First Ecclesiastical Jurisdiction of Virginia.  Within Virginia 1st, Overseer McCown serves in various capacities, including Adjutant, District Youth President, State Youth Worker, Registrar, and Campaign Support, just to name a few.  In addition to serving in the National Adjutancy, Overseer McCown provides IT and programming support for the General Secretary's Office, serves as Registrar for the General Council of Pastors & Elders Conference, and serves in various other capacities within the National Church.
Overseer McCown has an extensive background in Information Technology, where he holds a Bachelors of Science degree from National University and certifications from Oracle (Sun), Lieberman Red, and others.
Overseer McCown has been married to Missionary Yolinda McCown for twenty (20) years.  They are the proud parents of four: Dymond, Eryck, Crystal and Eryn, who work closely with him in ministry.
Bishop Guy Glimp, Dean of the Academy
Bishop Guy Glimp is a multi-talented Leader and serves as Pastor of the Sanctuary Church of God in Christ, located in the Mt. Airy section of Philadelphia. Under his leadership, the ministry has experienced tremendous growth. His fundamental mission is to evangelize the lost, edify the believer, equip the saints for ministry and grow the local church.
Ordained in 1992 by the late Bishop O.T. Jones Jr., Overseer Glimp has served the Church of God in Christ in many areas.  He is the 3rd Administrative Assistant to Bishop Ravenel of the Commonwealth of Pennsylvania Jurisdiction of the Church of God in Christ. Bishop Glimp also serves as the Chief Financial Officer of the Jurisdiction with responsibility for all banking and investing activities.
In the National Church, Bishop  Guy Glimp is the Dean of the National Adjutancy Corp., a member of the Quality Assurance Team, Budget Committee and most recently served as Interim Controller of the church reporting to the Presiding Bishop Charles E, Blake, Sr.
He is known for his extensive community involvement in Philadelphia, Pennsylvania.  He is a member of the Police/Clergy of Philadelphia, Black Clergy of Philadelphia & Vicinity, which deals with social programs and progressive politics to enhance the lives of those in the community.
Bishop Glimp holds undergraduate and graduate degrees from Shippensburg University and Stonier Graduate School of Banking.  He has been conferred the Masters of Divinity (M.Div.) and the Masters of Sacred Theology (STM) degree from the Lutheran Theological Seminary at Philadelphia.
Bishop Glimp is married to Lady Regina Hester-Glimp and they are the proud parents of three, Regine (now with the Lord), Cherelle and Jonathan.
Dr. Doreatha J. Fields, Asst. Dean of the Academy
Dr. Doreatha J. Fields is a Licensed Clergy, Author, Motivational Speaker, Writer, Certified Florida Supreme Court Family Mediator, Certified Life Coach and Management Consultant.    She is a lecturer and speaker on topics including Christian & Religious Ethics, Education, Women, Youth, Families, Administration, as well as Strategic Ministry Development. She is the author of four (4) published inspirational and personal development books. She served as a University Professor providing instruction in Master's level Business Administration & Business Ethic courses.
Dr. Fields earned her Associate of Arts degree from University of Florida; Bachelor of Science degree in Speech from the University of Florida; Master of Science degree in Administration from Nova University and a Doctorate of Education degree from Nova Southeastern University.
Dr. Fields is a fourth-generation member of the Church Of God In Christ.  She is a member of the Evangelist Missionary Circle of Christian Fellowship Church of God in Christ, Inc. Dr. Fields is the Jurisdictional Women's Department Education and Licensure Coordinator of the Women's Biblical Training Institute (WBTI).  She is member of the Jurisdiction of Southwestern Florida Education Department and is the Financial Expeditor for the Jurisdictional Department of Women of the Jurisdiction of Southwestern Florida COGIC.
She has been a member of the National Adjutancy Corps since 2000.  She was appointed as an Adjutant Mother-At-Large in 2009.  In 2013, Dr. Fields made history within the organization of the Church Of God In Christ, by being appointed as the First Female Assistant Dean of the National Adjutancy Corps Academy.  Dr. Fields has been a National Credentialed Evangelist Missionary since 1986. She was appointed and served in the office of District Missionary of the Greater Orlando District of the Jurisdiction of Southwestern Florida COGIC from 2003 to 2017.
She and her family reside in Palm Bay, Florida. She is the wife of Dr. Ronnie Fields – Pastor of Christian Fellowship Church of God in Christ in Melbourne, Florida. She is the mother of two adult children & a son-in-law.