Youth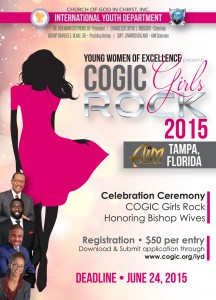 Don't miss this exciting opportunity to be a participant in COGIC Girls ROCK 2015. Young ladies, ages 13-21, will meet at the AIM Convention in Tampa, FL to embark upon a life-changing experience. This week will offer sisterhood, spiritual enhancement, and practical tools to excel as a woman of excellence. There is no limit as to how many young ladies from each Jurisdiction can participate. Download and submit the application NOW!
Don't forget to nominate your Bishop's wife to honored during the COGIC Girls ROCK Ceremony.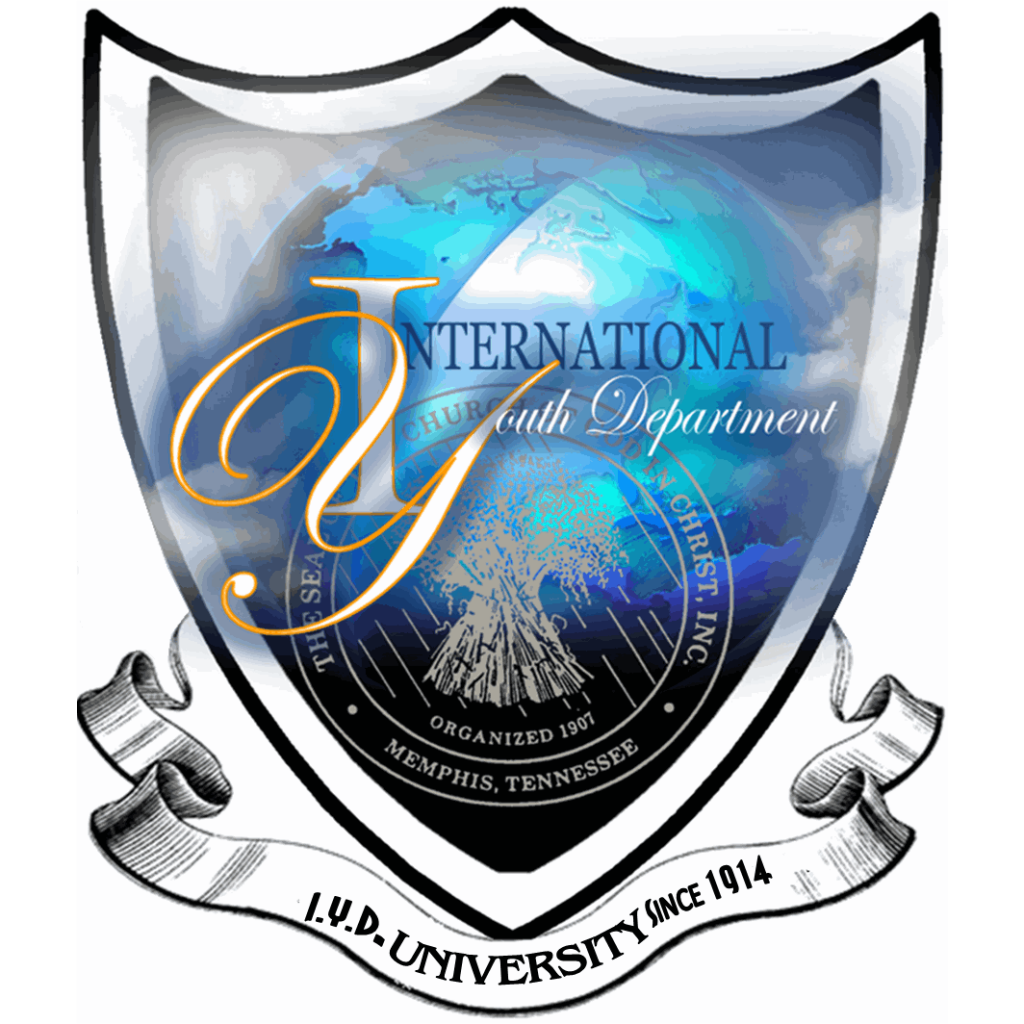 ---
International Youth Department
Church Of God In Christ, Inc.
Dr. Benjamin Stephens III, International President
Evangelist Joyce L. Rodgers, International Chairlady
---
It is with great anticipation and great expectation that the International Youth Department of the Church Of God In Christ, Inc. plans for our upcoming International Auxiliaries In Ministry (AIM) Convention which is in Tampa, FL. Our IYD President, Dr. Benjamin Stephens, III, and our IYD Chairlady, Evangelist Joyce L. Rodgers, are elated about what promises to be a "BIG" time in God. President Stephens stated, "We have Youth, Young Adults, and Youth Leaders coming from all over the world to come and be a part of this stellar convention. Our International Youth Department stands in line with our International AIM Chairman, Superintendent Linwood Dillard, Jr., in belief that this will be a wonderful time of gathering. It is our prayer that God meets us in a BIG way, blesses us in a BIG way, and the indelible impact that is made on their life is quite simply….BIG!"
Our IYD Chairlady, "Evangelist Joyce L. Rodgers, certainly agree with President Stephens. "We are blessed in the International Youth Department with the opportunity to touch the lives of the future leaders of not only our church but also the world. Our prayer is that God divinely blesses us like only He can in a mighty BIG way!"
So, the question is now asked, what can be expected from our International Youth Department in our upcoming AIM Convention? President Stephens says, "Our team is fervently working and planning to ensure this will be one of the greatest times of gathering ever. We are also excited to have a few new initiatives that will be incorporated into our schedule of events. In the coming days, there will be several details that will be communicated so that all can take advantage of what's to come. We have some of the best leaders on our team that always strive to present a fun and yet spirit filled experience."
It is evident that our leadership and team are not just planning, but also believing God for BIG things this year. Let's believe God to do it! Feel free to stay connected with us via our many Social Media portals and contact us via email at [email protected] Remember. It's going to be "BIG".
HIGH SCHOOL GRADUATE APPLICATION GENERAL INSTRUCTIONS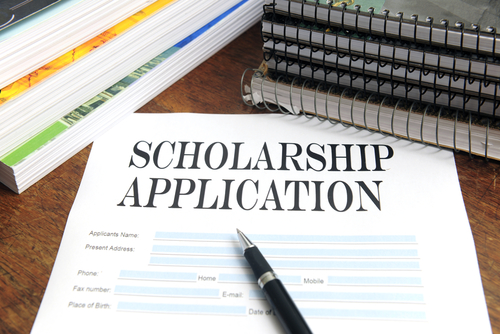 Click Image to Download Full Application
Dear Applicant,
The following instructions are provided to assist you in the application process:
Complete your application with the following information and please submit via Certified Mail, Fed Ex, UPS or USPS Priority Mail to the address listed below.

One recent 3×5 or 4×6 color photo of student (no photocopies).
An official sealed copy of student's high school transcript. Transcript must show cumulative 3.0 grade point average. Unofficial copies will not be accepted.
Letter of acceptance from the 4 year college or university institution of student's planned attendance.
Three character references one from your High School Administrator/Counselor, one from your pastor, and one from your youth president/chairlady.
IYD Policy Statement signed by student and parent/guardian.
Completed Scholarship Application signed by student and parent/guardian.
Student's typed resume (one page) with all accomplishments, achievements, community involvement, and school activities. Indicate all areas where you exercised leadership.

Please answer all questions (typed or printed in black ink) on the application.
Completed application materials must be postmarked by Friday, June 12, 2015. Incomplete or late applications will not be accepted.
SUBMIT VIA CERTIFIED MAIL; INCLUDING FED EX, UPS OR USPS PRIORITY MAIL ONLY TO:
International Youth Department Church of God in Christ
Collegiate & Young Adult Ministries (High School IYD App.)
Versie T. Cuthbert
P. O. Box 940816
Houston, Texas 77094
**Hand delivered applications will not be accepted.
If you have any questions please contact Versie T. Cuthbert 713-816-6662 email [email protected]
Join the Young Women in Ministry Thursday July 3rd for a One Day Power-Packed Empowerment Session. There will be two exciting components that will take place on that day. First, it is c alled "Platform;" young women who have books or cds will be given the opportunity to showcase their materials for a small donation of $25.00. Secondly, it is called "Let's Have Church;" this is a time where young women interested in speaking will give a 3 to 5 minute inspirational message. This session is open to ALL and ALL are welcomed to come. For more information contact [email protected] See you there!!!
International Youth Advisory Council – "Back 2 School" Campaign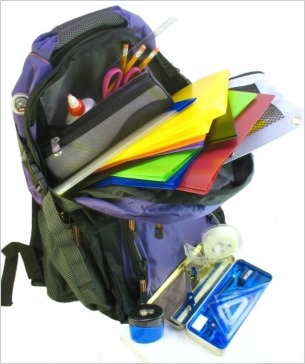 Imagine seeing people from all over the country pouring off of planes and stepping out of buses with book bags and school supplies that will impact and bless many families with school age youth within the Kansas City Metropolitan vicinity. Furthermore, imagine this being accomplished within the first day or two of our upcoming International AIM Convention 2014 in Kansas City, MO. Our IYD President, Dr. Benjamin Stephens III, IYD Chairlady, Evangelist Joyce L. Rodgers, and our International Youth Advisory Council Director, Aspiring Missionary Felicia Pickett, all agree that this can and will be more than an imagination. They all agree harmoniously that this will be a key turning initiative that will positively touch the lives of many.
"To be the piece of the puzzle to ensure that so many mothers and fathers have the supplies that their sons and daughters vitally need to return to school and prepared to learn would be momentous," said Dr. Benjamin Stephens III, IYD President. He added that this would say to the youth that someone does care about us and others want to invest in our education. This will touch the lives of those in summer school and those returning to school in the fall as well.
IYD Chairlady, Evangelist Joyce L. Rodgers, also believes this is a great initiative. "How impactful it is to say to the youth and the parents of Kansas City, MO that the Church Of God In Christ cares about their children." Evangelist Rodgers added, "To have the opportunity to sow a seed and touch the educational side of our youth is very important. It is a resounding statement that we care holistically about the youth of today."
Our goal is to supply the students of Kansas City with the basic tools they need for a successful first day of school. Supplies will be taken to the convention center where the convention attendees will be able to fill a book bag with an assortment of school supplies. In order to accomplish this goal, the International Youth Advisory Council will need the support of the not only our International Youth Department, but our entire church on every level.
"We would like encourage the International AIM Convention attendees and all within our great church to donate a book bag with some school supplies," said Aspiring Missionary Felicia Pickett. She added, "It will not only get the entire church involved and excited, but we would easily reach our goal as well. It will be a great sight to see."
More information will be forthcoming in the upcoming days ahead. The International Youth Department will communicate specific details as to how this wonderful initiative will move from an imagination to a reality.
________________________________________________________________________________________________
International Youth Department Church Of god in christ, inc.
AIM 2014 community initiative
Dr. Benjamin Stephens III, International President
Evangelist Joyce L. Rodgers, International Chairlady
________________________________________________________________________________________________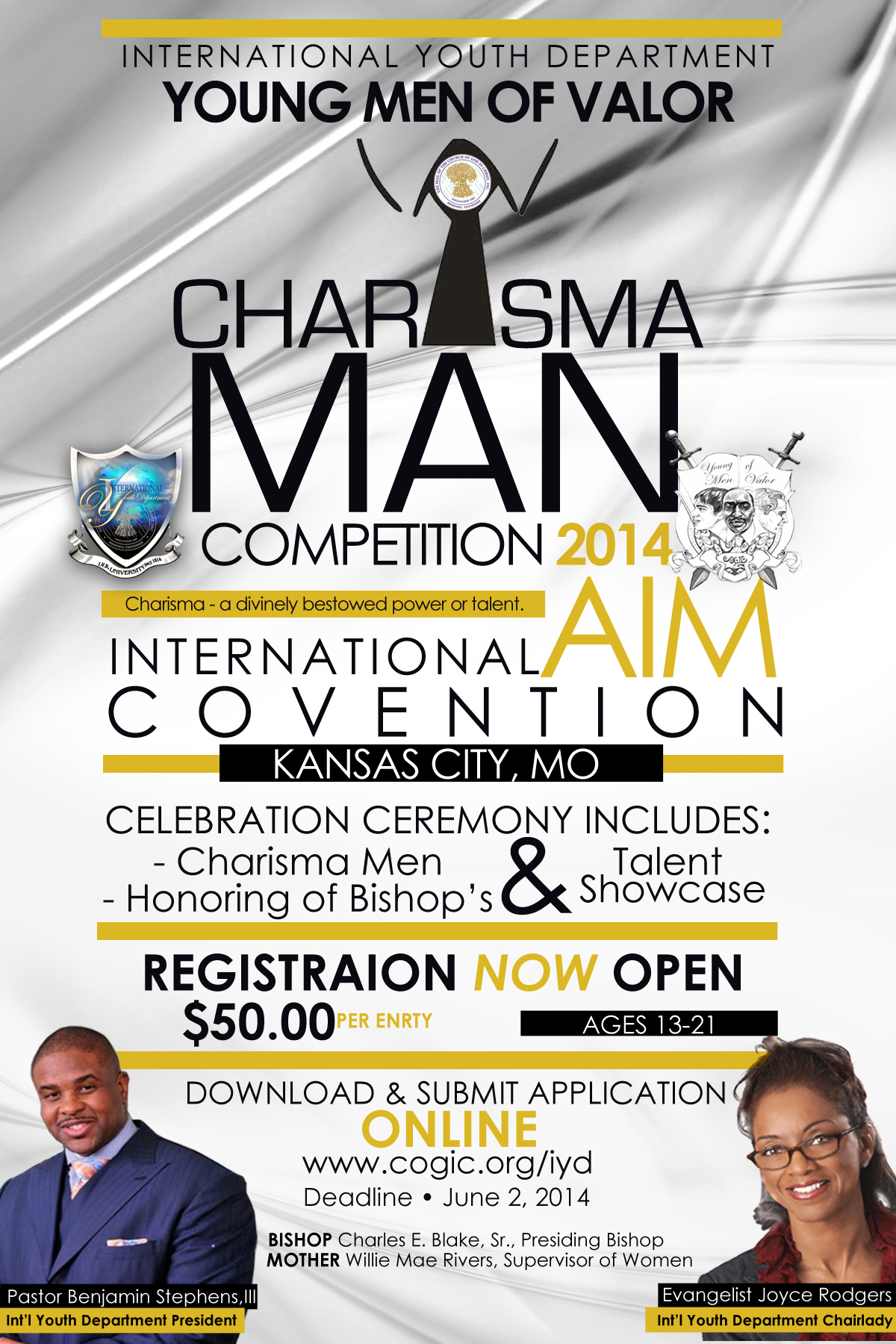 The International Young Men of Valor launches "Charisma Man 2014." Join us as we showcase the various gifts and talents that God has given our young men. The Apostle Paul in 2 Timothy 1:6 encouraged the young Timothy to "Flame the gift of God, which is in you through the laying on of my hands"
Youth Leaders, you may ask, "What could I do?" Well, we need your young men ages 13-21 to be involved in this event. They may have memorized a portion of Scripture, know all the names of famous African American inventors, some youth may be a Christian rapper, comedian, dancer, visual artist and have a skit they would like put on or a song they would like to sing. No matter what their talents are they can use to make "Charisma Man 2014" a spectacular event showcasing with charisma the gifts God has given them. This event is not a contest or competition but an opportunity to share your gift with your jurisdiction.
Elder Andre V. Castro,
International Young Men of Valor Coordinator
Click image below to download the application.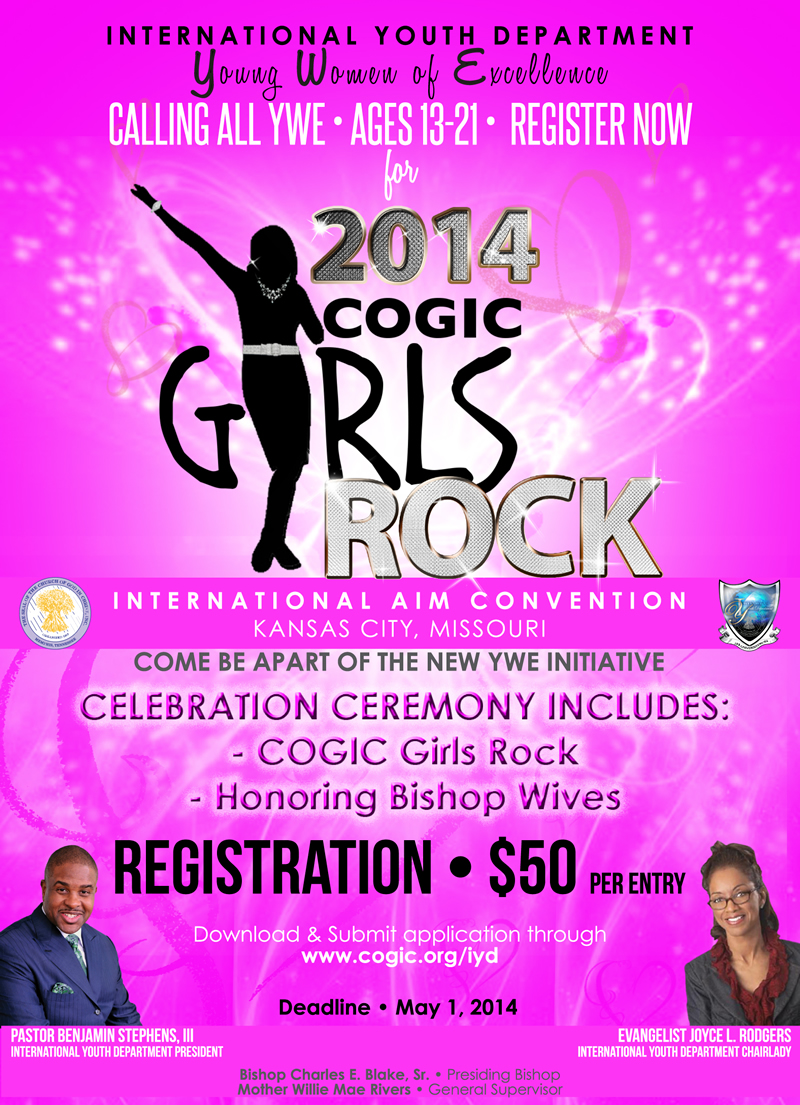 Don't miss this exciting time to be recognized in the "COGIC GIRLS ROCK" ceremony sponsored by Young Women of Excellence. Applications are now being accepted for all young ladies ages 13-21. Let the world know about your accomplishments in the following areas: Academics, Music, Fashion, Community Service, Sports, Arts, and Church Involvement. Don't forget to nominate your Bishops Wife to be recognize as a trailblazer and a COGIC Woman that ROCKS! We will see you at AIM 2014 in Kansas City, MO.
Click image below to download the application.
Fresh ideas, cutting edge ministry, fresh vision, fresh anointing….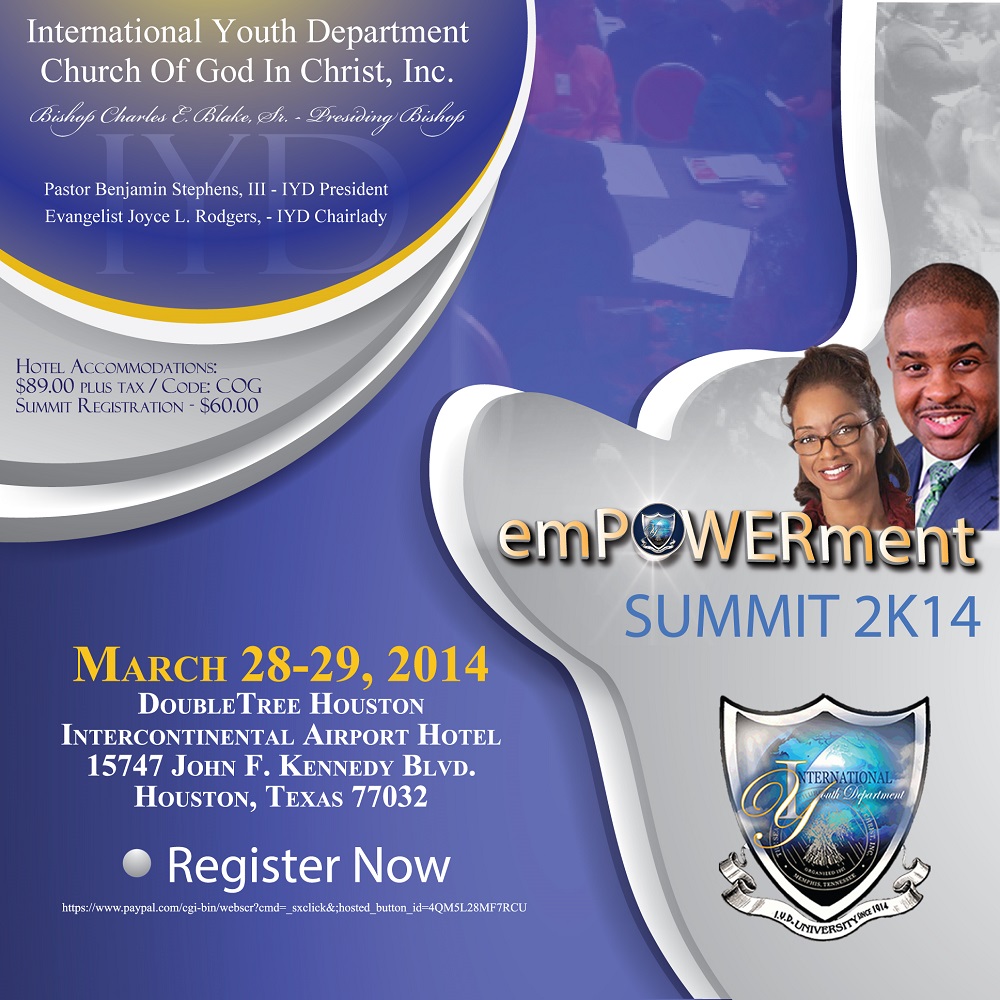 These are just some of the words that describe the IYD Empowerment Summit. Each year the International Youth Department (IYD) of the Church Of God In Christ gathers to sharpen our skills, focus our aim, and develop strategy targeting today's youth. This summit offers valuable tools and insightful ministry for the youth worker in every category. Under the leadership of our IYD President, Dr. Benjamin Stephens III, and IYD Chairlady, Evangelist Joyce L. Rodgers, a phenomenal host of presenters will help you to expand your ministry as one of today's Youth Leaders. This year we're coming to Houston March 28-29, 2014! Make plans now to be in attendance.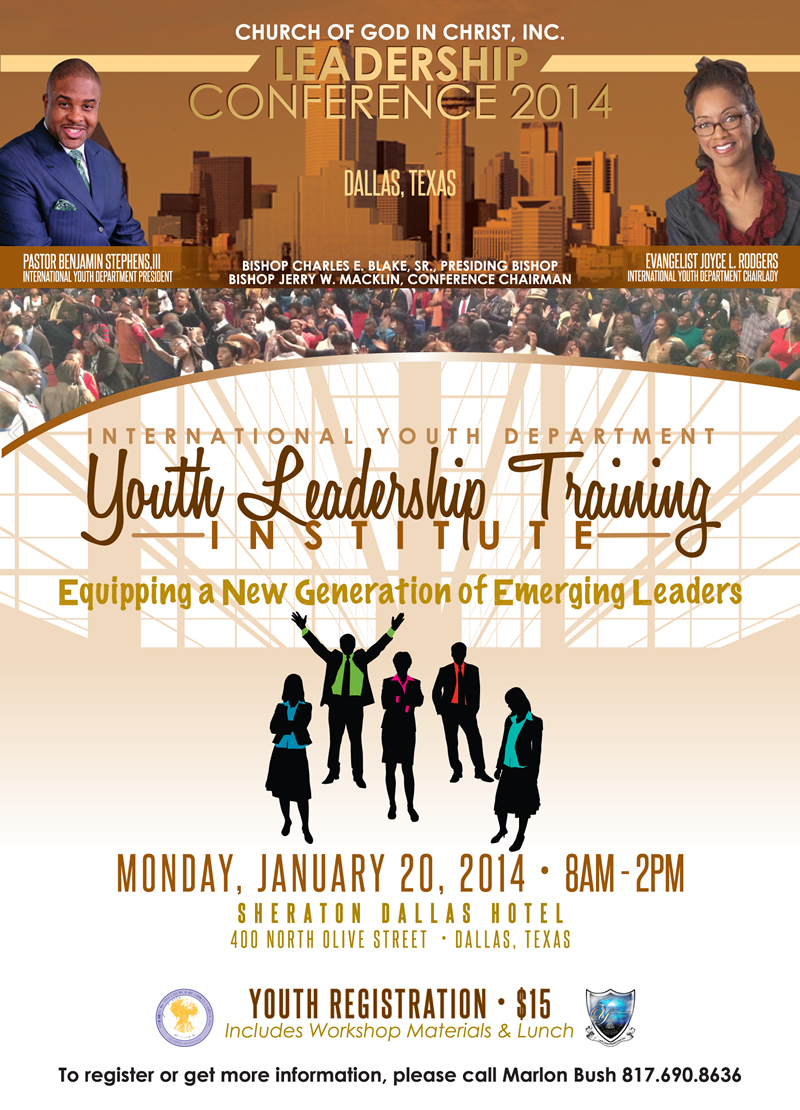 Greetings IYD Family,
It is my prayer that you are walking in God's favor in this new year God has blessed us to see. Certainly, we are excited to be a part of the greatest department, the International Youth Department, in the greatest church, the Church Of God In Christ, Inc. Without a doubt, it is my belief that God has tremendously blessed us.
As we look forward, I am excited to extend the forthcoming empowering opportunity to you. On behalf of our IYD President, Pastor Benjamin Stephens, III and IYD Chairlady, Evangelist Joyce L. Rodgers, we cordially invite you to experience the Youth Leadership Training Institute at the 2014 COGIC Leadership Conference, Monday, January 20, 2014 in Dallas, TX.
Look forward to a magnificent time devoted to educating youth leaders and empowering our youth. Expect your ministry to be enlightened, enhanced and forever changed! Please join us as we focus on "Equipping a New Generation of Emerging Leaders". Let us go forth and make a difference in the Kingdom. May God Bless you and we look forward to impacting our youth together.
Click the PDF icon to download the registration form.
Blessings,
Administrator Paul Gatlin
Leadership Conference Committee
International Youth Department
Church Of God In Christ, Inc.