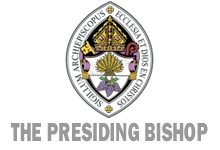 Presiding Bishop Charles E. Blake, Sr. Statement
I want to commend Chairman Linwood Dillard for managing the affairs of the AIM 2014 Convention excellently. I want to personally say thank you to him, each of the department leaders and the entire AIM staff. You have done a great job in Kansas City.
Also, congratulations for being a part of the Baltimore, Maryland Business Journal list of conventions with the highest economic impact for 2013 ranking in the Top 15.
I recently made and acted upon very unwise decisions regarding my diet over a period of two days. This resulted in some painful digestive issues, which have now been resolved. There are no continuing major problems that remain. The doctors expect a full recovery and there are no outstanding issues about which they are concerned.
I am allowing my digestive system to fully recover. I am 100% better and strongly wish to be in Kansas City at AIM, but my family and doctors have insisted that I take a few more days, to replenish my body and get all the nutrients back in my system.
Please know that I am well, in good health and experiencing nothing more than what I have stated.
Lady Mae and I love you and the AIM family and will see you soon, God Bless You!