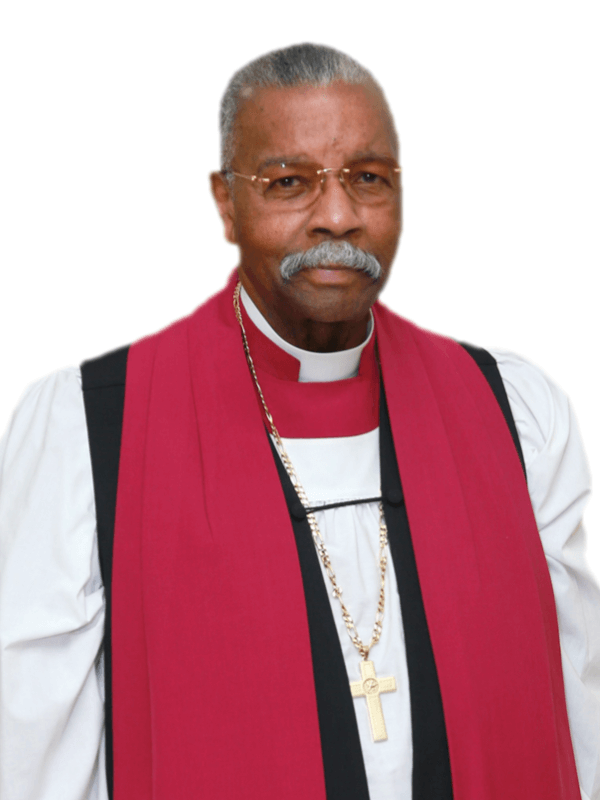 Bishop John H. Sheard
Jurisdictional Prelate: Michigan Southwest First Ecclesiastical Jurisdiction




Bishop John H. Sheard is sincerely a "man among men." Born to the late Administrative Assistant O.S. and Mother Kizziah Sheard (who had the honor of pastoring the Mother Church of God in Christ, founded by Bishop C.H. Mason) in Boliva County, Mississippi. Despite being born to the humblest of beginnings, the heights of greatness to be reached by this gentle giant are yet to be known. At the age of seventeen, having already received the gift of the Holy Ghost, Bishop John Henry Sheard, with a few cents in his pocket and faith in his heart, left the hot sun of Mississippi, and journeyed to Detroit Michigan earnestly desiring to build a better life and future for himself.
John, as he was affectionately called, had an unbreakable spirit. This, coupled with an unparalleled work ethic, gave him the fortitude to build something out of nothing. Upon arriving in Detroit, he fellow-shipped with the Bailey Temple Church of God in Christ under the leadership of Bishop John Seth Bailey (First Assistant Presiding Bishop, Church of God in Christ). It was there that he continued to work ardently, supporting the ministry, giving sacrificially and maintaining his loyalty to the principles of holiness even in the midst of adverse circumstances and challenges.
While busy working, a beautiful young woman caught the eye and heart of John, and in August of 1956 (sixty – two years), he wed the love of his life, Miss Willie Mae Gordon (daughter of the late Deacon Marshall and Mother Eunice Gordon). With his bride by his side "Brother John" as he was lovingly called by his mentor Bishop John Seth Bailey, began climbing the stairs of success. Being found faithful, he was given the privilege to serve as: Junior Deacon, Senior Deacon, Co-Chairman of the Youth Department, Chairman of Bailey Temple Church of God in Christ and District Youth Department President (District No. Nine). Proving his leadership capabilities with the development and implementation of spiritually engaging and financially solvent programs, strategies and activities, it became evident that greater was coming, and in 1973, it was publicly acknowledged and announced that John had been called to preach the gospel of Jesus Christ, becoming Minister John H. Sheard. Soon thereafter, Bishop Bailey, fully persuaded of the consecrated life of this young soldier, ordained him an elder in the Church of God in Christ,
Realizing that promoting his pastor was his passion and a part of his purpose, Elder Sheard used his influence, intellect, and resources to do just that. In response to his sincere and selfless service, he was appointed as the Associate Pastor of Seth Temple Church of God in Christ (the "Mother Church" of Michigan). After two years of exemplary service, Bishop Bailey appointed Elder Sheard as Pastor of Mitchell Street Church of God in Christ on January 1, 1982.
Powerful preaching, with signs and wonders following coupled with skillful leadership that was considerate and full of compassion for people of all ages, and from all walks of
life, caused the ministry to burgeon and grow. Within six months, the fledgling mission, had blossomed into a vibrant congregation. Led by its young and energetic pastor; who had also become an executive leader on the jurisdictional level (having been promoted to the office of District Superintendent – Districts No. Eighteen and later, District No. Six, Executive Board Member, and Jurisdictional Youth Department President) the Mitchell Street Church of God in Christ, took possession of its new "promised land" located at 15105 Meyers in Detroit, Michigan and became Greater Mitchell Church of God in Christ. Known for its jubilant praise, and fiery services, Greater Mitchell continued to expand and again, the need for an even larger facility became apparent.
The voice and vision of then Superintendent John H. Sheard, led the people of the Lord to a new state of the art complex valued at several million dollars which would be known as Greater Mitchell Temple Church of God in Christ.
On October 8, 1992, following a brief illness and the demise of Jurisdictional Prelate, Bishop Willie L. Harris, the General Board of the Church of God in Christ met with the pastors of the First Ecclesiastical Jurisdiction Michigan Southwest to receive their perspective regarding who from among their ranks, would be a suitable successor. Having received the majority of the recommendation from his peers, and with the acceptance and support of the General Board, Superintendent John H. Sheard was consecrated as the jurisdictional prelate and became the Third in Succession.
As an exemplar of leadership, Bishop Sheard continued to serve and soar both professionally and ecumenically. Additional honors include:
Doctorate of Humane Letters – Lewis College of Business
Police Commissioner – City of Detroit
Board of Directors – Detroit Urban League
City of Detroit Human Rights Committee
Associate Degree – Wayne County Community College
Bachelor of Science Degree (Education) Wayne State University
Master Degree (Education) Wayne State University
Elected Vice – Chairman Board of Bishops Church of God in Christ Inc.
Elected Chairman Board of Bishops Church of God in Christ (Fourth Consecutive Term)

The silent strength, pride, joy, and the secret to his success has been his beloved Mother Willie Mae Sheard, along with his sons, Bishop John Drew Sheard (General Board
Member, Church of God in Christ Inc.) and Superintendent Ethan Blake Sheard. Bishop John H. Sheard is also a proud grandfather and great – grandfather.