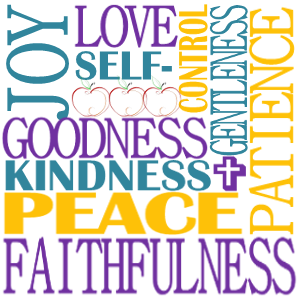 The Holy Spirit produces this kind of fruit in our lives: love, joy, peace, patience, kindness, goodness, faithfulness, gentleness, and self-control. Galatians 5:22-23
If you are saved, sanctified, and filled with the Holy Ghost, then your life should be exhibiting the fruit the Holy Spirit produces. To take a quick inventory of the fruit in your life, ask yourself the following questions:
Do I demonstrate the Love of God to others?
Is my life filled with Joy?
Do I experience Peace in every area of my life?
Am I patient with my children, my spouse and my friends?
Am I Kind to others?
Do I strive to achieve the Goodness of Christ in my life?
Am I faithful to my spouse, my children, my church and other commitments in my life?
Are my responses Gentle?
Do I have control of my thoughts, my words, and my actions?
The honest answers to these questions can help you determine how much power you allow the Holy Spirit to have in your life. The more you submit to the Holy Spirit, the more fruit you will have in your life.
Over the next nine days, we are going to take a journey through the Fruits of the Spirit to discover if we are producing these fruits in our lives and how we may be able to do even more – to the Glory of God!