FOR IMMEDIATE RELEASE
Church of God in Christ PR
[email protected]   www.cogic.org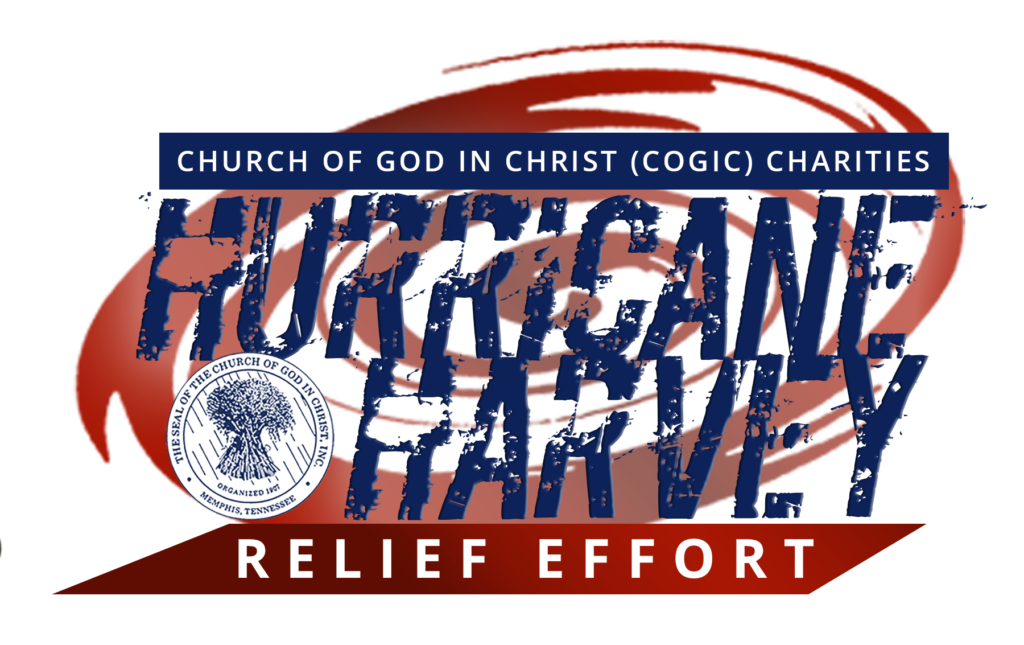 CHURCH OF GOD IN CHRIST HURRICANE HARVEY RELIEF EFFORT
Memphis, TN (September 1, 2017) The Church of God in Christ (COGIC) Charities has launched a massive national response to the crisis in the Texas Gulf Coast area by collecting and deploying needed resources.
COGIC Charities, the benevolent arm of the Church of God in Christ, has set up regional collection centers, in COGIC churches around the country, that will collect much needed items over the next two weeks for the victims of Hurricane Harvey.
These regional collection centers are asking their communities for basic needs items, to include hygienical products and kits, toiletries, nonperishable food items, bottled water, new undergarments (for men and women), new men's and women's clothing, new children's clothing, baby diapers (all sizes), baby formula, cleaning products, plastic garbage bins, shovels, tools, and plastic trash bags.
Volunteers at each COGIC regional collection centers are planning to load approximately 20 semi-trucks with the donated items. On Friday and Saturday, September 15 and 16, drivers will then head to Houston, TX where the Church of God in Christ has secured a 20,000 sq. ft. warehouse from the city of Houston. This facility will serve as a Super Resource Center where residents affected by the disaster can receive the donated basic needs items, along with any other needed assistance.
COGIC's Presiding Bishop Charles E. Blake, Sr. says, "Hurricane Harvey has devastated the Texas Gulf Coast area.  Many of our pastors, members and thousands of Houstonians were forced to leave their homes submerged in water, along with several of our churches. The Church of God in Christ will help as many people as possible for as long as possible. Our prayers, our hearts and our resources go out to all of those affected by this overwhelming natural disaster."
The Church of God in Christ, headquartered in Memphis, TN, is one of the oldest and largest Pentecostal denominations in the world and the 4th largest Protestant group in the United States, with churches in 87 countries worldwide and a membership of nearly 6.5 million adherents.
The COGIC Charities regional collection centers can be found at the following locations:
O. L. Meadows Cathedral
5298 Bessemer Superhighway
Brighton, Alabama 35020
205-462-5054
New Life COGIC Annex 2
5000 Patterson Road
Montgomery, Alabama 36116
334-558-0258
Acts Full Gospel Church Of God In Christ
1034 66th Ave.
Oakland, California 94621
844-429-2342
West Angeles Church Of God In Christ
3600 Crenshaw Blvd.
Los Angeles, California 90016
323-733-8300
Stephens Church Of God In Christ
5825 Imperial Ave
San Diego, California 92114
Mason Temple (National Headquarters)
930 Mason Street
Memphis, Tennessee 38126
Zion Cathedral Church Of God In Christ
312 Grand Ave.
Freeport, New York 11520
New St. Paul Tabernacle Church Of God In Christ
15340 Southfield Freeway (Bishop P.A. Brooks Drive)
Detroit, Michigan 48223
Greater Emmanuel Institutional Church Of God In Christ
19190 Schafer Highway
Detroit, Michigan 48235
Freedom Temple Church Of God In Christ
2101 E. Brookside
Indianapolis, Indiana   46218
317-638-7446
Glad Tidings Church Of God In Christ
1027 W. Tennyson Road
Hayward, California 94544
510-783-9377
Ashley's Quality Care, Inc.
610 West Root Street (41st and Wallace Streets)
Chicago, Illinois   60609
312-678-5730
New Community Temple Church Of God In Christ
3615 Tyreneck  (Bishop Ted G. Thomas Way)
Portsmouth, Virginia    23703
757-484-8903
Abundant Life Christian Center Church Of God In Christ
4400 Old Poole Rd.
Raleigh, North Carolina   27610
919-231-1197