A FAITH ACTION INITIATED BY THE GENERAL COUNCIL OF PASTORS AND ELDERS CHURCH OF GOD IN CHRIST.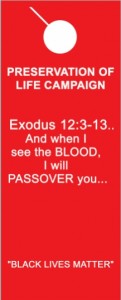 This is a Church Led National Faith Action as the Church's response to the alarming numbers of incidents of VIOLENCE and SENSELESS DEATHS.
This Faith Campaign is to RAISE HOPE, DEMONSTRATE SOLIDARITY, PROVIDE A VISIBLE SYMBOL OF AGREEMENT and BLANKET THE COMMUNITIES with a protective covering through FAITH in the BLOOD OF JESUS CHRIST
The PLC emerges by inspiration from the biblical account of God preserving the nation of Israel through DIVINE instruction of slaying a lamb and dipping the hyssop in its blood and placing the BLOOD on the doorposts of each home to PRESERVE THE LIVES IN THAT HOME FROM THE DEATH ANGEL. The Blood served as a TOKEN of that protection.
PLC's TOKEN will be represented through a SOLID RED DOOR HANGER symbolizing the BLOOD of JESUS CHRIST over the doorposts which will be hung on the doorknob of EVERY HOUSEHOLD THAT EMBRACES THIS ACTION BY FAITH.
This FAITH ACTION will illustrate each participant's agreement and stand in unity throughout each community and city of a DIVINE COVERING FROM SENSELESS VIOLENCE AND UNTIMELY DEATH and the PRESERVATION OF LIFE of the occupants in each house.
We are appealing to all communities of faith, churches, faith based organizations, residents, block clubs, community organizations and faith minded citizens of in every community to join in this FAITH ACTION
Click Here To Download PDF Version
---
For more information contact Superintendent Michael Eaddy, Chairman, General Council of Pastors and Elders773 531-4411 or [email protected]