Baltimore, MO – Ministering to Communities in Need
By Pastor Carl Pierce, Carter Memorial COGIC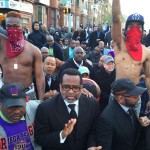 At the inception of Presiding Bishop Charles E. Blake Sr's. term of office as Presiding Bishop of the Church Of God In Christ (COGIC) Bishop Blake laid before the church what he tagged "the big rocks," birthed out of his deep concern for the betterment of mankind worldwide. Poor academic achievement, financial disenfranchisement, high unemployment, soaring crime levels, the desperate state of the black man, and the breakdown of the family, were all a part of the vision he presented to the church. And when the unrest began in Baltimore, the Church Of God In Christ stood ready. The churches had a broad understanding of the challenges facing the city.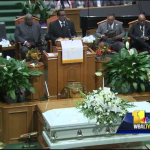 Working in solidarity with clergy and faith leaders of various denominations, COGIC pastors and elders have been actively involved following the death of Freddie Grey in Baltimore. Elder Ron Owens, a local businessman, who is well-known throughout the city of Baltimore, and Pastor Carl A. Pierce, Sr., Senior Pastor of Carter Memorial COGIC of Baltimore (both of whom were program participants at the Freddie Gray Memorial Service) have been on the front lines from the beginning. They continue to serve with a select group of faith leaders, elected officials and community leaders to address the problems that plague the city of Baltimore and its residents.
Carter Memorial Church, in the heart of West Baltimore, has been named one of four sites as a rapid response center for One Baltimore, a Camden partnership initiative. The ministry is also a resource center for A Better Baltimore. Partnering with local nonprofits, civic organizations and educational institutions, the ministry is moving forward to impact the lives of Baltimore's residents.
We continue to pray for justice and peace. We pray for our governmental officials and for the residents of our inner city. We also pray for our police officers, including the officers involved in Gray's arrest. And we continue to pray for better police-community relations in cities and towns throughout our country.