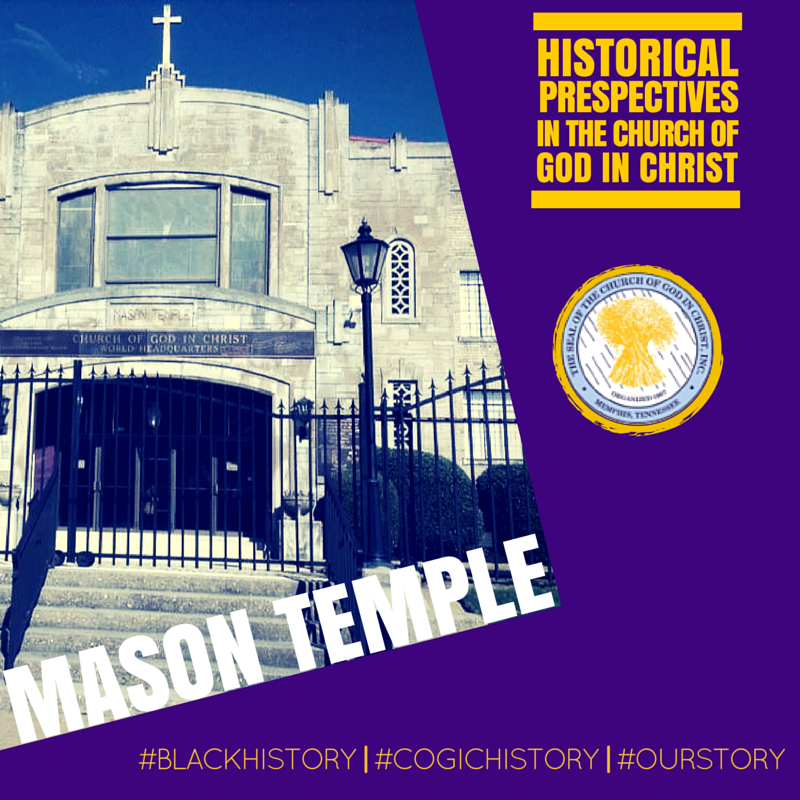 Mason Temple: #BlackHistory #COGICHistory #OurStory

Bishop C.H. Mason commissioned Bishop R.F. Williams with the building of Mason Temple on April 12, 1940.

It is interesting to note that this commission was given during the Great Depression which the effects thereof were felt through the mid-1940's. We would do well to remember that a God-given vision is not predicated upon the economy of man.

During this time Steel Plants were only operating at 12% of capacity which made steel hard to come by. Miraculously, God made the needed provisions as Mason Temple has 210 tons of steel in the roof stresses and decking and 360,000 pounds of reinforcement steel in the construction.

The Tri-State Iron Works company wrote a letter of commendation to the Church of God in Christ saying, "We have sold your church for Mason Temple for July 1, 1940, until the present time $36,697.12, every penny of which has been paid in full. We want to take this opportunity to thank you for this business and to express our appreciation for the manner in which you have met your obligations. You should take proper pride in overcoming the many difficulties that a building of this size presents, and fell a solid satisfaction of this accomplishment."

Mason Temple was completed in 1940 at a total cost of $237,323.06 which was a substantial cost that time.

Elder U.E. Miller, the Superintendent of Construction, remarked at the completion of Mason Temple that Bishop Mason's "latest achievement, the accomplished of the Mason Temple, will leave an indelible stamp on the future generation."
Today, Mason Temple, located at 930 Mason Street Memphis, TN, still serves as a beacon of hope and inspiration. This building is so much more than mere brick and mortar; it is a manifestation of a God-given vision, and the majestic headquarters of the Church of God in Christ. In its sacred halls, many souls are yet being healed, delivered and set free. It held the service where Dr. Martin Luther King, Jr. delivered his famous "I've Been To The Mountaintop" speech on the eve of his assassination and provided the host venue for former President Bill Clinton to address the Saints. But more importantly, Mason Temple holds the heart of the members of the Church of God in Christ, as we look on it with pride, nostalgia and reverence, celebrating the heritage of our glorious past while embracing a most promising future. We stand united and look forward to the "Greater Works" that God has in store for this "The Grand Ole Church of God in Christ."
If you would like to learn more about the History of Mason Temple, the COGIC Publishing House has an excellent resource called "Facts About the Temple." Click here for more information.