FOR IMMEDIATE RELEASE
Robert E. Coleman, Jr.
Church of God in Christ PR
(901) 235-2160 [email protected] www.cogic.org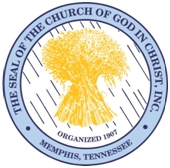 COGIC REELECTS PRESIDING BISHOP CHARLES E. BLAKE, SR. AS LEADER
St. Louis, MO (November 15, 2012) During the 105th Holy Convocation, in St. Louis, the Church of God in Christ (COGIC) has once again chosen Bishop Charles E. Blake, Sr. as its Presiding Bishop.
The General Assembly, the Legislative Body of the Church of God in Christ, has overwhelmingly reelected Bishop Charles E. Blake, Sr. to the Office of Presiding Bishop and leader of the churches Executive Branch. Bishop Blake is responsible for the day-to-day operation of the nearly 6.5 million-member church.
Presiding Bishop Charles E. Blake, Sr. says "I am humbled and delighted to be chosen to continue to lead one of the greatest churches in the world. The Church of God in Christ is a beacon of hope and love. I want to thank the church for the opportunity to serve as presiding bishop for another quadrennial."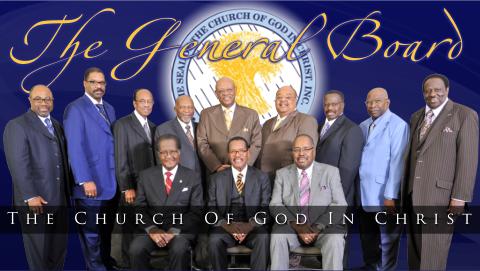 The General Board is the Board of Directors of the denomination and governs the church between meetings of the General Assembly. The General Board consists of twelve members including the Presiding Bishop. The 2012 General Assembly delegates also elected four new members to the General Board, with seven returning incumbents:
Returning Incumbents: Bishop Phillip Aquilla Brooks, Bishop Jerry Wayne Macklin, Bishop Roy Lawrence Hailey Winbush, Bishop George Dallas McKinney, Bishop Nathaniel Wyoming Wells, Bishop Sedgwick Daniels and Bishop Frank Otha White
Newly Elected Members: Bishop J. Drew Sheard, Bishop Brandon B. Porter, Bishop Ted Thomas, Sr. and Bishop Lawrence M. Wooten
The additional national officers elected for a new four-year term include:
General Secretary Bishop Joel H. Lyles, Jr., Financial Secretary Bishop Frank Anthone White and Treasurer Pastor Charles Harrison Mason Patterson
Board of Bishops: Bishop John H. Sheard, Chair; Bishop Donald R. Murray, 1st Vice President; Bishop Albert Galbraith, 2nd Vice President; Bishop Larry Shaw, Secretary; Bishop Hester Bordeaux, Assistant Secretary; Bishop Cody Marshall, Treasurer; Bishop Bobby Warren, Sergeant at Arms
Trustee Board: Dwight E. Walls, Chair; Mildred Linzy, Vice Chair; Sylvia H. Law, 2nd Vice Chair; David Hall, Jr., Josephus Shepherd, Georgia Macklin Lowe, Cari Barnes, Joseph Chase, Amos Smith, Melton Timmons, William Watson III, Ailean Stingley, Sandra Smith Jones, Michael Golden, Jr., Darin Burns
Pastors & Elders: Michael Eaddy, Chair; Destry Bell, Vice Chair; Prince Bryant II, Secretary; Thomas May, Treasurer
Chairman of the General Assembly Pastor James Hunt says, "I would like to thank all of the delegates, they did a great job. The quadrennial election was excellent, Election Committee Chairlady Myra Banks and her committee did a commendable job with the election, and everything was done timely and in an expeditious manner."
---
About the Church of God in Christ:
The Church of God in Christ is the fifth largest Protestant religious denomination in the United States with churches in 57 countries worldwide and an estimated membership of nearly 6.5 million members.