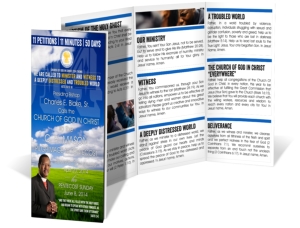 This Sunday starts Pilgrimage to Pentecost which is an initiative of our Presiding Bishop that sets aside time for members of the Church of God in Christ, Inc. (COGIC) to come together in a time of consecration. This year Pilgrimage to Pentecost starts April 20, 2014 and will continue through June 8, 2014. Please take time to be part of this awesome time and spread the news to all of the local churches.
Click here to download 3 fold brochure (Print on 8.5" x 14" – Legal size paper)
Be sure to purchase your copy of the Pilgrimage to Pentecost Daily Devotional for the COGIC Publishing House – you will be amazed at how these daily devotionals will enhance your own walk as we approach Pentecost.