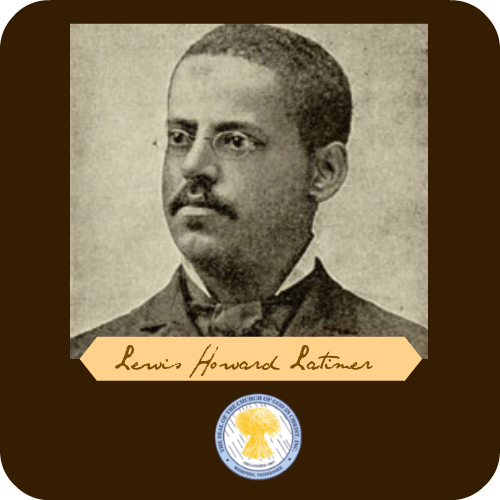 When you think of the light bulb, many think of Thomas Edison. But few people know that a black inventor named Lewis Howard Latimer created a method of carbon filament production, that far surpassed the paper filament used by Edison which burned out very quickly. Latimer's invention caused the light bulb to be feasible for household usage, completely transforming the industry.
Lewis Howard Latimer was an African American inventor and draftsman. He was born in Chelsea, Massachusetts on September 4, 1848 to George and Rebecca Latimer. Both of his parents had escaped from slavery. When the slave master of George Latimer came to Boston to take them back to Virginia, it became a noted case in the movement for the abolition of slavery, gaining the support of such abolitionists as William Lloyd Garrison. The amount of $400 was raised to buy the freedom of Lewis Latimer's parents.
At the young age of 15, Lewis Latimer joined the U.S. Navy and served as a Landsman on the USS Massasoit. After receiving an honorable discharge from the Navy on July 3, 1865, he gained employment as an office boy with a patent law firm, Crosby Halstead and Gould, making only $3 a week. This is where he learned how to use a set square, ruler, and other tools. When his boss recognized his talent for sketching patent drawings, Latimer was promoted to the position of head draftsman earning $20.00 a week – an excellent salary at the time.
Lewis Latimer is known for several important inventions. In 1874, he co-patented an improved toilet system for railroad cars called the Water Closet for Railroad Cars. In 1876, Alexander Graham Bell employed Latimer, then a draftsman at Bell's patent law firm, to draft the necessary drawings required to receive a patent for Bell's telephone. In 1879, he moved to Bridgeport, Connecticut and was hired as assistant manager and draftsman for the U.S. Electric Lighting Company, a company owned by Hiram Maxim, a rival of Thomas A. Edison.
Latimer received a patent for the "Process of Manufacturing Carbons", an improved method for the production of carbon filaments used in lightbulbs. The Edison Electric Light Company in New York City hired Latimer, as a draftsman and an expert witness in patent litigation on electric lights. Latimer is credited with an improved process for creating a carbon filament at this time, which was an improvement on Thomas Edison's original paper filament, which would burn out quickly.