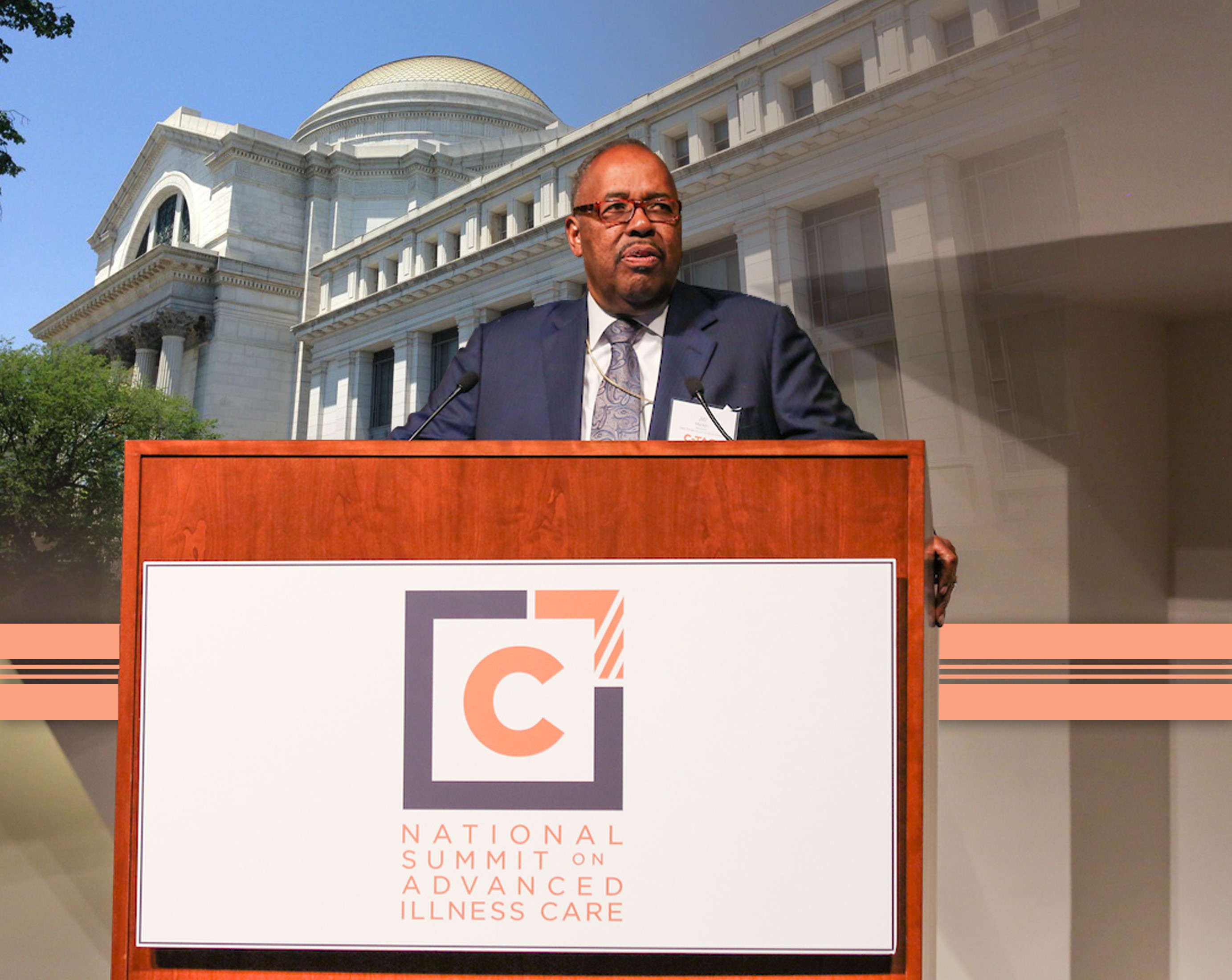 Bishop Jerry W. Macklin spoke at the 2016 CTAC National Summit which is an event for visionaries in advanced illness care who are actively reshaping the way care is provided. Bishop Macklin provided a plenary address to 400+ national clinicians, clergy, consumer advocates and policy makers on: Faith Leadership in Community Supported Care.
Bishop Macklin stressed the importance of C-TAC's focus on clergy – clinician dialogue and the need for clergy to have "a seat at the table" in transforming the dying experience for people and their families.  Unfortunately, clergy are often only called on when there's "nothing left" that the clinicians can do; however, if introduced into the discussion earlier, clergy can help the ill person and their family make informed decisions in partnership with the clinicians.
Bishop Macklin issued a call to action to the Summit participants to participate in a Caregiver Recognition and Celebration on
October 30th, 2016
at Allen Temple Baptist Church in Oakland California.  This initiative is part of the Alameda County Care Alliance (ACCA), an alliance of 5 African American churches in Alameda Co. focused on transforming advanced care for the most vulnerable.  More information on the ACCA and the Caregiver Recognition at: ACCAREALLIANCE.org.  or call Allen Temple at
510-783-9377
or Glad Tidings at
510-783-9377
.
The Caregiver event will also be the first in Bishop Mackin's clergy-clinician dialogue series, where clinicians will be invited to attend each of the 5 ACCA churches and participate in the Caregiver session afterwards.
Highlights from the CTAC Summit include:
Former U.S. Senators Tom Daschle, and Bill Frist, MD, will moderate The Changing Political Landscape plenary session. The esteemed senators will offer perspectives on health and healthcare policy in this turbulent political environment;
Journalist Michael Pollan of the New York Times will join a session discussing the most recent research on effectiveness, legal and policy implications of potential uses for psychoactive drugs like psilocybin.
Andy Slavitt, the Acting Administrator for the Centers for Medicare and Medicaid Services (CMS) will provide insights on how value based payment models will transform advanced illness care delivery.
BJ Miller, MD the Senior Director and Advocate for Zen Hospice will provide a frontline perspective on advanced illness care.
The event was hosted by C-TAC, the third National Summit Co-Sponsors include: AARP, Leonard Schaeffer, Aspire Health, American Heart Association, American Society of Clinical Oncology, American Hospital Association, Association of American Medical Colleges, CFAR, The John A. Hartford Foundation, Medecision, and the National Academy of Medicine.
ABOUT C-TAC
C-TAC is a non-profit, non-partisan coalition comprised of over 130 national organizations including patient and consumer advocacy groups, health care professionals and providers, private sector stakeholders, faith-based organizations, and health care payers that share a common vision of improving advanced illness care for all Americans. The Coalition works to ensure that all those with advanced illness, especially the sickest and most vulnerable, receive comprehensive, high-quality, person- and family-centered care that is consistent with their goals and values and honors their dignity. Follow the conversation using the hashtag #CTACSummit2016 and follow us on Twitter @CTACOrg.