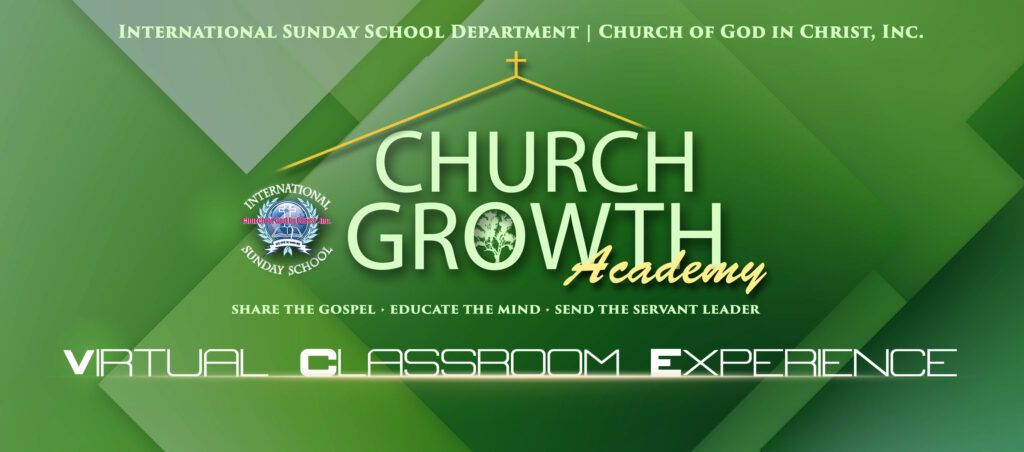 2020 Church Growth Academy
Virtual Classroom Experience
October 19, 2020 – November 6, 2020
About Sunday School Church Growth Academy
The Sunday School Church Growth Academy (SSCGA) is an initiative of the International Sunday School Department under the leadership and vision of International Sunday School President, Bishop Alton Gatlin. This initiative is for learning and training for church growth through the International Sunday School Department. The vision statement for the SSCGA is:
To provide an educational resource for the members of the Church Of God In Christ that enhances their ministry, provides leadership skills, and prepares them for ministry in the 21st century.
The Mission Statement of the SSCGA is:
To prepare current and future leaders and laity for effective Christian service and leadership through Christian education for work in the local church, community, and the global society in which we live.
Academy Oath:
I solemnly affirm that I will strive to live a holy and separated life as outlined in the Church of God in Christ doctrine. As a student of the Sunday School Church Growth Academy, I promise to uphold the standard of holiness and endeavor to be a true servant of God. I further promise to do my best to learn, integrate and employ the Word of God.
Admission Requirements:
Admission is open to anyone who has a sincere desire to learn more about the Word of God and ministries for today. Through an intense course of study, the academy prepares leaders and laity for work in a church and the community.
Academic Credit:
The courses are scheduled so that a student may earn 3 hours of credit per course. A student must complete a total of 4 courses in order to graduate with their 12 hours of credit. Commencement is always scheduled during Holy Convocation. At graduation, a student is presented a Diploma of Church Growth Studies.
Courses Offered:
Church Growth: Reviving A Dead, Dying or Plateaued Church
In a troubled world, the church is to be a catalyst for change. To change the community, the church must be transformed and empowered by God's Holy Spirit, for kingdom building and soul winning. To accomplish this work, a church must have a visionary leader, equipped with a vision from God, and a strategic plan for implementation.
Church Administration: Core Competencies for Church Administration
This course exists to provide structured training for the development efforts of the Church Of God In Christ through continued staff development and support to Administrative Assistants, Executive Secretaries and Executive Staff of Local Churches in the "Spirit of Excellence." The objective of this course is to identify core competencies for local church administration and best church administrative practices.
 Soul Winning/Evangelism
"The Great Commission" Matthew 28: 18 – 20
Evangelization not only focuses on the "saving of souls" but following Christ in service to the sick, hungry, destitute, beaten-down, and crucified people of this world. As Bishop Bob Jackson has said,
"Take the World for Lord Jesus Christ – one life at a time, through daily encounters and door-to-door outreach."
This course focuses on soul winning and evangelism.
Information Technology: Creating A Successful Ministry Social Media Strategy
In today's day and age, the use of smart phones and social media has become an essential part of our society.
Even within the church, the use of devices and platforms are useful to staying in touch with others, advertising church events, or sending words of encouragement. Websites, Facebook, and other information technology components are used effectively in the ministries of the local church. This course assists leaders and laity in their knowledge of technology.
HOMILETICS
This course is designed to introduce students to "the science and art of the preparation and delivery of sermons" known as homiletics. Students gain an understanding of the importance of grammatical-historical exegesis, hermeneutics and theology in developing the sermon. The study of homiletical methods will equip students to rightly divide the Word of God in preaching and teaching the Good News of Jesus Christ.
The First Commencement was held for the Class of 2017 in St. Louis during Holy Convocation. The total number of graduates was 25.