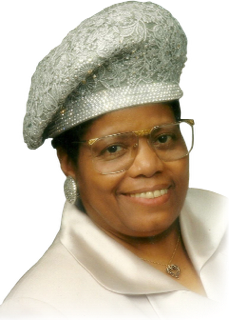 Evangelist Cleolia Wells-Penix was born in Sparkman, Arkansas the seventh child and fraternal twin to the union to Deacon Evandust and Mother Ozella Wells. She is a graduate of Sparkman Training School, matriculating with high academic honors.  Her avocation was advanced as a graduate of Nola's School of Cosmetology.
Her parents provided a solid foundation with the implementation of parental rules which required her and her siblings to faithfully attend and participate in all aspects of Christian education provided by the church, namely Sunday School, Young People Willing Workers and Sunshine Band. This fortified foundation was the impetus for accepting the Lord at an early age. Her formal Christian education includes Charles Harrison Mason Bible College and First Assembly of God Bible Institute.
Her unfettered dedication to building the kingdom spiritually and naturally has resulted in the addition of numerous souls and an integral role in the construction of three houses of worship, Williams Temple Church of God in Christ, Sparkman, Arkansas; St. Paul Church of God in Christ, Rockford, Illinois; Brown's Temple Church of God in Christ, Rockford, Illinois.
Her leadership roles include being appointed to serve in Fifth Jurisdiction of Illinois as Jurisdictional Sunday School Representative to Jurisdictional Sunday School Superintendent W. James Campbell under the leadership of founder the late Bishop Freeman Guy Green and the late Jurisdictional Supervisor of Women Addie Austin, tenure continuing under the leadership of the late Bishop Bennie Earl Goodwin, the late Bishop Samuel McCarthy and currently Bishop James E. Washington.
Her service is further epitomized with work at her local church, serving as Director of the Department of Women under then Elder James E. Washington for over twenty years.  Her leadership training resulted in the promotion of several women to key roles at St. Paul.
Currently, she serves in dual roles as Administrative Assistant and Director of the Department of Women under the leadership of Superintendent Jesse Penix at Brown's Temple Church of God in Christ, Rockford, Illinois.
Evangelist Cleolia Wells-Penix has been appointed to the office of International Sunday School Field Representative of the Church of God in Christ by Presiding Prelate Bishop Charles E. Blake serving with the leadership of President Bishop Alton Gatlin.