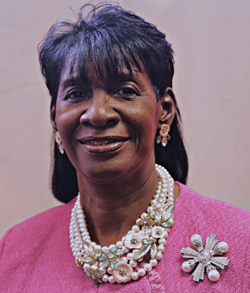 Dr. Jeannette H. Donald
Sunday School University
Dean, Curriculum & Training
Dr. Jeannette H. Donald appointed Dean of Curriculum & Training under the leadership of Bishop Alton E. Gatlin, president of the International Sunday School Department.  She served as Director of Leadership Ministry for four years.  She will be working with the Ministries of Disability, Biblical Studies, Leadership, Foundational, Evangelism, Biblical Science, Men & Women's Ministry, Teacher Training, and Administration.
Dr. Jeannette H. Donald is the First Lady of the Gospel Temple Church of God in Christ, Pine Grove, Louisiana, married to Elder Peter Donald, mother of three (Patrenia, Randell, & Montrell) and three grandchildren (Kelsey, Perry III & Kamran).  A graduate from Walker High School, Walker, Louisiana; Graduate of Southeastern Louisiana University, Hammond, Louisiana in Office & Business Administration, Certified & Licensed Belief Therapist from the Therapon Institute of New Orleans, Louisiana, IFFC Bible Institute of Baton Rouge, Louisiana (Diploma in Theology) and Life Christian University (Bachelor's Degree in Christian Counseling and Bachelor Degree, Master's Degree & Doctoral Degree in Theology) Zachary, Louisiana.  She is a woman of integrity and character called to do a work in the harvest for God, her motto is, "Each One Reaching One".  Dr. Jeannett served as Assoc. Professor of Life Christian University (Zachary, Louisiana). Dr. Donald was appointed Director of Education – Leadership Ministry in the International Sunday School Department, January, 2013 under Bishop Alton Gatlin (president).  The International Sunday School Department in 2015 awarded her with the Field Representative 2015 Distinction of the year plaque and in 2016 was awarded the Director of the Year.  She was the former owner of J'Nettes Bridal Gallery (Baton Rouge, Louisiana).  She serves at her local church as the chairperson of the Women's Department, Intercessor & Prayer Warriors, and Sunday School Teacher.  She serves in the Louisiana Eastern First Jurisdiction as Dean of the W. K. Gordon Institute and the Jurisdictional Sunday School Field Representative under Bishop Alphonso Denson, Sr., Prelate and Mother Dorothy Richardson, Supervisor of Women.
She is a retired employee of the United States Postal Service.  Her platform is ministering the Word of God every day.    Dr. Jeannette who knows life can be one long obstacle course and every day is filled with challenges.  However, she also knows that through it all, God is the answer according to Romans 15:6 (That ye may with one mind and one mouth glorify God) Amen.