VISION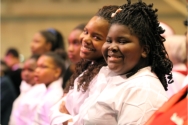 A forward-thinking visionary, Bishop Charles E. Blake, Sr. views our international potential for what it is: World-impacting. Under his leadership, our Church maintains a stable presence on five continents with nearly 6.5 million members. With such strong numbers and growing as the saints establish a central network through their pledged laity support, our many different ethnicities, languages and cultures will quickly explode with the force we possess in achieving the same goal, under the common nationality of Holiness.
HERITAGE
The Church of God in Christ celebrated the birth of our founder, Bishop Charles Harrison Mason September 6, 2013 in Memphis, TN. Bishop Mason's unwavering loyalty to God and leadership established for us a Pentecostal identity that has empowered millions. His quintessential labor and legacy enveloped a global prototype for the continuation and expansion of ministry that is broader, healthier and stronger!
PROGRESS
From the few humble seeds which were planted at our inception, the Church of God in Christ soil is as fertile today as the first steel beams driven into the foundation that yet holds together our beloved landmark Mason Temple. In the fifty-two years since the death of Bishop Mason, COGIC has continued to stand as a beacon of hope to men and women, boys and girls everywhere.  And we cannot sit down now, we must continue to stand!
Stand with us, your gift will go a long way in providing help to those in need. Let's build our worldwide network and set a record-breaking one million gifts of just $20 along with one million "Likes" on Facebook.