Chairlady Joyce Rodgers
Willing To Lose It All, To Find It All

Matthew 16:25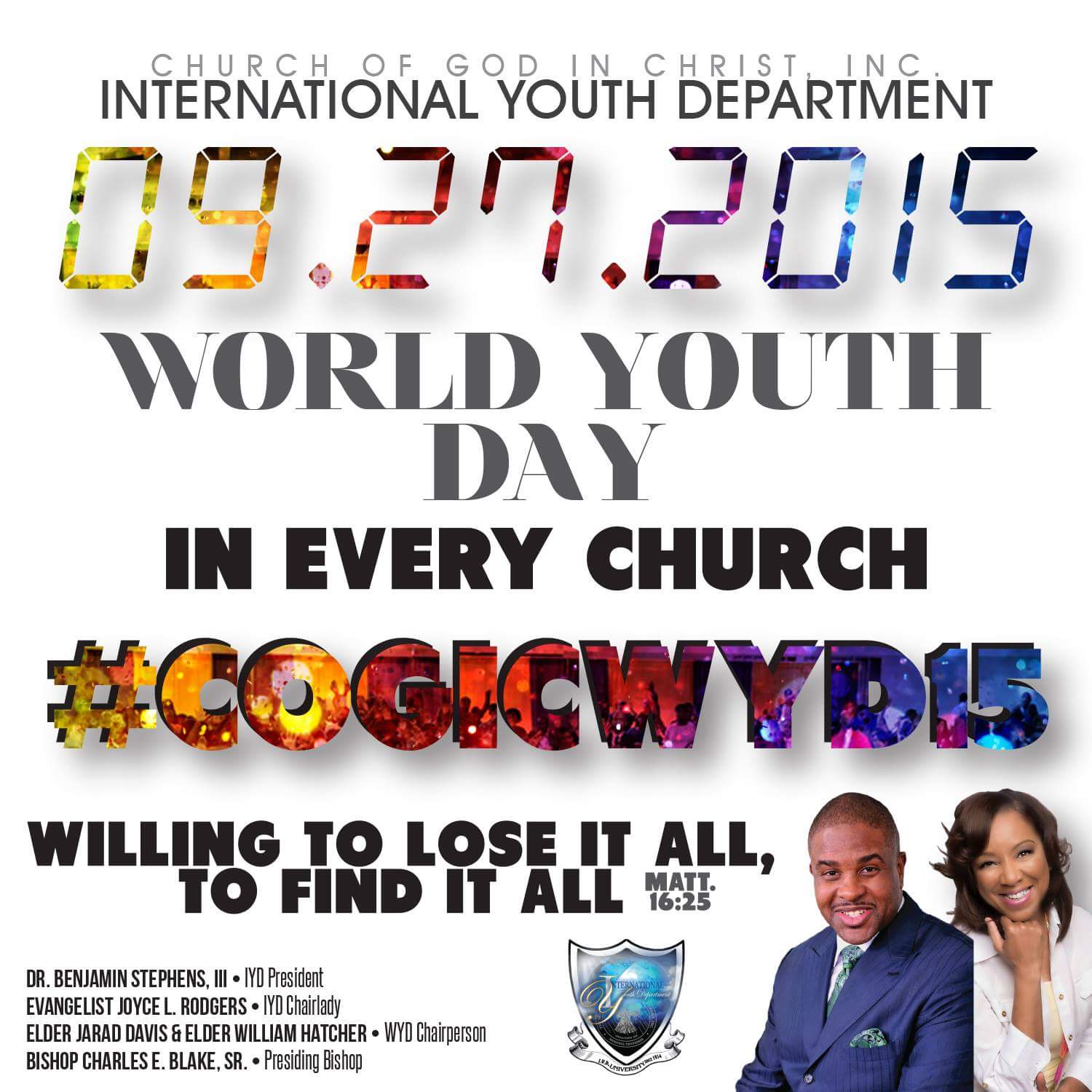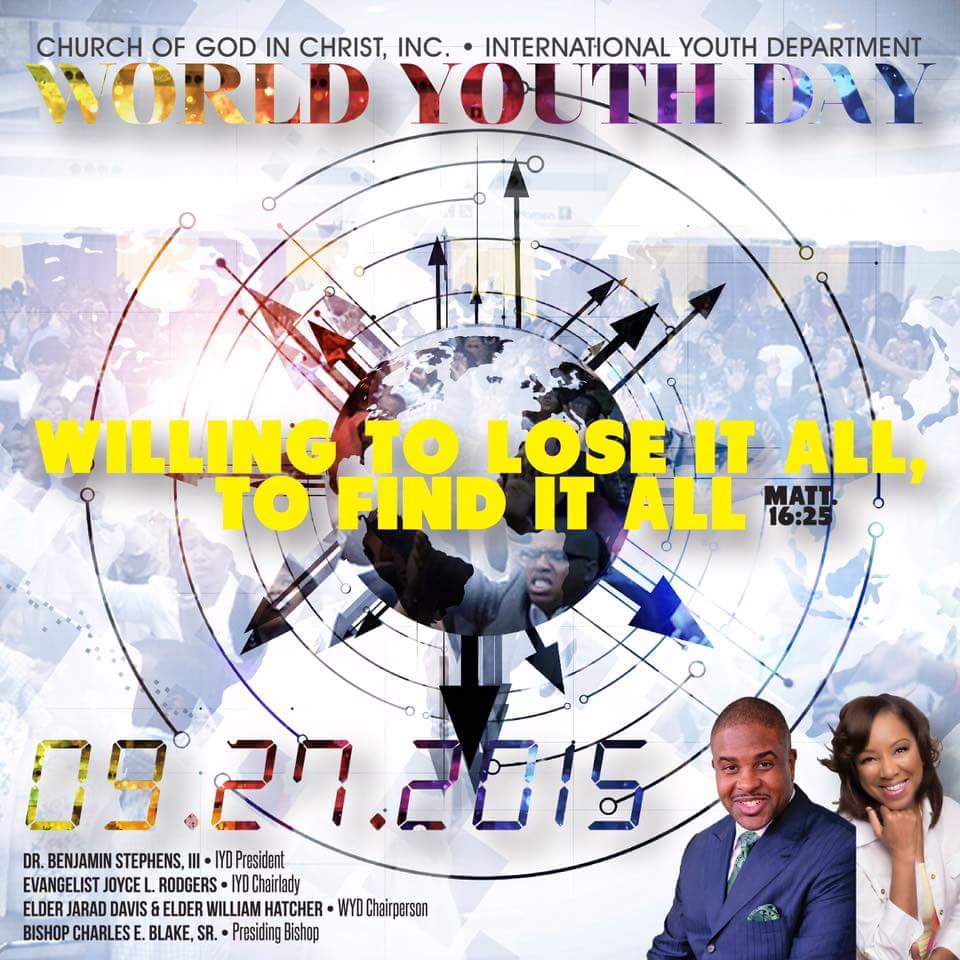 Fresh ideas, cutting edge ministry, fresh vision, fresh anointing….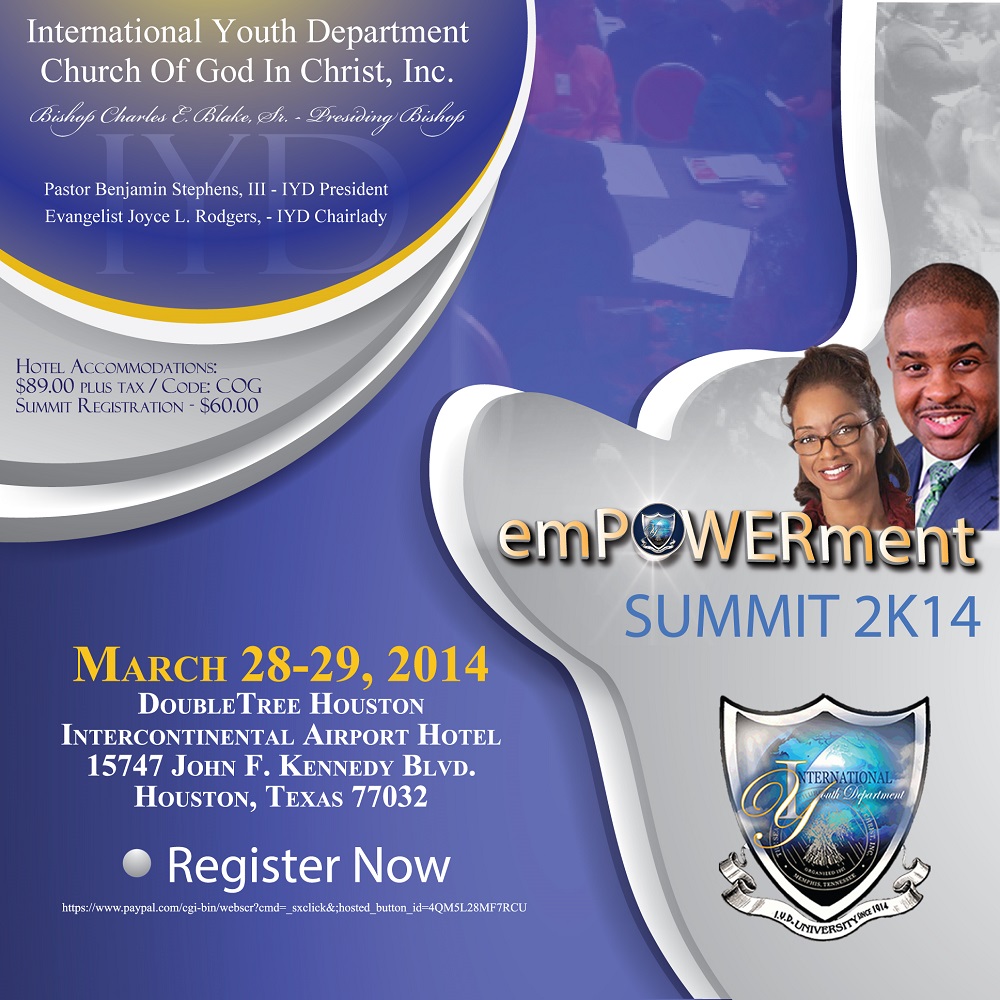 These are just some of the words that describe the IYD Empowerment Summit. Each year the International Youth Department (IYD) of the Church Of God In Christ gathers to sharpen our skills, focus our aim, and develop strategy targeting today's youth. This summit offers valuable tools and insightful ministry for the youth worker in every category. Under the leadership of our IYD President, Dr. Benjamin Stephens III, and IYD Chairlady, Evangelist Joyce L. Rodgers, a phenomenal host of presenters will help you to expand your ministry as one of today's Youth Leaders. This year we're coming to Houston March 28-29, 2014! Make plans now to be in attendance.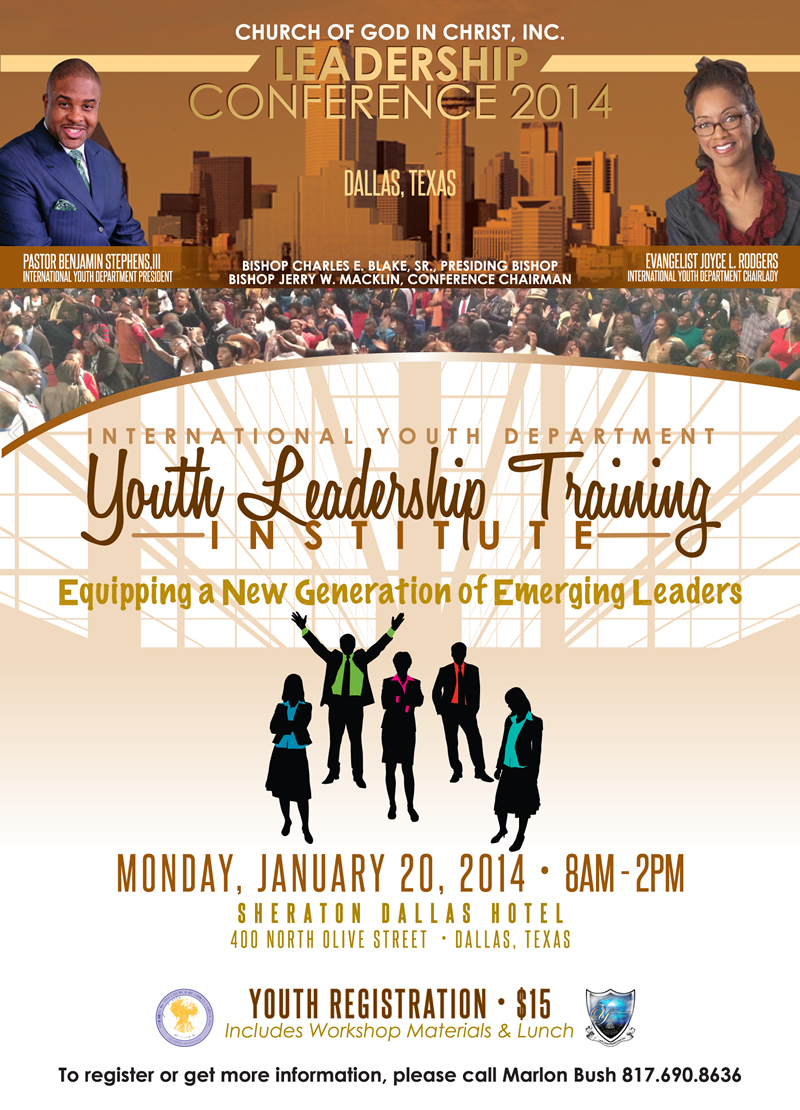 Greetings IYD Family,
It is my prayer that you are walking in God's favor in this new year God has blessed us to see. Certainly, we are excited to be a part of the greatest department, the International Youth Department, in the greatest church, the Church Of God In Christ, Inc. Without a doubt, it is my belief that God has tremendously blessed us.
As we look forward, I am excited to extend the forthcoming empowering opportunity to you. On behalf of our IYD President, Pastor Benjamin Stephens, III and IYD Chairlady, Evangelist Joyce L. Rodgers, we cordially invite you to experience the Youth Leadership Training Institute at the 2014 COGIC Leadership Conference, Monday, January 20, 2014 in Dallas, TX.
Look forward to a magnificent time devoted to educating youth leaders and empowering our youth. Expect your ministry to be enlightened, enhanced and forever changed! Please join us as we focus on "Equipping a New Generation of Emerging Leaders". Let us go forth and make a difference in the Kingdom. May God Bless you and we look forward to impacting our youth together.
Click the PDF icon to download the registration form.
Blessings,
Administrator Paul Gatlin
Leadership Conference Committee
International Youth Department
Church Of God In Christ, Inc.
We stand on the brink of what will be one of the greatest International Holy Convocation's we have ever witnessed. The International Youth Department will play a great part in its success. I need all hands on deck. Please see the following listing of IYD Events during our International Holy Convocation:
Saturday, November 9th @ 9am

-IYD Staff Meeting-Room 132

Saturday, November 9th @ 12noon

-World Youth Day Celebration-Halls 4/5

Saturday, November 9th @ 5pm

-Youth Talent and Fashion Showcase-Halls 2/3 (We're excited about this new event! This is a cooperative effort between the Youth Department and the vendors.)

Sunday, November 10th @ 5:30 pm

-YPWW Hour-America's Center Dome
Sound The Alarm, Spread the Good News!!! September 29, 2013 is WORLD YOUTH DAY all across the World!!! For The Youth of the Church Of God In Christ!!!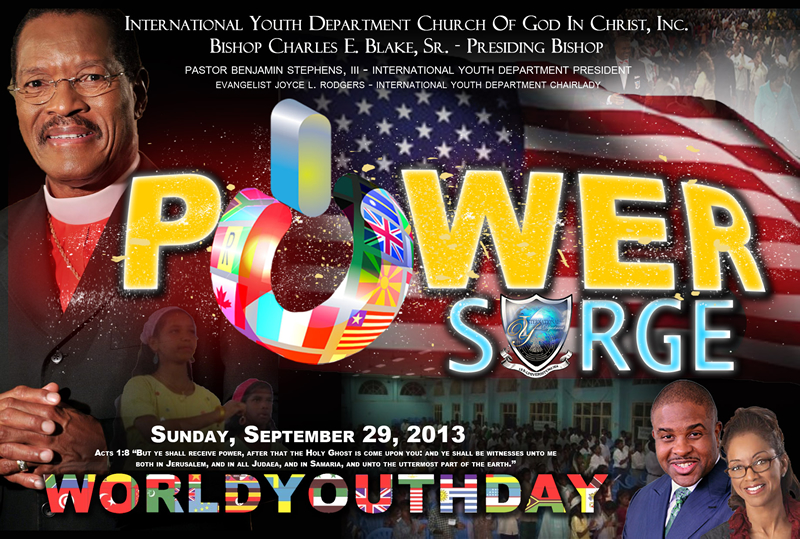 The purpose is for every local church to be on one accord-having youth church all across the nation!! Youth-in- Action, Youth on Display, Youth Sharing the Good News, Youth Praying, Youth Ministering in Song…Youth Greeters, Young Missionaries, Young Ministers, Jr. Deacons, Jr. Deaconess', Sunshine Band Babies joining in on the Celebration!
Youth Pastors, Youth Leaders, Youth Overseers, let's plan our programs, invite our family, friends, loved ones and communities to see what our youth are doing for Jesus Christ!! We're plugging into the Power Source and we're READY!!! Let's Go!!!!
#IYD #WYD #9.29.13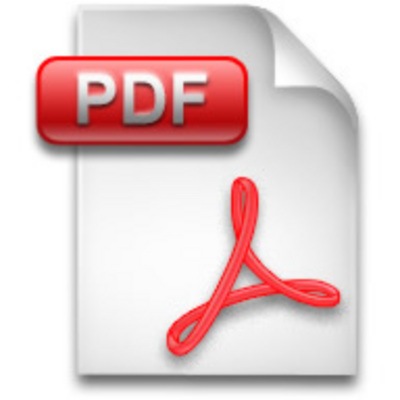 Click the image to download WYD Template
Event: YWE Class
Date: Tuesday, July 2 – Thursday, July 4
Location: Baltimore Convention Center RM 327, 328, & 329
Purpose of Event/Description: This class is a unique opportunity of "Imparting into the lives of Young Women and Provoking them to Excellence!!!" Each time of gathering promises to pour into the lives of young women between the ages of 13-21. This life changing experience will be a blessing to all in attendance.
Event: YWE 15th Annual Pageant
Date: Thursday, July 4 @ 3:00pm
Location: Hilton Hotel
Purpose of Event/Description: The Young Women of Excellence Pageant is focused towards promoting virtuous values in the lives of young women between the ages of 13-21. From the pageantry presentation to meeting new friends, learning how to communicate, and gracefully displaying the gifts and talents that God has given, these young women learn more about who they are and to be all that God has purposed in their lives. The participating young women walk away with a life changing experience that cultivates the Godly young woman within.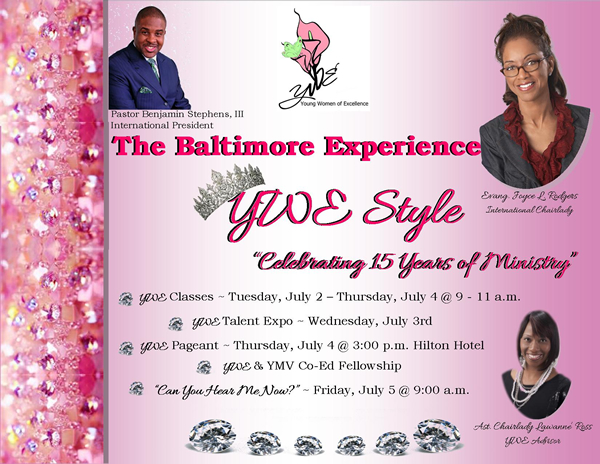 Event: "Can You Hear Me Now?"
Date: Friday, July 5 @ 9am
Location: Baltimore Convention Center
Purpose of Event/Description: This gathering for young ladies (13-21) gives them the chance to hear from some of the Leading Ladies of our GREAT church which share in a panel setting. Young ladies are able to submit written anonymous questions and questions in person as well. Each session of "Can You Hear Me Now?" always is a special time for the "Young Women of Excellence" of church.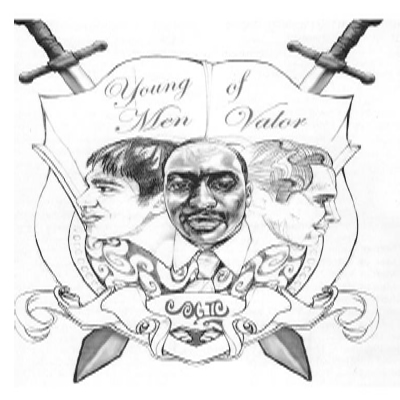 Event: YMV Beautillion
Date: Thursday, July 4 @ 3:00pm
Location: Hilton
Purpose of Event/Description: To develop young men to be distinctively "Valiant" exhibiting a lifestyle of holiness and excellence, by equipping them with sound biblical principles and values to make powerful life choices and decisions. Thus promoting: education, bravery, discipline, and spiritual development; we will manufacture anointed leaders know as Young Men of Valor. In keeping with these objectives, the International Youth Department Young Men of Valor present the 4th Annual YMV Beautillion on Thursday, July 4, 2013.
A Beautillion is a celebration of the achievements of young men of color who are high school seniors. These young men, or "Beaux", represent a select few of the many candidates nominated to be honored at Beautillion 2013. Each Beau is chosen in recognition of his demonstrated achievements in academics, sports, the arts, community and church involvement, leadership, and his overall commitment to the advancement of people of color. All Beaux must plan to continue their education.
The Young Men of Valor's Beautillion will be a vehicle for many to help support the educational dreams of our youth. In addition, it showcases some of Church of God in Christ's finest career bound high school senior males who have demonstrated a desire to excel in life yet may lack some of the financial support and encouragement by peers and mentors needed to turn their dreams into realities.