Monthly Archives:
April 2013
Church Of God In Christ, Inc.
International Youth Department Scholarship

Bishop Charles E. Blake, Presiding Bishop
Pastor Ben Stephens, International President
Evangelist Joyce Rodgers, International Chairlady


HIGH SCHOOL GRADUATE APPLICATION
GENERAL INSTRUCTIONS
CLICK HERE TO DOWNLOAD COMPLETE APPLICATION
Dear Applicant,
The following instructions are provided to assist you in the application process:
1. Complete your application with the following information and please submit via
Certified Mail, Fed Ex, UPS or USPS Priority Mail to the address listed below.
One recent 3×5 or 4×6 color photo of student (no photocopies).
An official sealed copy of student's high school transcript. Transcript must show cumulative 3.0 grade point average. Unofficial copies will not be accepted.
Letter of acceptance from the 4 year college or university institution of student's planned attendance.
Three character references one from your High School Administrator/Counselor, one from your pastor, and one from your youth president/chairlady.
IYD Policy Statement signed by student and parent/guardian.
Completed Scholarship Application signed by student and parent/guardian.
Student's typed resume (one page) with all accomplishments, achievements, community involvement, and school activities. Indicate all areas where you exercised leadership.
2. Please answer all questions (typed or printed in black ink) on the application.
3. Completed application materials must be postmarked by
Friday, June 14, 2013. Incomplete or late applications will not be accepted.
submit via certified mail; including fed ex, ups or usps priority mail only to:
International Youth Department Church of God in Christ
Collegiate & Young Adult Ministries (High School IYD App.)
Versie T. Cuthbert
P. O. Box 940816
Houston, Texas 77094
**Hand delivered applications will not be accepted.
If you have any questions please contact Versie T. Cuthbert 713-816-6662 email [email protected] or Dr. Rhone email [email protected]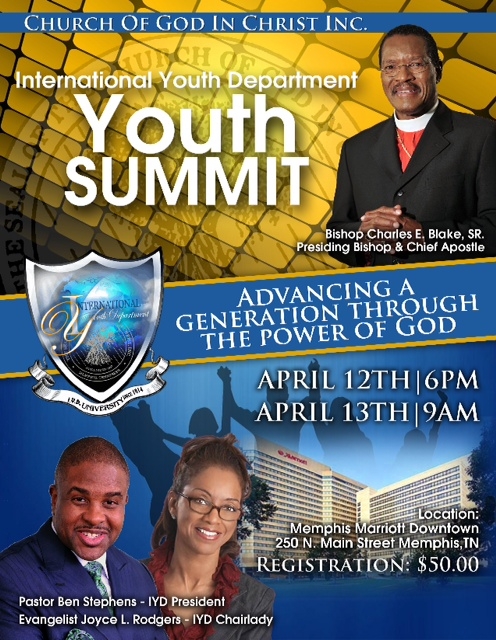 President Benjamin Stephens, III & Chairlady Joyce Rodgers are inviting all Youth to join them on April 12th (6pm) and April 13th (9am) for the "Advancing A Generation Through The Power of God" Youth Summit.