The IYC Project
IT'S HERE!!! ARE YOU READY?!
The International Youth Choir of the Church of God in Christ will present their FIRST musical offering to the world--- entitled "THE IYC PROJECT"!!!
This electrifying assembly of youthful worshipers are preparing for a night that will glorify God, transform, shift and leave an indelible impact on all who attend!
THERE IS A SOUND!
From this project, there will be are lease in the earth from young people who have set themselves aside to usher-in the next wave of glory in gospel music.
This epic "Live Experience" will take place during the COGIC Int'l AIM Convention in Indianapolis, Indiana on Friday, July 6th, 2018 at 10:00 pm.
BUT don't miss a "MY" Convention service, because in each service the IYC will be presenting material for the project. The "IYC Project" promises to be one of the most momentous, dynamic, innovative COGIC projects of our time.
History will be made both naturally and spiritually; YOU DO NOT WANT TO MISS IT! All are invited to attend this explosive praise and worship experience!!!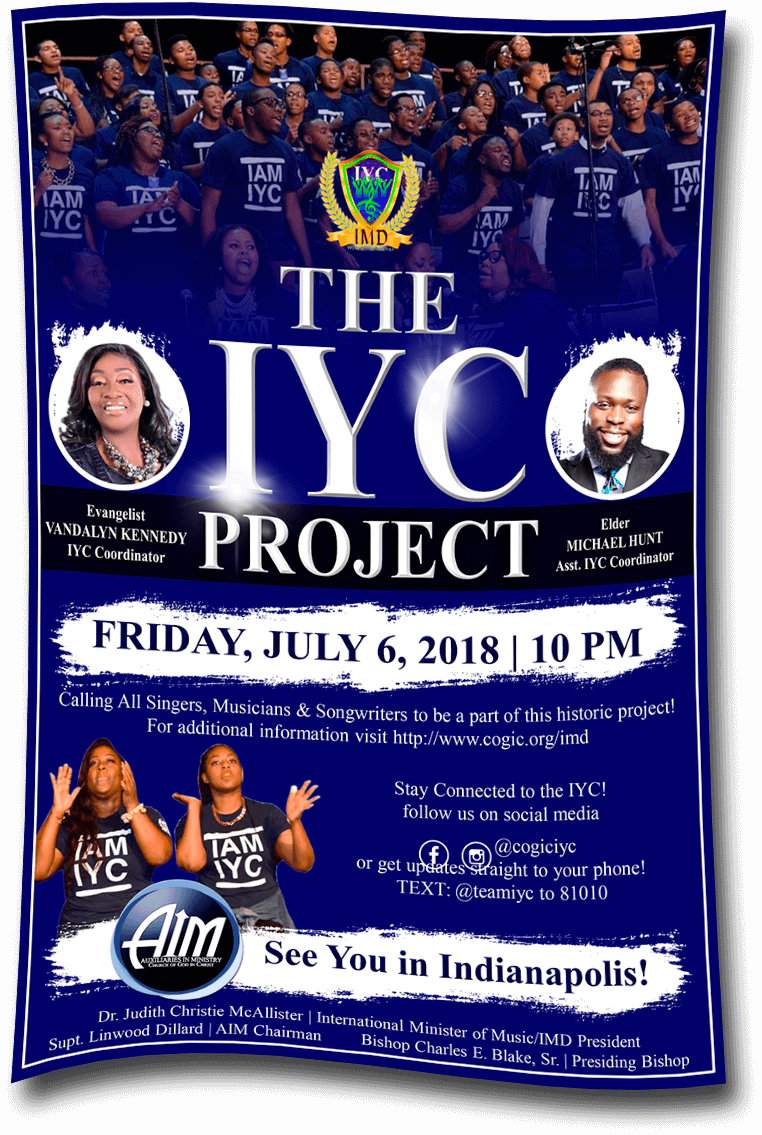 Attention Songwriters and Lead Vocalist
Affectionately known as the "IYC", The International Youth Choir, a part of the International Music Department, is one of the greatest musical aggregations of young people from across the world. The goal of the International Youth Choir is to help young people expand and grow, both musically and spiritually.
The IYC seeks to give opportunity for talented and musically gifted young people to display their varying giftings in rehearsals and worship services. The rendering of their gifts lifts the hearts of tens of thousands of congregants and creates an atmosphere conducive for worship.
Our desire is to see young talent in ministry and excellence, transferring their learning and impartation from the IYC to their local churches and music departments, lifting up the name of Jesus. With that in mind, we seek to give opportunity to and expose songwriters and invite writers to submit songs for this IYC project that will glorify god and minister to God's people.