____________________________________________________________________________________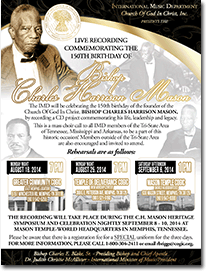 The IMD will be celebrating the 150th birthday of the founder of the Church Of God In Christ, Bishop Charles Harrison Mason, by recording a CD project commemorating his life, leadership and legacy.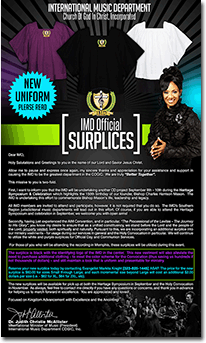 The IMD is incorporating an additional surplice into oour ministry vestments – for usage during our services in general and the Holy Convocation in paticular. We will continue to utilize the white and purple surplices for Official Day and Communion Services. Reserve your new surplice today!
____________________________________________________________________________________



Calendar




September

CHM Heritage Symposium

September 8 – 10

Memphis, TN

September

Bishop's Conference

September 15 – 17

Rochester, NY

November

Holy Convocation

November 3 – 12

St. Louis, Missouri

Welcome To The International Music Department For The Church Of God In Christ.

We are so honored that you have taken pause within your busy day to visit us. It is our desire to keep you informed, and to stay in touch so you do not have to miss out on anything the IMD has to offer during the year.

Please feel free to visit our webpage again and again, as we will frequently update to provide information and inspiration, with the expectation that your experience while here on the IMD website will continue to be an uplifting one.

We're Better Together

Dr. Judith McAllister
President, International Music Department




Connections




CONNECT WITH
YOUR I-M-D!

.