Dr. James Felton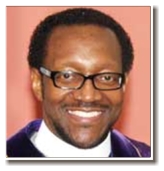 Sunday, November 11, 2012 | 7:30pm (CST)
Edward Jones Dome
Pastor Dr. J. Louis Felton, Servant Leader was appointed as Pastor of Mount Airy Church of God In Christ on June 27, 2010. His installation as Pastor occurred on August 1, 2010.
This dynamic man of God previously served as Senior Pastor of the House of Prayer Community Church in Cassopolis, Michigan from January 1984 – 1991.
While Pastor he became the Founding YPWW President and First Chairman of the United Jurisdictional Auxiliaries Convention (UJAC) for 3rd Ecclesiastical Jurisdiction of Southwest Michigan, '88-'91 under the Prelate, Bishop R. L. Jones.
Dr. Felton then served as Senior Pastor of the Galilee Church of Kalamazoo, Michigan from 1991 until accepting his role as Servant Leader of Mount Airy Church in 2010.
Celebrating 47 years in the Gospel Ministry, Dr. Felton has accomplished many outstanding achievements. Pastor Felton is married to First Lady Priscilla E. Felton who also works diligently in the church and community.