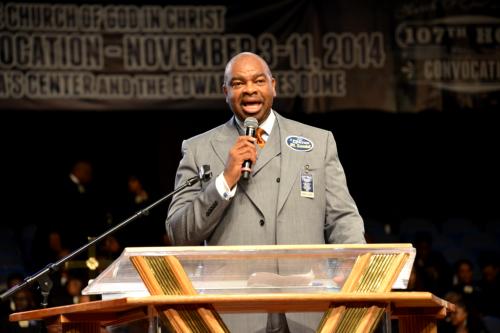 The 2015 Church of God In Christ (COGIC) Holy Convocation will take place November 2-9 at the America's Center in the heart of downtown St. Louis. The Convocation, with an expected 40,000 attendees, is the largest convention of the Church of God in Christ, Inc. With over 6 million members worldwide, the COGIC is the 4th largest protestant denomination in America.
The Convocation will feature dynamic speakers, major label Gospel music artist, workshops and community outreach to the Bi-State area.
MEDIA CREDENTIAL INFORMATION
Media credentials to cover the 2014 Convocation will be available to journalists assigned to cover the convention. Credentials must be submitted by October 22, 2015.
Applicants requesting media credentials will be notified via e-mail upon receipt of the application form.
Please email the following information to [email protected]
Your Name (required)
Your Title
Your Company
Address
City
State
ZIP
Phone
Cell Phone
Fax
Your Email (required)
Choose One:
Print- Daily |  Print- Weekly |  Print- Magazine  |  TV- Local  |  TV- Network  |  TV- Cable  |  Radio Other
Comments:
____________________________________
Robert Coleman, Jr.
COGIC Public Relations Manager
930 Mason Street
Memphis, TN 38126
(901) 235-2160
[email protected]