Welcome to the "Show Me State" and the great City of St. Louis.  We would like to welcome you back for yet another year!  I know you will enjoy all that St. Louis has to offer … from its unique architectural beauty to its numerous world famous attractions and activities. Unfortunately, no city or town is exempt from crime.  Therefore, I would like to offer suggestions to ensure that your stay here is safe, enjoyable, and crime free.
Useful Phone Numbers
In an emergency call 9-1-1. An emergency exists when there is a life-threatening police matter, a medical emergency or fire, or a person who has fallen and is unable to get up.  9-1-1 will get you police, fire and medical services.
(314) 231-1212 – For non emergency police calls
(866) 371-TIPS – Crime Stoppers
(314) 383-2336 – City of St. Louis Towing 7410 Hall St., St. Louis, MO 63147
(314) 231-2345 or  (314) 982-1521 – Metro Transit
Children's Safety
When visiting local attractions, dress children in bright clothing and designate a meeting site for lost family members.
Instruct children not to open hotel room doors to people they don't know.
Make sure children are familiar with hotel/motel escape routes.
Discuss which adult is responsible for which child/children in an emergency.
Sightseeing/Shopping
Walk with a purpose and look confident.
Remove badges when leaving the convention area.
Never carry anything more valuable than you can afford to lose.
Leave all unnecessary credit cards at home.
Plan your route in advance; consult maps indoors before leaving your hotel.
Locate places on your route where you can go for help.
Be aware of your surroundings at all times; leave an area if it appears unsafe.
Ask directions from service providers, hotel desk staff, police or traffic officers, and city guides. Avoid asking strangers on the street.
If you get lost, find an open business and ask for directions.
Always walk in groups, there is safety in numbers
Always lets someone know where you are going.  If you have a cellular phone enable the GPS feature
Cell Phone Usage
Any time you're out of town, make sure your mobile phone is charged at all times, even if it means plugging your charger in during sessions. You don't want to be stuck in a new town with no phone service.
If you have a smart phone, before you leave your hotel or the convention, know where you're going. (Your smartphone can help with this—but load your locations in advance!)
Vehicle Safety
Never leave valuables in your vehicle such as GPS devices and accessories, cell phones, cameras, purses, wallets, shopping bags, luggage, or visible cash.
Avoid making frequent trips to your vehicle to retrieve items, as this may draw attention to your vehicle for a possible break in.
Avoid parking too far away from the convention site
Homeless/Displaced Persons
Like every major city, St. Louis has a homeless population. Most homeless people are harmless; however, some street people are chronic law violators who may infringe upon the rights of others. You should demonstrate a combination of respect and caution around panhandlers and strangers.  I suggested that you never give money or valuables to strangers who may approach you and that you exercise extreme caution when retrieving money from your purse or wallet.
 Avoiding Pickpockets
Use traveler's checks whenever possible or carry small sums of cash or a debit or credit card.  Do not display cash.
Do not discuss plans with strangers.
Carry your wallet in the inside front pocket of your pants or your jacket.
Carry shoulder bags or other handbags under your arm, not by the handle. While sitting, keep the bag in your lap. In a restaurant, keep your purse in your lap, not over the back of the chair. Keep your bag next to you in the public restroom instead of using door hooks.  Never leave your wallet in your jacket pockets.
Consider using a fanny-pack or a concealable money-belt to carry cash and credit cards.
Carry some cash and credit cards in a second wallet, besides your purse or fanny-pack.
Be alert, particularly in crowded situations. Staged distractions are a favorite ploy of pickpockets.
Hotel And Motel Security
Watch your luggage when checking in and out of your hotel.
Make sure no one hears your name and room number while at the front desk.
Don't invite strangers to your room.
Find out your hotel's policy on key control and the room cleaning schedules.
Call the desk to verify the identity of room service, repair persons, etc., especially if you did not call for them. Know what the hotel identification badge looks like.
Deposit your valuables in the hotel safe and keep an inventory of what was deposited; never leave cash or other valuables in your room.
Lock your luggage when it is left in the room.
Know how to double lock your room door.
Use the door viewer to identify anyone requesting entry to your room; report any suspicious activity to hotel staff.
Keep the key with you at all times, never leave it at the front desk.
Return your key to the front desk when you check out; if you leave it in your room it could be copied.
Familiarize yourself with the fire exit routes posted in your room.
Courtesy Vehicle
When riding in courtesy vehicles do not go to a private residence, unless you personally know the driver
Be sure not to leave your purse, camera, or other belongings inside.  Always check the seats before exiting the vehicle.
Property Lost in a Taxi
If you should choose to hire a taxi, write down or remember the number, color and company name of the taxi you left your property in. The police department has a list of all cab companies.


---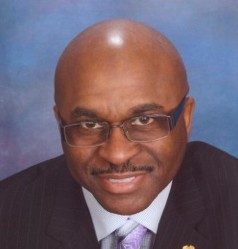 By Sgt. David E. Glenn, Sr.
(SLPD Retired)