Sunshine Band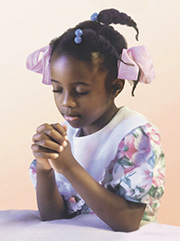 Our weekly children's session had just finished and it was time to go home. The children were ready to grab their snacks and head out the door. We normally ask who wants to pray our dismissal prayer, and I found that the hands that go in the air tend to be the same children every week. In an effort to be fair I do choose a different child each time, but the majority of the hands still are not raised.

Most children will learn about three prayers or what some may call a prayer. The Lord's Prayer in St. Matthew, "Now I lay me down to sleep…" used before going to bed, and a simply verse recited before eating dinner. So often we focus on the lesson or song, but we miss the importance of getting children to focus on talking to God. Think about it. When you have a relationship with someone, you talk to the person. It's hard to imagine a wonderful, close relationship where the two people never talk or rarely speak to each other.

Children's prayers need to be more than asking for blessings on their food or begging for help in a crisis. Children need to spend time with God as they learn about, listen to, and talk to Him. As we encourage children to have a real relationship with the Lord, we must lead them to talk regularly with Him.

Ages 3 – 5
Do you remember the first time you ever heard a child, any child, pray? Sometimes there aren't words to describe the innocence or the simple faith heard in the few words uttered out loud by children. Even a simple "Thank you, God, for my toys," moves the heart of God.

Ages 6 – 9
They read! They write! They do long division! Is there anything these children can't do? Actually many struggle with praying on their own. This group has many questions; How do I use this thing?, What will my friends think?, What do we believe?

Ages 10 – 12
By age 12, most children reared by Christian parents and taught by Sunday school teachers know that God loves them and Jesus died for them. They also know that prayer is a special relationship with God. They've probably also learned that prayer is a two-way talk with Jesus. Prayer may've become as natural to them as breathing, eating, and sleeping — an essential part of each day. However some in this group may have never spoken to God other than when the minister says " And the church said Amen".
Prayer habits that last a lifetime are most often formed while they are children. This is why it's so critical to teach children how to pray. As with most disciplines, prayer is caught more than it's taught. Please take time, develop a lesson simply teaching your children how to pray.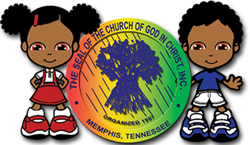 Our Children's Ministry is a colabrative of all departments, auxiliaries and ministries that touch the very fabric of the children of the Church of God in Christ.
Our Children's Ministry enables leaders to focus on ministry support when working with Children, and also allows children to take advantage of all of the various ministry opportunities made avalible by the Church of God in Christ and those that partner along with us.
Children are an inheritance from the LORD. They are a reward from Him. With these rewards also come responsibilities. As stewards of God's children, parents are responsible for helping children grow physically, intellectually, emotionally and spiritually. We the church, also have a responsibility toward children; we are to creatively minister to their spiritual needs through the word of God. If we want our children to grow up with a solid Christian foundation, it is essential that we invest time in them while they are young.
Train up a child in the way he should go: and when he is old, he will not depart from it
Proverbs 22:6.
Our goal is to provide training for children everywhere through an extensive range of auxiliaries, programs and activities. The Children's Ministry of the Church of God in Christ works to serve the children of our church by helping them to learn biblical principles, understanding of the Christian faith, and lead them to Christ.