Children's Church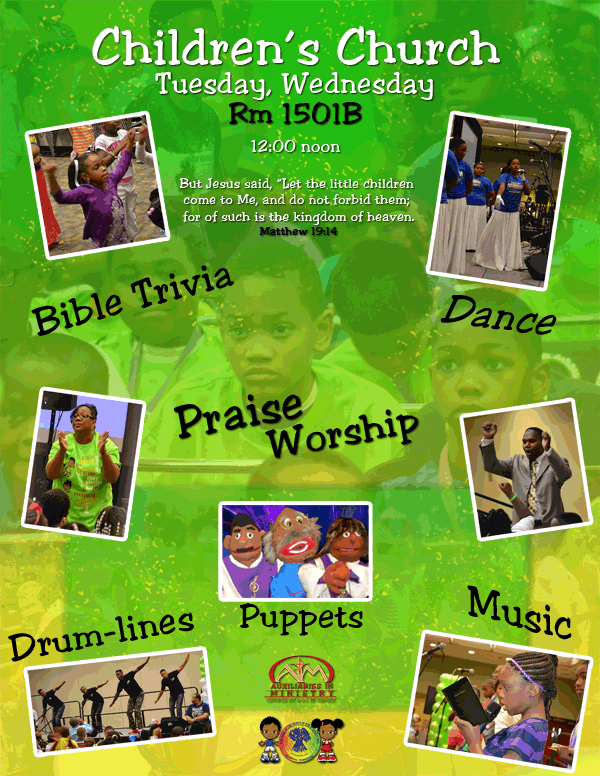 Children's Church is an opportunity for children to celebrate their love for the Lord. Many of our adult services give little opportunity to children. Children's participation in our services are normally categorized for special events, holidays and annual services. But Children's Church is a worship experience focused totally on children and building their understanding of the Bible and promoting a meaningful relationship with God.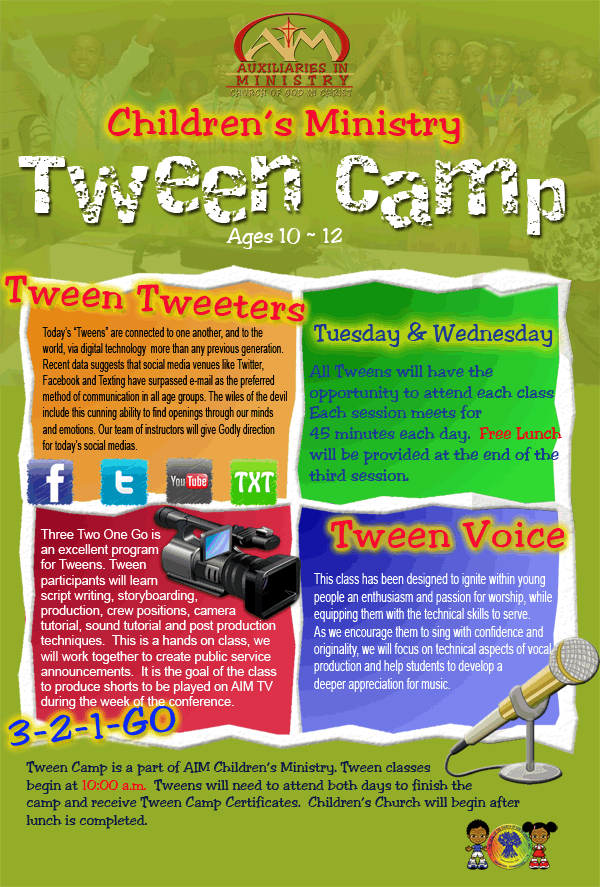 Tween Camp is a major part of Children's Ministry, we are focusing on children ages 10-12. Tween Camp offers movement, hands on learning and some digital knowledge. The schedule will keep the Tweens moving from one power packed session to the next. Make sure your Tweens are in Morning Mania so they have an opportunity to be apart of all the sessions that are offered. All classes will complete before the start of Children's Church.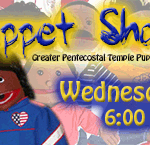 There's no other ministry quite like Puppet Ministry! Puppets are effective in reaching, teaching, and entertaining audiences of all ages and are a GREAT way to teach children about the Bible!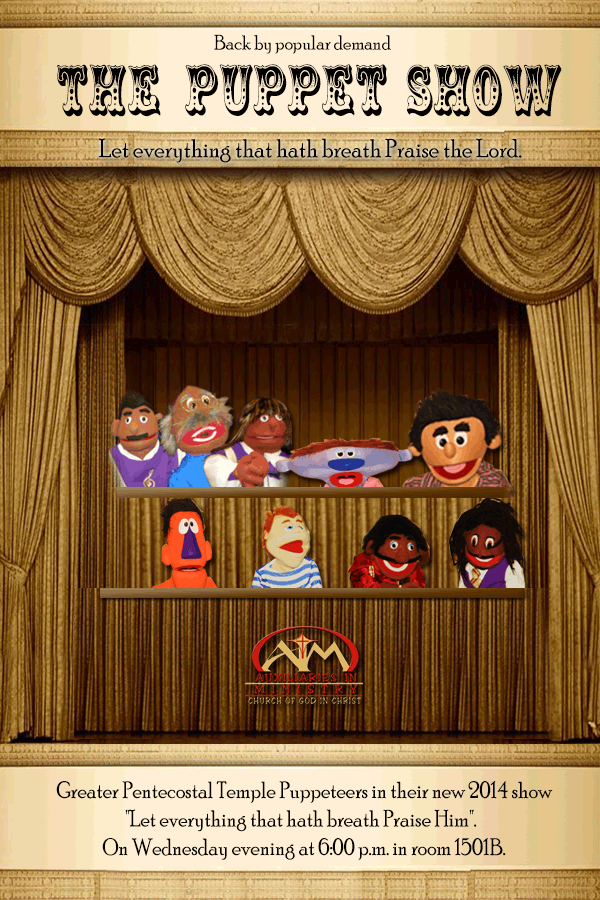 When you are preparing your schedule of events,
DO NOT TO MISS this special event during
AIM 2014 in Kansas City.
You do not want to miss this performance, make sure you have your cameras and cellphones ready. Back by popular demand is the Greater Pentecostal Temple Puppeteers.
Wednesday 6:00 p.m. Room 1501 B, Kansas City Convention Center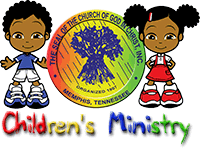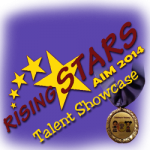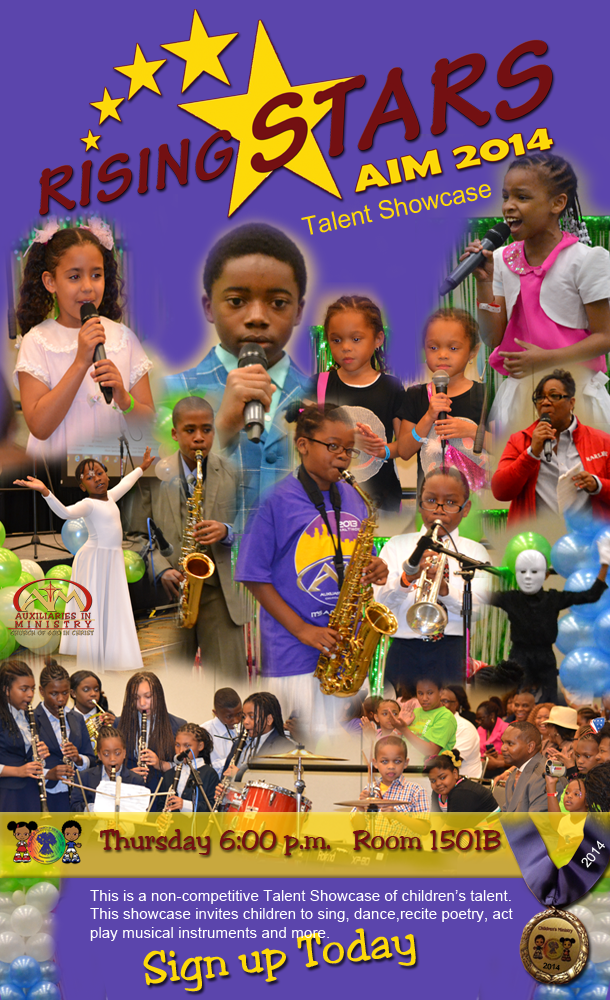 Auditions

You can send in your request now to be apart of the talent showcase. Just fill out the form below to get additional information.
Prizes / Awards

All participating youth will receive certificates and awards. There will be trophies given in categories of vocal, dance and instrumentalist.
---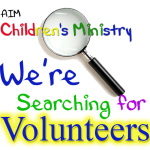 Are you ready to get involved?

Great!




Whether you volunteer for an hour or make a commitment of a day or the full week, your volunteer time is appreciated; as are you. There are a variety of ways you can get involved, and any needed training is provided.

To get started, we need to know a little more about you. Please submit the form below, and we will then contact you to discuss the opportunities available in your area that best match your interests and meet the needs of the Children's Ministry. Thank you!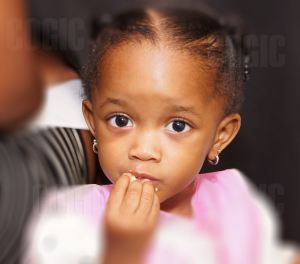 Many times we assume that our children understand how to lead others to the Lord. Here are four basic points for us to remember when leading others to salvation.




1. God loves you and has a plan for you!



The Bible says, "God so loved the world that He gave His one and only Son, [Jesus Christ], that whoever believes in Him shall not perish, but have eternal life" (John 3:16).
Jesus said, "I came that they may have life and have it abundantly" — a complete life full of purpose (John 10:10).
But here's the problem:
2. Man is sinful and separated from God.

We have all done, thought or said bad things, which the Bible calls "sin." The Bible says, "All have sinned and fall short of the glory of God" (Romans 3:23).
The result of sin is death, spiritual separation from God (Romans 6:23).
The good news?
3. God sent His Son to die for your sins!



Jesus died in our place so we could live with Him in eternity.
"God demonstrates His own love toward us, in that while we were yet sinners, Christ died for us" (Romans 5:8).
But it didn't end with His death on the cross. He rose again and still lives!
"Christ died for our sins. … He was buried. … He was raised on the third day, according to the Scriptures." (1 Corinthians 15:3-4).
Jesus is the only way to God.
Jesus said, "I am the way, and the truth, and the life; no one comes to the Father, but through Me" (John 14:6).
4. Would you like to receive God's forgiveness?



We can't earn salvation; we are saved by God's grace when we have faith in His Son, Jesus Christ. All you have to do is believe you are a sinner, that Christ died for your sins, and ask His forgiveness. He knows you and loves you. What matters to Him is the attitude of your heart, your honesty.
Thanks for reading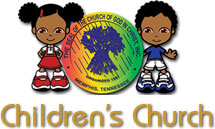 George Barna, one of the world's leading statisticians said in his book, "Transforming Children into Spiritual Champions-Why Children Should Be Your Church's #1 Priority," "moral foundations of children are generally determined by the time the individual reaches age nine. Research confirms a parallel outcome in the spiritual dimension: By age nine, most children have their spiritual moorings in place." What does this mean for us as children leaders? If you want to have an impact on the next generation then you must do it by the age of nine. George Barna also suggest that children's spiritual identity will be set by the age of thirteen. We have a critical period of time to help these young people develop into spiritual champions. People that will know their Lord and Savior personally. People that will not run away from the church at a single offense or when hard times come.
It is vitally important for parents to get there children to church. What children learn at church helps keep them in church. The question though is why is 9 out of 10 churched young adults leaving the church? How can we as children leaders change this? Yes it is good that churched children are more likely to not have a faith change or leave the church than adult that never went to church as a child but this statistic is still scary.

Could it be that we taught God like a concept in school? We lectured about God. We taught God like a sermon in adult service. We taught God through a performance and we never taught our children how to engage with God through the Word of God, Prayer, and Worship. Could it be that we need to help children understand that God is omnicient, omnipotent, omnipresent and what it means for their lives. Could it be that we should with every concept help the child arrive at his/her own conclusion about how that should effect their lives. Knowing that salvation isn't just a decision but rather a relationship then we must teach from a relational perspective. This cannot be done ONLY from a whole group setting. We must use a combined approach with whole group opener with a big idea, small group reinforcement with social interaction, and finally close with whole group evaluation (altar time.) Teachers have been using this techniques for years using theorist like Vgotsky and Erickson, as well as many others to support this idea. How will this approach change things?
Children are constantly moving from place to place, idea to idea, and activity to activity. Church is fun. God is interesting and children are questioning each other about God. They are experiencing God rather than learning about him.
The problem with children's ministry is that there is such a wide age range of children in the room with so little help. This idea can be put into place with as little as two people or as many as you want. You will break children into three teams of various age ranges typically your smallest group of children should be your youngest and your largest group is your oldest. You do this because younger children need more help to understand and engage with concepts. Then you create three groups. Children love this way of doing children's church and are understanding so much more. Parents are telling stories about children applying the lessons throughout the week.

Teach the Bible story in an interactive and age-appropriate way. Play act for the youngest, readers theater or story-telling for the middle group, and skit for the oldest.


This is an object lesson or game that teaches the concept and then applies it to their life.


This is age appropriate reaction to the Big Idea. Younger children will color while talking about what they are learning, middle children will draw, and the oldest group will journal

This may seem like more work but it really isn't; you are just slightly twisting your vocabulary and activity. The message is the same. This will help all children engage with God and your lesson. The children will participate in each activity for 10-15 minutes and then switch. If you only have two people you could get the react area started individually while you work with another group.
Then at the very end you will come back together and after they have engaged with the concept, engaged with each other then they can engage with God in the altar. If you think that children can behave or move in an altar just try it and see what God does!
Children learn best when it is presented as play and they are interacting with their friends. Think about it. What do you prefer?
Teachers have been using this technique for years just ask the children in your church or your own children. Whole group instruction to introduce the idea, small developmentally appropriate groups to socially reinforce the concept, and whole group instruction to check for understanding (altar time.)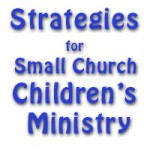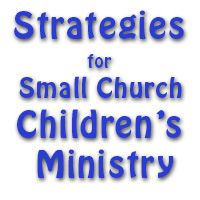 Hundreds of children's ministry leaders face these same questions every week. They work incredibly hard to minister effectively to the children who arrive at their doors. They face the challenging prospect of not knowing how many children might show up (two or 25?), along with the even bigger challenge of meeting their needs – when the children are all over the age spectrum. So how do you keep a small church ministry effective and relevant?
You think
S.M.A.L.L

!


S: Start with a Plan

To create impact – in any size children's ministry – you must begin with a plan. Plan how you'll effectively reach children in your children's ministry. Recruit for the classes you'll offer – even if those classes are occasionally empty – based on your average weekly attendance (track attendance for three months to get a close average). Do the necessary volunteer screening and training to prepare volunteers. Prepare teaching materials, including curriculum and supplies. Prepare your space and be ready.

Note: Being ready doesn't mean having a healthy stack of word puzzles and coloring pages ready for children. It means being prepared with a full lesson plan that maximizes every moment your volunteers have with children.

It's easier to lower your preparedness standards when you think there might be just a few children. It's easy to slip into the mindset of "winging it." But remind yourself of this: Reality is just the opposite. With only a handful of children, you have greater opportunity than ever to make a deep and lasting impact. Prepare for it! Regardless of who or how many might show up, start with a plan.

M: Move to Plan B

Your Plan A is in place: You're prepared for your average attendance and ready to go. But if drastically fewer children show up, or if children' age ranges are awkward (for instance, you have a 4 year old and a 12 year old sitting at the table staring blankly at you), then move to Plan B.

Plan B is your plan for what you'll do if your number or ages vary dramatically from what you'd normally expect. Determine beforehand how you'll handle such variances. Who'll lead? How will you organize your volunteers? Will you dismiss some volunteers, or use them in other ways? How will you mix age groups so older children interact with and mentor younger children? Is your curriculum geared to engage all ages? Where will children go? Think through all the troublesome scenarios you've experience in the past year: Too many children, not enough children, major age gaps, group imbalances (10 preschoolers and one teen, for instance). If it's a possibility, plan for it. That doesn't mean you need to create a new plan every week, but have a plan prepared for the major scenarios you face. Typically, you can simply adjust Plan A, but you need Plan B for the big obstacles.

Note: Plan B isn't winging it. Making up Plan B as you go isn't acceptable; have it ready and your volunteers trained to adapt in advance.

A: Always Focus on Relationships

Ministry happens best through relationships. This is true in mega churches, medium churches, and small churches. The difference (and your advantage) is when you have a very small number of children, you have an exponentially larger opportunity to invest in relationships with them.

Whether you're in Plan A mode or resorting to Plan B, relationships must be at the center of your efforts. Curriculum and resources are important. Facilities and programs are important. But it's relationships – and almost nothing else – that greatly impact the life of a child for Jesus. Jesus Himself invested deeply in a small group aside from His wider ministry. Why? Because there's greater impact in small numbers. There's greater opportunity to teach, engage, guide, understand, befriend, and demonstrate your faith up close. So rather than bemoaning the fact that so few children came, celebrate the fact that you have more time and energy to pour yourself into the lives of a few – just as Jesus did.

L: Let Children Engage

One of the wonderful (and many would say most important) ways children learn is by becoming fully engaged in what you're teaching.

When you have 100 children in children's church, engaged participation isn't always possible. Personal discovery isn't always easy. Guiding children in life-changing experiences may be watered down because there may be too many children and too few adults. But with a small group of children? What a blessing! There are so many ways to let children participate. Think about these for starters:
Teaching – Let children "co-teach" the lesson. Engage them in reading the Scripture or retelling or acting out the biblical events.
Mentoring – Allow older children to help younger children engage in all aspects of the lesson. Younger children are thrilled by an older child's attention, and older children love to take on leadership roles. You have the perfect opportunity to invest in children in a way that trains them to be leaders in children's ministry – today!
Clarification – You can engage children deeply in what you're teaching with dialogue that gauges their understanding of the lesson and the principles you're teaching. As you talk with children and listen to their feedback, address their misunderstandings or clarify how what they're leaning applies to their lives. In a smaller setting, you have the ability to answer questions as children think through what they're learning.
Mobility – With a small group of children, you're blessed with flexibility. A spur-of-the-moment jaunt outside with five children to enjoy the warm sunshine during a lesson on creation is totally doable. Not always so with a class of 25. Smaller groups offer mobility and open the door to creative ideas. Move to new locations – other rooms, outside, or in the pastor's office (or not!)- to stimulate children' interest and engagement.
Service – Service is a win-win for your children and your church. Work with other departments such as adult classes or auxiliaries to pinpoint ways your children can serve. Maybe it's taking offerings, passing out brochures, cleaning up, or any number of seemingly small ways to serve. Engage children in service projects for the community, too, and use these as a teaching tool.
L: Laugh!
One of the key characteristics of any children's ministry is fun. When children and adults have fun together, everyone's engaged. And if what children are engaged in is meaningful and purposeful, then they're learning in a way that impacts their lives for the better.
But fun can be threatened. Don't allow your attitude to sour when you don't have many children show up. I remember feeling frustrated when the number I expected didn't materialize. Instead of focusing on the children who were there, I'd focus on the children who weren't. That attitude took the fun out of the experience for everyone. Have fun with the children who are there. Don't minimize their attendance by thinking of those who didn't show.
You may only have a few children show up, but S.M.A.L.L. thinking will lead to flexibility, relationships, engaged children, and laughter that strengthens your ministry – on every scale!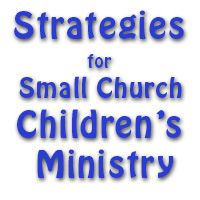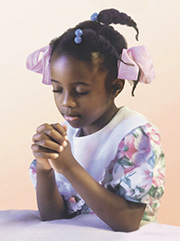 Our weekly children's session had just finished and it was time to go home. The children were ready to grab their snacks and head out the door. We normally ask who wants to pray our dismissal prayer, and I found that the hands that go in the air tend to be the same children every week. In an effort to be fair I do choose a different child each time, but the majority of the hands still are not raised.

Most children will learn about three prayers or what some may call a prayer. The Lord's Prayer in St. Matthew, "Now I lay me down to sleep…" used before going to bed, and a simply verse recited before eating dinner. So often we focus on the lesson or song, but we miss the importance of getting children to focus on talking to God. Think about it. When you have a relationship with someone, you talk to the person. It's hard to imagine a wonderful, close relationship where the two people never talk or rarely speak to each other.

Children's prayers need to be more than asking for blessings on their food or begging for help in a crisis. Children need to spend time with God as they learn about, listen to, and talk to Him. As we encourage children to have a real relationship with the Lord, we must lead them to talk regularly with Him.

Ages 3 – 5
Do you remember the first time you ever heard a child, any child, pray? Sometimes there aren't words to describe the innocence or the simple faith heard in the few words uttered out loud by children. Even a simple "Thank you, God, for my toys," moves the heart of God.

Ages 6 – 9
They read! They write! They do long division! Is there anything these children can't do? Actually many struggle with praying on their own. This group has many questions; How do I use this thing?, What will my friends think?, What do we believe?

Ages 10 – 12
By age 12, most children reared by Christian parents and taught by Sunday school teachers know that God loves them and Jesus died for them. They also know that prayer is a special relationship with God. They've probably also learned that prayer is a two-way talk with Jesus. Prayer may've become as natural to them as breathing, eating, and sleeping — an essential part of each day. However some in this group may have never spoken to God other than when the minister says " And the church said Amen".
Prayer habits that last a lifetime are most often formed while they are children. This is why it's so critical to teach children how to pray. As with most disciplines, prayer is caught more than it's taught. Please take time, develop a lesson simply teaching your children how to pray.