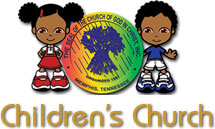 George Barna, one of the world's leading statisticians said in his book, "Transforming Children into Spiritual Champions-Why Children Should Be Your Church's #1 Priority," "moral foundations of children are generally determined by the time the individual reaches age nine.  Research confirms a parallel outcome in the spiritual dimension: By age nine, most children have their spiritual moorings in place." What does this mean for us as children leaders? If you want to have an impact on the next generation then you must do it by the age of nine.  George Barna also suggest that children's spiritual identity will be set by the age of thirteen. We have a critical period of time to help these young people develop into spiritual champions. People that will know their Lord and Savior personally. People that will not run away from the church at a single offense or when hard times come.
It is vitally important for parents to get there children to church. What children learn at church helps keep them in church. The question though is why is 9 out of 10 churched young adults leaving the church? How can we as children leaders change this? Yes it is good that churched children are more likely to not have a faith change or leave the church than adult that never went to church as a child but this statistic is still scary.

Could it be that we taught God like a concept in school? We lectured about God. We taught God like a sermon in adult service. We taught God through a performance and we never taught our children how to engage with God through the Word of God, Prayer, and Worship. Could it be that we need to help children understand that God is omnicient, omnipotent, omnipresent and what it means for their lives. Could it be that we should with every concept help the child arrive at his/her own conclusion about how that should effect their lives. Knowing that salvation isn't just a decision but rather a relationship then we must teach from a relational perspective. This cannot be done ONLY from a whole group setting. We must use a combined approach with whole group opener with a big idea, small group reinforcement with social interaction, and finally close with whole group evaluation (altar time.) Teachers have been using this techniques for years using theorist like Vgotsky and Erickson, as well as many others to support this idea. How will this approach change things?
Children are constantly moving from place to place, idea to idea, and activity to activity. Church is fun. God is interesting and children are questioning each other about God. They are experiencing God rather than learning about him.
The problem with children's ministry is that there is such a wide age range of children in the room with so little help. This idea can be put into place with as little as two people or as many as you want. You will break children into three teams of various age ranges typically your smallest group of children should be your youngest and your largest group is your oldest. You do this because younger children need more help to understand and engage with concepts. Then you create three groups. Children love this way of doing children's church and are understanding so much more. Parents are telling stories about children applying the lessons throughout the week.

Teach the Bible story in an interactive and age-appropriate way. Play act for the youngest, readers theater or story-telling for the middle group, and skit for the oldest.


This is an object lesson or game that teaches the concept and then applies it to their life.


This is age appropriate reaction to the Big Idea. Younger children will color while talking about what they are learning, middle children will draw, and the oldest group will journal
This may seem like more work but it really isn't; you are just slightly twisting your vocabulary and activity. The message is the same. This will help all children engage with God and your lesson. The children will participate in each activity for 10-15 minutes and then switch. If you only have two people you could get the react area started individually while you work with another group.
Then at the very end you will come back together and after they have engaged with the concept, engaged with each other then they can engage with God in the altar. If you think that children can behave or move in an altar just try it and see what God does!
Children learn best when it is presented as play and they are interacting with their friends. Think about it. What do you prefer?
Teachers have been using this technique for years just ask the children in your church or your own children. Whole group instruction to introduce the idea, small developmentally appropriate groups to socially reinforce the concept, and whole group instruction to check for understanding (altar time.)