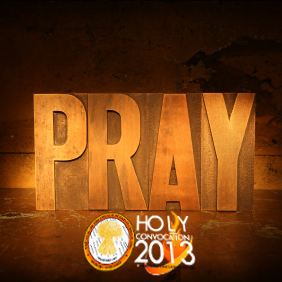 We are all familiar with 2 Chronicles 7:14 which states:
If my people, which are called by my name, shall humble themselves, and pray, and seek my face, and turn from their wicked ways; then will I hear from heaven, and will forgive their sin, and will heal their land.
But do we really believe that verse to be true? I know we believe God's Word is true. I know we understand that "God is not a man, that he should lie; neither the son of man, that he should repent" (Number 23:19). That same verse goes on to say "Hath he said, and shall he not do it? or hath he spoken, and shall he not make it good?" These verses give us the assurance that if God spoke a thing, it will come to pass. However, if we truly believe the Word of God to be divinely inspired and all-together infallible, why does it not seem to be put to practical use in our daily lives?
Now, you may say that I am wrong. You may feel that you are putting God's word to practical use in your life. And if you are, personally, then to God be the Glory! But, the Body of Christ, as a whole, is simply not doing what 2 Chronicles 7:14 instructs us to do. I know this is true, because if we were, we would be living in a "healed land". Even within the church, we still look to others for solutions. All too often we look to civic organizations or government to find solutions to the world's problems. But the verse does not put the pressure on anybody else – the mandate is to God's people. According to 2 Chronicles 7:14, God is waiting on His People to:
Humble Ourselves
Pray
Seek His Face
Turn from Our Wicked Ways (Repent)
And once we have done that His Word assures us that He will:
Forgive Our Sins
Heal our Land
This should inspire great confidence within each individual and within the Body of Christ. It is such good news that we do not have to depend on others outside of the Kingdom of God to see results. The promise is only dependent on the actions of God's people. With this confidence, it should also bring about conviction, because ultimately God is pointing the proverbial finger at us and letting us know the ball is in our court. So, if we want our sins forgiven and God to heal our land, we must, as the collective Body of Christ, follow His directive which he outlined in 2 Chronicles 7:14. God is waiting and wanting to forgive our sins and heal our land – but it is our move… it is up to us!