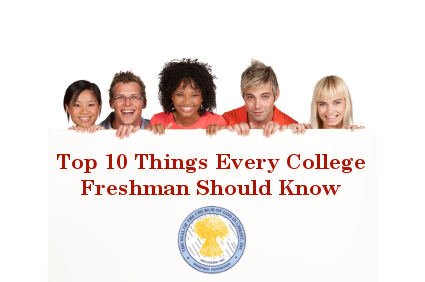 Discover the top 10 things every college freshman should know before leaving for college.

---
1. Find a Church "Home Away From Home"

If you are attending college away from home, you most likely will not come home every weekend. That would simply be too taxing on you physically, not to mention what it would do to your budget. However, your spiritual walk will be more important than ever, so it is vital you find a place to be spiritually fed. Before you leave, you may want to ask your Pastor or other church leaders if they can recommend a church in the area to which you are relocating.
2. Use All Available Resources

There are many free resources available to you at most colleges. Be sure to take advantage of them. Use the library for dedicated study time and research. The library is a good, quiet place where you can study without so many distractions. Use your Academic Advisors, Tutoring Services, and Group Study sessions whenever you can. By utilizing these free resources you are more likely to do well in college.
3. When it comes to Grades – Be Proactive

Whenever you receive a grade that was not as high as you would like – do something about it immediately. Do not allow yourself to get too far into the semester ignoring bad grades. The further you get, the harder it is too pull that grade up. To be proactive, you can arrange a meeting with your professor to discuss ways you can improve. You can also see if tutoring services are available for that subject. Of course, once you receive a lower grade that should be your alert to devote more time to study in that subject.
4. Don't Worry Too Much about Your Major

You surely can remember as a child all the various things you wanted to be when you grew up. Because the truth of the matter is, you had no idea what you would end up doing. At that age, you did not yet have enough life experiences to make that decision. Although it is on a much smaller scale, the same can be said for entering college freshmen. At this point, you may not be sure what you want to do, or you may think you know, but end up changing your mind. Don't worry! More than half of all college students who declare a major end up changing their major at least once. So, take your time, learn new things and participate in as many outside activities as you can. This will help you discover what you are truly passionate about and help you select a career path.
5. Get Involved in At Least One Activity Outside of Class

Getting involved in activities outside of class will help you determine your major and career path. You will be exposed to experiences which you would not normally get in a classroom setting. Additionally, you will forge new relationships which will help make your college experience more pleasant and will be beneficial if you ever need notes from a class or help studying for an exam.
6. Get to Know Your Professors

You may not have time to do this with all of your professors, but it is a good idea to at least introduce yourself and maintain some sort of dialogue throughout the semester. If the professor is aware you are actively engaged in the course and that you are studying and trying your best, they are more likely to help you out if needed.
7. Avoid Credit Card Debt

This cannot be stressed enough. Not only is avoiding credit card debt a Biblical Principal (Proverbs 22:7 is one of many examples) – it is just plain smart. Credit Card companies seem to pass out credit cards to college students like candy. If you take this piece of advice, you will never know how thankful you will be for it. However, if you choose not to take this advice, one day you will wish you had.
8. Pay Attention to Your Eating Habits

You have all heard of the "Freshman Fifteen" – well, the bad news is this is no urban legend. It is true that many college students will experience a significant increase in their weight during their first year in college. This is for a variety of reasons, but mainly due to the fact that many colleges offer buffets and more fast food will be consumed by college students than when they were in high school. Not only should you be aware of what and how much you consume, but you should also pay attention to when you eat. The later you eat, then less time your body has to use the food consumed, so it will be stored.
9. Be Aware of Your Surroundings

It is important to get to know your new environment. You should contact your student or local police department and ask if there are areas which should be avoided. Be sure to walk in well-lit areas and in groups whenever possible. Also, you should keep any emergency numbers saved in your cell phone and posted by the phone in your dorm or apartment.
10. Keep Connected to Home

It is so easy to lose connection with people back home. However, it is important that you maintain these relationships. Make some time to send emails, make a quick phone call or message people on social media. Not only will this help keep you grounded, but if you ever need anything, the people back home will be the ones in your corner.