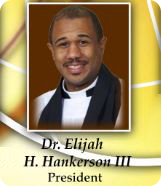 In the year 2013, through the "national" efforts of the Church Of God In Christ we saw over 6,000 souls saved and over 2,000 believers filled with the Holy Ghost! That's great, but God is able to do so much more!
We (the International Department of Evangelism) would like to encourage you to help fulfill Jesus' Great Commission and our Presiding Bishop Charles E. Blake's mandate to evangelize the world by seeking opportunities in 2014 to tell lost souls about Christ!
Bishop's new God–given theme for 2014 is, "We Are Called to Minister and Witness to A Deeply Distressed and Troubled World" (Acts 26:15-18). Evangelism is not just for one department; it is for EVERY BELIEVER!!!!!!
Help us reach lost souls through 20/20 this coming Saturday, January 4, 2014! We just need 20 workers (from 250 jurisdictions) to witness to 20 people apiece; this will enable us to reach 100,000 souls in one day!!!!! In the words of our Presiding Bishop, "We CAN do this!"
We would also like to encourage every evangelism worker, itinerant evangelist and soul winner to reach "out the box" in 2014. Venture out to minister and do outreach in cities and towns (in your area) where there is no COGIC witness! Let's go where no soul winner has gone before! We (COGIC) are in 53 nations; let's reach out to the other 143 nations before Jesus comes!
Looking forward to hearing great reports of salvations, miracles, healings and nations being won to Christ in 2014!!!!