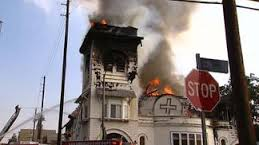 Tuesday, October 8, 2013 – A fire started at the Crouch Memorial Pentecostal Church of God in Christ presumably after a heater was turned on which had not been in use since last Spring. This church was erected in 1895 and was listed on the National Registry of Historic Places and located in the 27th Street Historic District in South Los Angeles.
More than 150 firefighters responded to the blaze. Two of the firefighters were trapped under the burning debris after the structure collapsed – both men were rescued by a special team of firefighters.
Please remember to keep the this church and the firefighters in your thoughts and prayers.
Donations are sought to help rebuild the century-old church. They can be made to the "Crouch Memorial Rebuilding Fund" created with Bank of America — account No. 2158906449, routing No. 121000358.
Thanks to NBC Los Angeles for use of the image in this article. Click here to read their complete article.