OMG! I m so glad 2b @ AIM!!1
OMG! Uv 2C d shooz I got 4t oficial svc!!2
OMG! We now av a COGIC enwsletter?!3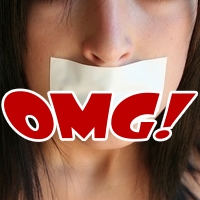 Look familiar? Well, welcome to the information age!
We are living in a world where the faster we get things done, the better! With the use of the internet, we can send information to a single recipient or to a mass group via email, social networking, Instant Messaging and texting, in a matter of seconds!
Even still, the ability to send messages within seconds was apparently not fast enough. Wanting the recipient to interpret the message even faster, we have now reduced words in the English language to symbols and acronyms to make our point while texting. Love it or not… texting is here to stay!
However, as with every change in this fast paced world, we must guard our minds and not allow the highly popular change to redefine who we are as believers in Christ. The Word of God must be our filter, our standard and final authority… always! Saints of God, I ask this question: In our quest to stay in touch with our fast paced world and keep up with the ever growing texting and tweeting communities, have we become desensitized to some of the language being tossed around in our messages?
Consider the acronym OMG (Oh My God), widely used to express surprise or shock during a conversation. While on the surface, it may appear to be light and innocent, shouldn't we as Christians find the use of this acronym offensive? Has the use of OMG become too common and careless?
We are required to hold the Lord's name to a higher standard. The third commandment, found in Exodus 20:7 tells us, "You shall not take the Lord your God's name in vain, for the Lord will not hold him guiltless who takes His name in vain." We are to honor and reverence God's name at ALL times. Just as your name identifies who you are and all that you represent, God's name also is inseparable from His very being.
When we consider who God is, in all of His glory, we understand that when we refer to Him in any context, we are referencing our Creator. In the book of Job, chapters 38-41, God gives us a "glimpse" into just who He is. He shares knowledge of his power in the creation of this universe, from the provision of food for the raven to the expansion of the sea and land. He expresses how He alone has knowledge of where snow and hail are stored, where light and darkness live and from where lightening comes. He shares how He alone controls the constellations to bring about the various seasons that we experience. As well, He expresses how He alone is the giver of wisdom and understanding to man. In Job 41:10b-11, God states, "Who is able to stand against Me? Who has claim against Me that I must pay? Everything under the heaven belongs to Me."
God is simply matchless in all of His ways! He is omnipresent, omniscient and omnipotent. He tells us clearly, through His Word, how we are to use His name. We are called to EXALT the name of the Lord – "Oh magnify the Lord with me. And let us exalt His name together" (Psalms 34:3); PRAISE the name of the Lord – "I will freely sacrifice to You; I will praise Your name, O Lord, for it is good" (Psalms 54:6); BLESS the name of the Lord – "Bless the Lord, Oh my soul; And all that is within me, bless His holy name" (Psalms 103:1); CALL ON the name of the Lord – "I will offer to You the sacrifices of thanksgiving, And will call upon the name of the Lord" (Psalms 116:17).
The name of God is the essence of who He is! Therefore, we MUST reverence and treat the name of God with honor!
I challenge you today to make a difference in your circle of influence. Let's encourage others to respect the God of the universe. Instead of using OMG in your next text or tweet, consider using one of the following alternatives:
OMGDNESS (Oh my goodness)
OMGOSH (Oh my gosh)
OM (Oh my)
GFA (Gasping for air)
OMW (Oh my word)
Better yet, get creative and make a new acronym of your own to share with others!
Ppl of God, we cn chng d wrld. Let's mke it hpn….1 txt n 1 tweet @ a tym!
(People of God, we can change the world! Let's make it happen… one text and one tweet at a time!)
LU2L! (Love you to life!)
---
Monique Fowlkes is a member of Prayer and Faith Temple COGIC (Philadelphia, PA) and the Pennsylvania Commonwealth Jurisdiction.
1 Oh My God! I am so glad to be at AIM!
2 Oh My God! You have to see the shoes I got for the official service!
3 Oh My God! We now have a COGIC newsletter?!