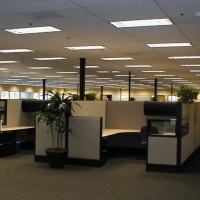 "Our Christianity" is an expression which requires further interpretation. To begin, it suggests ownership. Add to that the root of the word Christianity, "Christ", which literally means to be anointed, and we have an organic term which identifies us as possessors of the anointing and power given to us by Jesus to accomplish His mission on earth (Matthew 28:19, 20). Essentially, "our Christianity" is a state of being; it is our spiritual DNA.
Even closer study of this passage reveals that in the original Greek the word teach means "to make disciples"; ones who have been reshaped by character into the mold of their Master. In essence, Jesus is laying out the method for what He wants us to do. He is saying, I want you to go out and imitate me. I want my spirit to be strong in you, I want my compassion to be rich in you and I want you to attach yourself to others.
The Lord wants us to make a difference in the world and what better place to do so than in our workplaces, where we spend the majority of our waking hours. God has blessed us to be in our positions of employment so that our work environments can be transformed by our presence. We are "the salt of the earth and the light of the world". Salt and light are two elements that when used, always help to facilitate a change.
We must find creative ways to interact with our professional colleagues that will enable us to form meaningful relationships, to help to facilitate a change in them. This is not to say that we are to accommodate or conform to them. The Apostle Paul spoke to us regarding this in Romans 12:1-2. But it is our responsibility to go into our places of employment dressed for work. We must put on our armor and build ourselves up for our work environments, especially when they are negative. Often times God uses adversity to manifest His will for His chosen ones that He might be glorified. The examples we set when handling unfavorable situations at work actually help us to positively standout. Regardless of the circumstances, we are called to focus on the positive (Phil. 4:8). How do we accomplish this at work? While there is no set formula, the following principles from the Epistle of James provide us with some invaluable tools:
View Challenges As Opportunities (Jam. 1:2-4): Possessing a positive perspective about difficulties is good for the overall work environment. Relationships are made stronger when people work through their difficulties, thus, the work environment can be made stronger by its challenges.
Pray For Wisdom (Jam 1:5-8): Maintaining positive and productive relationships in the workplace requires wisdom. We must pray and seek wisdom from God to navigate these waters.
Maintain Proper Perspectives About Situations (Jam 1:9-11): The work environment can often be extremely competitive as individuals aspire for positions. Often times, as this process is played out, relationships are damaged. The Lord gives us reasons to be thankful for whatever situation in which we find ourselves. We must pray for the ability to see ourselves as God sees us in our work environments, being assured that He has a purpose and a plan for us.
Be Swift to Hear, Slow to Speak and Slow to Wrath (Jam. 1:19-20): Poor communication and short tempers will quickly destroy work relationships. However, if we apply these three principles, many problems will be avoided completely or handled appropriately, with minimal damage to working relationships or our Christian witness.
Exemplify Wisdom Though Your Conduct (Jam. 3:13, 17-18): As Christians, we must set the example. Our actions should always convey a Christ-like spirit. We are His ambassadors and must approach situations with grace and diplomacy.
Finally, Pray For Those We Work With (Jam. 5:13-16): When we pray for others it becomes difficult to harbor ill feelings toward them. Praying for them brings us to a place of compassion where we see the individual separate and apart from their deeds. This is not to say we excuse or reinforce negative behavior but rather, we have the grace not to demonize them because of their offensive behavior.
We were put here to ensure that those in the same condition that we were in before hearing the Gospel can be changed, and like us, become children of God and lovers of Jesus Christ. From this moment on, let this be your personal mission as you go to work each day. Make up in your mind to tell at least one person a week on your job about the God that you know.
---
Valerie Ross is a member of the Kelly Temple COGIC in Harlem, New York and the First Ecclesiastical Jurisdiction of Eastern New York, where she serves as President of the Judah Chorale and Young Adult Y.P.W.W. Instructor.