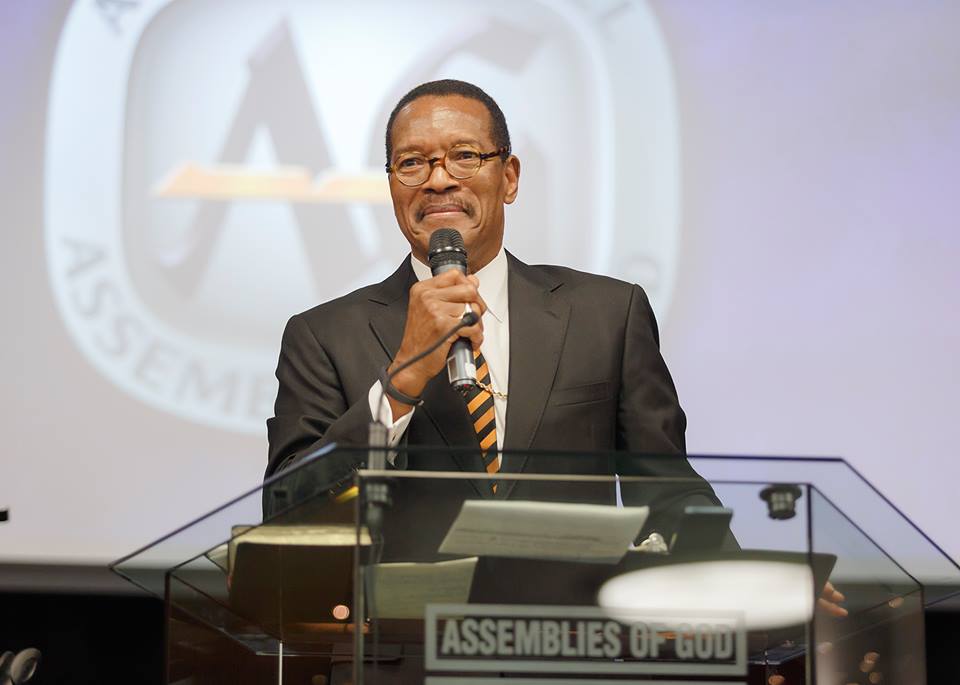 "Many of us have scars. Nobody considers a scar to be a pleasant thing. But, do you know what a scar is? A scar is nothing but a healed wound. And if you have a scar that just means the worst is over and the best is yet to come." ~ Bishop C.E. Blake
SPRINGFIELD, MO – Yesterday leadership of the Church of God in Christ met with the executive leadership of the Assemblies of God at the AG national office in Springfield, Missouri. This historic gathering is the first time these two denominations, which are two of the largest in the United States, have met specifically to dialogue together.
Bishop C.E. Blake, the Presiding Bishop of the Church of God in Christ, spoke during the AG Chapel Service about giving thanks in all things, even the scars that you have. Click here to watch Bishop Blake's message.
At the beginning of the service, Dr. George O. Wood, who has served as the general superintendent of the Assemblies of God since August 2007, referenced the separation that occurred when the Assemblies of God were established. In 1914 the first General Council of the Assemblies of God met after separating from the Church of God in Christ – during this meeting Bishop C.H. Mason attended and blessed the formation of the Assemblies of God. The AGs reports that "Wood reflected sorrowfully on the separation that occurred because of the racial culture at that time in America, when culture shaped the church into racial division rather than the Bible. The coming together of COGIC and AG leadership in a historic-time dialogue represents another step in the healing of a rift that occurred long ago." Wood stated, "This is a wonderful day. Meeting with our like-minded brothers from the Church of God in Christ is something we and the leadership of COGIC have longed to do for years, and now it has finally happened!"
There were other COGIC leaders in attendance including: First Assistant Presiding Bishop Phillip Aquila Brooks​, Second Assistant Presiding Bishop Jerry W. Macklin, General Board Member Bishop J. Drew Sheard, Financial Secretary Frank Anthone White, General Secretary Joel Harley Lyles, Jr., Missions President Carlis L. Moody, Chairman of AIM Linwood Dillard, and Chief Operations Officer James W. Smith.
We praise God for healed wounds, unity in the Body of Christ, and everything He is doing in this season! Please feel free to comment below.