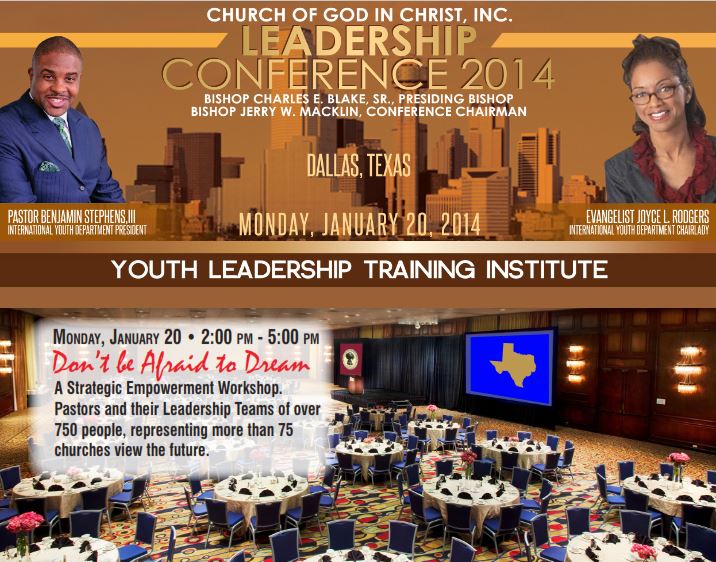 Day One of the COGIC Leadership Conference started with a dynamic series for our youth with the Youth Leadership Training Institute entitled, "Don't Be Afraid to Dream." Youth of the Church of God in Christ, Inc. were encouraged, edified and empowered. Pastor Benjamin Stephens, III and Evangelist Joyce L. Rodgers truly are doing an amazing job with this department.
The first day was summed up with "Texas Night", where the Texas Jurisdictions represented very well. One of the most memorable portions of the night was the excellent welcoming committee. The Texas women made each individual feel welcomed and loved – you could not pass through without a smiling. Their hospitality was refreshing.
During the service, everyone did an excellent job, including COGIC's Texas Inter-Jurisdictional Mass Choir. The Word of God was brought forth by Supt.Jimmy W. Glenn, Sr. who admonished us to "Get Ready for the Turn Around." The first day of Leadership Conference 2014 was truly a blessing.
For the next few days, we will provide a daily recap of the events and workshops of the Leadership Conference 2014. The amount and quality of the content and information provided was nothing short of astounding. Bishop J.W. Macklin and his team did an amazing job and if you were not blessed to be a part of this great event, our prayer for you is that next year you would be able to attend. We are sure you will be blessed!