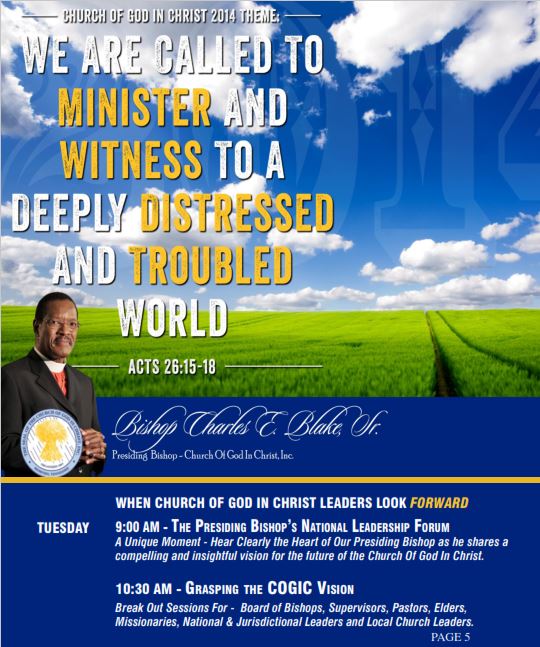 Day Two of the Leadership Conference started as our Presiding Bishop, Bishop C.E. Blake, spoke to the leaders at "The Presiding Bishop's National Leadership Forum". This forum provided a unique time for the leaders in the Church of God in Christ, Inc. to hear profound words of wisdom directly from our Presiding Bishop. This was followed by break out sessions for the Board of Bishops, Supervisors, Pastors, Elders, Missionaries, National & Jurisdictional Leaders, as well as, Local Church Leaders. No matter who you are or in what position you are serving in the church there was great information to be gleaned from the break out sessions.
The Tuesday Morning and Afternoon Sessions included:
A Multigenerational Model: Focusing on the Family
Intergenerational Leadership: The Key to Church Survival in the End Times
Understanding Your Church's Morse Code: The Relationship between Church Culture & Vision Implementation
Change It, Don't Break It. Navigating Your Church's Culture
The Lioness Awakening, Women of Power and Influence
Bridging the Gender Gap, Leadership in the 21st Century Church
Studying the Text More Closely: Transforming Ministry through Preaching
Looking Forward, Looking Back: The Transformational Leadership Principle of Bishop C.H. Mason
The Church of God in Christ Publishing Board: Transforming Our Church Culture
Maintain Relevance. Developing a Multigenerational Church
When Leaders Look Forward: Leadership's Effect on Church Culture
Leading Men and Women in the 21st Century Church
Transforming Ministries in Small to Medium Churches
AIM Executive Session
Sunday School in the Local Church
Missions in the Local Church
Evangelism in the Local Church
Youth Ministry in the Local Church
Music Ministry
Developing a Young Adult Ministry
Ushers and Greeters Ministry
Elders & Ministers
Deacons & Deaconesses
Transforming the Church through Innovative Men's Ministry
Transforming the Church through Innovative Women's Ministry
Intercessory Prayer
Ministering on the Altar
Developing a Vibrant Children's Ministry
Value of the Publishing Board to the Local Church
Urban Initiatives – Connecting the Local Church to Its Community
Outreach/Inreach: Igniting Valued Church Growth
And this was just one day of the Leadership Conference! There was so much for leaders to learn and be able to take away – this conference had enough information to have lasted a month… easily! The value of the information available simply cannot be overstated.
Tuesday Evening ended with a worship service where Dr. Judith McAlister and the National Music Department represented very well leading the Praise and Worship in true excellence. The Word of God was brought Elder Shaun Brown who encouraged us with these words, "The Worst is over, The Best is Yet to Come" and that we can go to God for ourselves.
The second day of the COGIC Leadership Conference was a blessing to the lives of all attendees.