Overseer Gabriel Hatcher, Senior Adjutant Overseer
Sr. Chief Overseer Gabriel J. Hatcher, Sr. is the fifth child out of eleven siblings, born to Pastor and Mrs. Matthew Hatcher. A Fourth generation Church Of God In Christ, Chief Hatcher has been saved for 45 years, preaching and evangelizing for 35 years.
Overseer Hatcher previously he has worked in the Denver Public School system as a Math Teacher for 3rd, 4th, and 5th graders.  Teaching, training, and mentoring people is a drive that lies within Chief Hatcher.  He served our great country in the U.S. Air Force.
Chief Hatcher is the proud husband of Evangelist Missionary Karen Gibbons Hatcher for 33 years. He his the father of three children, Gabriel Jr. Sarah, and Rachel Hatcher, a daughter in love Brandy Hatcher, who all work in the ministry along with he and his wife.  Chief Hatcher has seven grandchildren; Gabriel, Jeremiah, Ezra, Josiah, James, Judah, and the only little cute button of the bunch, the only little girl Genesis.
Chief Hatcher is the pastor of Miracle Temple Of Deliverance Church Of God In Christ, Inc., where he's been pastoring now for 23 years. His church is in the First Jurisdiction of Kentucky under the Leadership of Bishop John Fleming. Chief Hatcher serves as the District Superintendent of the Bishop Dwight L. Haygood Sr. Memorial District.
Chief Hatcher has served in many, many capacities within the church: Choir Director; Shut-in Conductor; Praise Leader; District Evangelist Pres.; State Evangelist Pres.; State Secretary; Chief Adjutant; First Administrator;Second Administrator; Fourth Administrator; Regional Secretary; National Evangelist; National Adjutant;  National Overseer .
In 2009, Chief Hatcher was appointed Overseer of Preferred Seating, which gave him the Title of Floor Manager.  In 2016, Chief Hatcher was appointed as Senior Chief Adjutant Overseer by the previous Adjutant General, Bishop Matthew Williams. And in 2017 Chief Hatcher was Reappointed by the present Adjutant General Bishop Robert Rudolph to the same position.
In 2011, Chief Hatcher graduated with his Doctorate of Theology Degree from Next Dimension College in Pomona California.
Chief Hatcher loves his job as a "servant", and he enjoys serving God's people.
Overseer Antonio Buckley, Overseer of Ceremonies
Overseer Antonio M. Buckley is the Pastor of St. Paul Church Of God In Christ.  He is the son of the Easter Buckley and the late W.D. Buckley.  Pastor Buckley was raised in Memphis, TN and a product of the Memphis City Schools.  He is a proud graduate of LeMoyne-Owen College.  Currently, Pastor Buckley works for Shelby County Schools.  Before becoming a Pastor, Overseer Buckley was employed by Temple of Deliverance Church of God in Christ at the G.E. Patterson Family Life Youth Center as the Director of Programs. He is married to Angela L. Buckley.
Overseer Buckley grew up in the Baptist church and served in many capacities.  He received the call to ministry in 1987 and preached his first sermon in February of 1988 and was ordained in 1992.  However, after hearing the anointed preaching of the late Bishop G.E. Patterson, he joined Temple of Deliverance Church Of God In Christ in July of 1994 under Bishop Patterson's leadership.
Overseer Buckley became busy in the church, and was asked to sing with the G.E. Patterson Choral and traveled the country singing in crusades conducted by Bishop Patterson.  While traveling with Bishop Patterson, he asked Overseer Buckley to become his Armorbearer.  This lead to him attending the Adjutants Academy in 1999 and becoming Bishop Patterson's Episcopal Adjutant. He was ordained an Elder in the Church Of God In Christ in 1999 by Bishop G.E. Patterson.  He also served as the Youth Pastor from 2005 – 2009 at Temple of Deliverance.
Overseer Buckley was elevated to Overseer to the Adjutancy in 2004 by Bishop Matthew Williams, who later appointed him to Overseer of Ceremonies in 2008.  He serves as the Chief Adjutant for Tennessee Ecclesiastical Fourth Jurisdiction under Bishop Jerry L. Maynard.  He also serves as an instructor for the Adjutancy Academy general session and Acolytes class for the National Church.  He has also served as a facilitator for the O. T. Jones Memorial Institute for the Holy Convocation of the Church Of God In Christ.
Overseer Phillip Green, Overseer of the General Board Quarters
Overseer Phillip Xavier Green was born November 8, 1966 during the Church of God in Christ Annual Holy Convocation.  This indeed would be the first sign that he was destined to be a mighty man of God.  He
Elder Green graduated from the Hampton Public School System studying electronics and attended Thomas Nelson College.
.Elder Green has served in every area of the Church, putting his hands to work where needed.  He is a born leader and man who truly cares for people.  Following the voice of the Lord, Elder Green humbly accepted his call into the ministry 1989 and was ordained as an Elder in 1992 under the honorable Bishop Samuel L. Green, Jr.
Elder Green serves in several positions in the church on the local, district, state and national level. Presently he serves as: Member of Budget Committee Second Ecclesiastical Jurisdiction VA; Manual Review Committee General Assemble COGIC, Inc.: Director of COGIC Videos; Adjutant Overseer to the General Board Chambers COGIC, Inc.; Executive Board of General Assembly COGIC, Inc.; Executive Staff for Women's International Convention; Executive Board, COGIC General Council of Pastors and Elders 2001-Present; Program Coordinator, COCIC General Council of Pastors and Elders; Assistant Coordinator, COGIC Men's Conference; Jurisdiction Event Planner, 2nd Ecclesiastical Jurisdiction, Virginia; Conference Coordinator, 2nd Jurisdiction, Virginia; 2nd Administrative Assistant, St. Johns Church of God in Christ; Vice-President of Faith For Living Richer Life Ministries; Member of the National Religious Broadcasters;  Pastor of Gospel Way Church of God in Christ, Lexington, Virginia; Recipient of The President's Award for Community Service; Member of President Obama Global Warming Committee.
Along with his wealth of experience, Elder Green has traveled extensively throughout these United States and abroad with several General Board Members and the Mission Department to South Africa, Madras India, London England, Seoul Korea, Puerto Rico, Hong Kong, Trinidad, Beijing, China and Belize. Elder Green has served and continues in the spirit of servant
He is married to Richelle Ricks and is the father of three children: one daughter, Lauren and two sons, Phillip Jr. (PJ) and Brandon.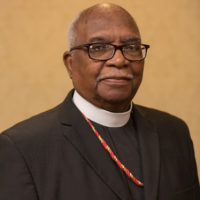 Overseer Toney McNair, Overseer of Communion
Overseer McNair has been in ministry in the Church of God in Christ, Second Jurisdiction of Virginia for more than 50 years and he has been a great asset to local churches, districts, jurisdictions and the national church.
Overseer McNair has served as Pastor to seven Churches throughout Virginia.  He's also served in the following capacities:  In the Norfolk District he organized the Norfolk District News Letter; Served as the Chairman of the Elder's Council; Served on the Norfolk District Evangelism Team; Served as the Assistant District Superintendent and the District Superintendent.  In the Second Jurisdiction of Virginia  he served as Assistant State Superintendent of Sunday School; President of Person to Person Evangelism; Member of the State Program Committee for Worker's meeting and Convocation; Treasure, Retreat Executive Committee; Board Member –  State Ordination Board; Personal Evangelism Chairman; Entertaining Pastor for the Holy Convocation; Served as Treasurer on the State Retreat Committee; Praise and Worship Leader for Official Sunday; Served as 2nd Vice President of the COGIC High-rise for the Elderly; Currently serves as Chief Adjutant of Virginia Second Jurisdiction.  In the National Church, Overseer has attended the Holy Convocation for over 50 years; Spoke in the National AIM Convention; Chairman of Communion Preparation for 30,000 members in national church – St. Louise, MO; Delegate to National General Assembly; Chairman – National Advisory Board of the National Adjutancy; Attends National Leadership Conference; Overseer McNair also attends the April Call Meeting, the Pastor and Elder's Council, the National AIM Convention and the Adjutancy Training Academy.
Overseer McNair is married to District Missionary Verna Lee Askew McNair. He is the father of five children: Reverend Dr. Toney L. McNair, Jr. and Mrs. Angela McNair; Pastor Duane S. McNair, Sr. and District Missionary Velma F. McNair; Pastor Gregory L. McNair, Sr. and Missionary Yolanda McNair; Reverend Dr. Karen P. McNair; Elder Christopher T. McNair.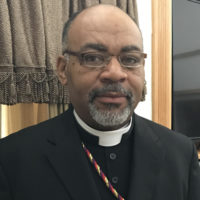 Overseer Dr. M. Anthony Bell, Sr., Treasurer
Overseer Bell stems from Des Moines Iowa, where he grew up in the Church of God in Christ under the awesome leadership of the late Bishop Abernathy, The late Bishop LH Ford and the late Bishop Hurley Bassett Sr.  Overseer Bell was first introduced into the National Adjutancy under the leadership of the late Bishop H. Jenkins Bell in 1992  and has been an active participant. Overseer Bell was appointed Jurisdictional Chief Adjutant in 1993.
Under this fine group of leaders Overseer Bell is well rounded in ministry and serves with distinction and respect for leadership. Many days you will find Bell teaching and training young and old how to serve this great church.
Overseer Bell has been a member of the church he now Pastors for 51 years. The Historical 105 year old headquarters facility is well preserved under his leadership. In the year of 2005 the late Bishop Hurley Bassett decided to honor Bell and stepped down from his Pastorate and installed him as Pastor of the church. The church is now in its growing season and to God be the glory for the things he has done.
Overseer Bell has been the Jurisdictional Executive Secretary for the Iowa Jurisdiction for 20 years, Chief Adjutant for 25 years, Jurisdictional and District YPWW President, Ordination Board Secretary, Evangelist Team Secretary of Finance and Jurisdictional Choir Business Manager.  Oveerseer Bell was appointed Treasurer of the National Adjutancy in AIM of 2018.
You will find Overseer Bell at the Des Moines Public Schools working with the young people as a Drivers Ed Instructor, Mentor and Coach. The Man that does not sleep he has been called.
Overseer Bell is well rounded as he holds a Doctors degree in Ministry and Divinity, has also degrees in Industrial Engineering, Interior Design, Business from William Penn University. Bell also finds time to be an assistant director for Man-up Iowa a mentoring program for at risk youth, also owns a catering business and is an exceptional soul food culinarily chef. Overseer Bell managed corporate facilities for Wellmark Blue Cross and Blue shield for 25 years, and is now a counselor for mental health clients around the state of Iowa.
Overseer Bell married the joy of his life on July 10, 1999 the Lady Lachelle Bell. They have no biological children but 6 God-daughters who bring them much tranquility.
Mother Fe'Neda Bradshaw, Registrar
In 1997, Fe'Neda obtained a Bachelor of Science degree, and in 1999 a Master of Physical Therapy degree, both from the University of Michigan.  Fe'Neda has been a licensed physical therapist for more than 17 years. With her quiet anointing, she continues to exhibit a servant's heart as she diligently serves God while serving others
Evangelist Fe'Neda Bradshaw has served as a Jurisdictional Adjutant in the Southwest Michigan 4th Jurisdiction for 16 years under Bishop Fred Lewis.
In 2005, she was selected to serve as Registrar of the National Adjutancy under Adjutant General Matthew Williams and has served as registrar for 12 years.  In 2007, she was appointed Adjutant Mother over the Registration Department.
Missionary Fe'Neda Bradshaw has been married to Elder Gabriel Bradshaw for 5 years and has two sons, Jalil and Nelson.
Missy Kineta Lewis-Fisher, Assistant Registrar
Missionary Kineta V. Fisher has served as a Jurisdictional Adjutant Sister in the Southwest Michigan 4th Ecclesiastical Jurisdiction under the leadership of Bishop Fred Lewis and as a National Adjutant for 12 years. Missionary Fisher was appointed as Assistant to the Registrar by Bishop Matthew Williams in 2010 and reappointed by our current Adjutant General, Bishop Robert J. Rudolph in 2017.
Missionary Fisher has served faithfully in the Hospitality Ministry, Pastor's Aide President and VBS Coordinator for many years. She presently works alongside her husband, Pastor  Shannon L. Fisher as the First Lady and President of the Women's Department of Kingdom Believers Christian Church in Warrensburg, MO.
Overseer Theodore Colbert, Regional Overseer
Overseer Colbert attended Wayne State University and holds a Masters of Arts degree and a Masters of Divinity degree from Ashland Theological Seminary University in Ashland, Ohio.
Overseer Colbert has served as the Pastor of Stephen Temple Church of God in Christ, located in Mount Clemens, Michigan since 1984 and is formerly a theological instructor for the Biblical Studies at the Mason Theological Seminary in Detroit, Michigan.
Overseer Colbert is the District Superintendent of the Judah District of the Northeast Michigan Historic First Jurisdiction under the leadership of Bishop P. A. Brooks; Assistant Jurisdictional Executive Secretary; Assistant Jurisdictional Chief Adjutant and Lead Platform Chairperson. In 2017 he was appointed as Regional Overseer in the National Adjutancy for the Midwest 1st.  He currently serves as an Executive Board Member of the National Adjutancy.
Overseer Colbert is married to Missionary Cynthia Delores Colbert and they have two children