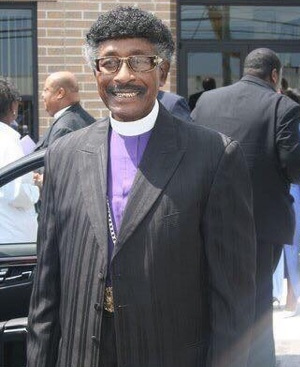 Wisconsin Third Ecclesiastical Jurisdiction
Bishop Johnie C. Williams
Prelate, Wisconsin Third Ecclesiastical Jurisdiction
December 3, 2017
Dear Saints:
This correspondence comes to you at the request of the Adjutant General, Bishop Robert G. Rudolph, Jr., as per the Presiding Bishop Charles E. Blake, Sr. It is with great regret that I inform you of the passing of Bishop Johnie C. Williams of the Wisconsin Third Ecclesiastical Jurisdiction. He will be sorely missed but we find comfort in knowing that earth has no sorrow that Heaven cannot heal and the scripture declares that there remaineth a rest for the people of God.
The Williams Family is in need of our fervent prayers at this time.  The services for Bishop Johnie C. Williams will be as follows:
Local and Jurisdictional Celebration of Life
Thursday, December 7, 2017, 6:00 PM
Greater Mt. Sinai Church Of God In Christ
5384 North 60th Street, Milwaukee, Wisconsin 53218
(Visitation 3:00 PM – 6:00 PM)
National Celebration of Life
Friday, December 8, 2017 at 12:00 Noon
Holy Redeemer Institutional Church Of God In Christ
3500 West Mother Daniels Way, Milwaukee, Wisconsin 53209
The Ministry of Comfort is entrusted to:
Pitts Mortuary
2031 West Capital Dr., Milwaukee, Wisconsin 53206
Contact Person – Ms. Michelle Pitts – 262-781-7474
If there are any general questions, you can contact the Jurisdictional Chief Adjutant, Pastor A. D. Malone at 262-488-3790 or via email at [email protected]
The Adjutant General is requesting that all Bishops please wear your "Class A" attire. All Adjutant Brothers please wear your "Class A" vestments and Adjutant Sisters please wear your White Habits. If you need further assistance, you can email me at [email protected] or call at 904-217-9603.
In His Service,
Overseer Earl R. Matthews
Scribe of the National Adjutancy
Church Of God In Christ, Inc.